University of New Mexico Lobos athletics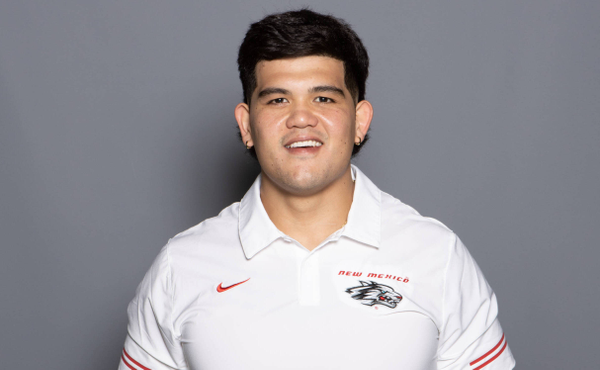 &utilizing his super senior season.
2021 (Redshirt Senior Season): Saw action in a career-high nine games, including six starts … entered at right tackle after an injury and played well against San Diego State … started the final six games of the season, four at right guard, and two at center … played 419 snaps on offense at center, guard and tackle after entering the year wiht just 32 snaps total … allowing only one sack and no hits … had a PFF pass blocking efficiency of 97.5.
2020 (Redshirt Junior Season): Did not see action.
2019 (Redshirt Sophomore Season): Saw action in four games playing offensive line and in the offensive backfield before getting injured against Wyoming and missing the rest of the season.
2018 (Redshirt Freshman Season): Saw action in two games, playing center against Incarnate Word and UNLV.
2017 (Freshman Season): Redshirted.
High School: Lettered at Kamehameha High School for coach Doug Cosby … was named First Team All-ILH as a senior center … was named Second Team All-State by the Honolulu Advertiser.
Personal: Full name is Radson Yu Sung Jang … majoring in communications … birthday is September 4, 1996.