Lobo Mascot
After "Lobo" was adopted as the school's nickname in 1920, it was not long thereafter that a real Lobo became the mascot.
Bruno Dieckmann, class of 1902, and by 1920 a successful Albuquerque insurance and real estate agent, acquired the first Lobo for the University at his own expense. At the time he was treasurer of the Athletic Association and "one of the most admired men in town."
Elsie Ruth Chant, class of 1923, recalled, "All of the girls on campus wanted to be seen with him. He was an accomplished concert violinist as well as being a successful businessman, and he was rich. He drove a Stutz Bearcat convertible around town and all of the girls would compete to get rides with him. Sometimes he had five or six girls in the car, and when he finally got married, he left broken hearts all over campus. Anyway, he either caught it himself or he paid to have a wolf captured in the Mount Taylor area. The wolf was brought into the school and a student by the name of Bowman would take it on a leash to the football practice area."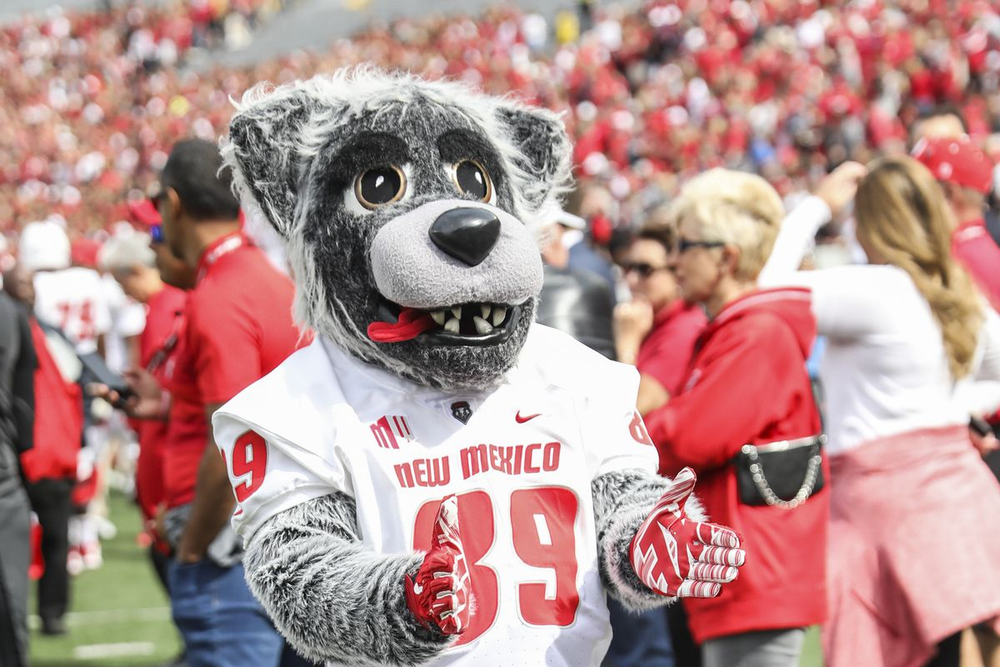 Lucy and Louie
Apparently, a government trapper named Jim Young caught a wolf pup on the Floyd Lee Ranch near Mount Taylor in western part of the state. The cub became the responsibility of the cheerleaders and it appeared in harness at every football game. However, in the late '20s, a child teased the wolf and the child was bitten at one of the games. UNM officials were forced to dispose of the wolf, as one historian put it, "for fear other ill-bred brats might become tempted to play with the wolf and bring a damage suit."
A live wolf has really never been a part of the athletics scene since then until the mid 2010s, when Zoerro became an official wolf ambassador from the Wild Spirit Wolf Sanctuary located just south of Gallup.  The mission of the sanctuary is to rescue displaced, unwanted and un-releasable captive-bred wolves, wolf dogs and other related species. Animals are provided permanent, lifetime safe sanctuary and the highest level of care, enrichment and habitat.
The sanctuary also educates the public about wolves, wolf dogs and other related species, our ecosystem, how we all play a part in it, and the excellent ethical care of treatment of all animals, domestic and wild.
In the early 1960s, a human mascot named "Lobo Louie" was created. A second mascot, "Lobo Lucy" was created in the early 1980s. Both are now members of the school's cheerleading squad.