University of New Mexico Lobos athletics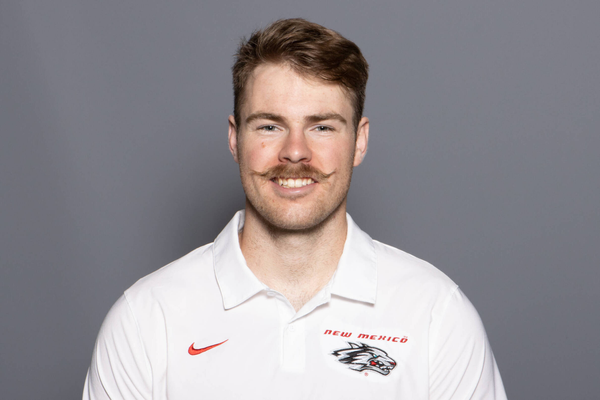 *Has a super senior season available.
Academics: Named Mountain West All-Academic in 2020 and 2021 and Mountain West Scholar-Athlete in 2020.
2021 (Double Redshirt Sophomore Season): Started five games and played in 11 … was fourth on the team in receptions with 13 catches for 138 yards and a touchdown … also returned five kickoffs for 95 yards … had his best game against New Mexico State with a season-high five catches for 75 yards, including a 22-yard touchdown on a fourth down conversion … caught three passes in a game twice; against Houston Baptist in the opener and against San Diego State … had his longest catch of the season, going for 26 yards, against Air Force … also had his longest kickoff return of the season, 23 yards, in that game … had two returns for 38 yards against Boise State … had a catch against Utah State in the finale.
2020 (Double Redshirt Freshman Season): Started all seven games at receiver, finishing second in receptions and yards, and tying for the team lead in touchdowns … caught a pass in all seven games … opened his career with three receptions for 72 yards including a season-best 46-yard catch … caught his first touchdown in the opener against San Jose State … followed that up with two receptions in each of the next two games, against Hawai'i and Nevada … the Nevada game featured a wild diving 42-yard sideline grab … had a then season-best four catches against Air Force for 47 yards … added a second touchdown and had a season-best five catches for 55 yards against Utah State … caught one pass against Wyoming and one against Fresno State.
2019 (Redshirt Freshman Season): Suffered a knee injury and did not play.
2018 (Freshman Season): Redshirted
High School: Lettered in football, basketball and track and Manzano High School … played both receiver and defensive back at Manzano, and he scored the game-winning touchdown, a 48-yard reception, with 4:17 left to lift Manzano to a 14-7 win in the 6A state title game against La Cueva … led Manzano to a perfect 13-0 record that season.
Personal: First name is actually Robert … birthday is March 27, 2000 … majoring in mechanical engineering.