University of New Mexico Lobos athletics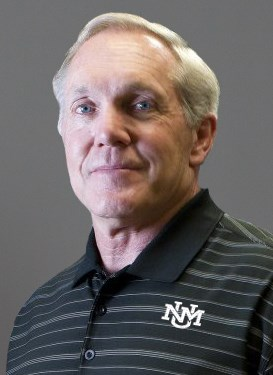 Rocky Long rejoined The University of New Mexico in January of 2020, as he will serve as the defensive coordinator.  He has a long and storied history with The University of New Mexico, dating back to 1969 as a player with the Lobos, through his 11-year stint as head coach of the Lobos.
The hiring is a role reversal of sorts as Gonzales spent the 2017 season as defensive coordinator at San Diego State under Long. Gonzales and Long's association dates to 1998, Gonzales' senior season at UNM and Long's first as head coach.
In 2020, the Lobo defense regained its reputation as a hard-nosed, hard-hitting unit, nearly tying a long-standing record for sacks in a game, as the unit had eight in the final game of the season against Fresno State.  The defense under Long racked up 13 takeaways in just seven games, more than the previous season's total of 11 accomplished in 12 games.  The Lobo defense led the Mountain West, allowing just eight touchdowns on 19 red zone chances (42.1%), a mark that was fifth in the FBS (after ranking 115th in 2019).  The unit also improved in total defense, first downs allowed and third-down defense.  UNM picked up its first Mountain West First Team All-Conference selection in four years on defense as Jerrick Reed earned the honor.
Additionally, linebacker Brandon Shook earned Second Team All-MW honors under Long.
Long played quarterback at UNM from 1969-71, earning WAC Player of the Year honors in 1971. He then played professionally in both Canada and with the Detroit Wheels of the short-lived World Football League.
The coaching stint will be his fourth at his alma mater.  Long was a graduate assistant from 1972-73 and the offensive back field coach and then defensive backs coach from 1978-80 with New Mexico before becoming defensive coordinator at Wyoming, Oregon State and UCLA.  He was named UNM's head coach January 12, 1998 and coached the Lobos from 1998-2008, winning a school record 65 games.
Long has UNM bowl eligible for a school record seven straight seasons, and UNM played in back-to-back-to-back bowl games from 2002-04, a first in school history.  Long led UNM to a 23-0 win over Nevada in the 2007 New Mexico Bowl, ending a 46-year bowl victory drought for the school.  Long is the all-time winningest coach in UNM history, and he is second in all-time wins at San Diego State behind Don Coryell.
Throughout is time as UNM's head coach, Gonzales was a player (1998) or on staff with Long.  Gonzales was a graduate assistant from (1999-02), video coordinator (2003-05) and safeties and special teams coordinator (2006-08).
Long left UNM after the 2008 season and became San Diego State's defensive coordinator for the 2009 and 2010 seasons before replacing Brady Hoke for the 2011 season.  Long remained as defensive coordinator from 2011-16, bringing Gonzales on staff to coach safeties.  In 2017, he stepped aside from serving as his own coordinator and Gonzales stepped in.
Long won 81 games over his nine seasons with San Diego State, never suffering a losing season and winning double digits in four of the last five years.  He also led San Diego State to three Mountain West titles and nine bowl games.  His final head coaching win was a 48-11 win over Central Michigan in the 2019 New Mexico Bowl, in the same stadium he used to coach and play on.
Long is a three-time Mountain West Coach of the Year and he is the winningest coach in the history of the league, with 143 of his 146 win coming since the league's inception in 1999.  Long and his wife Debby have two daughters, Roxanne (a former college women's basketball head coach and current professor at North Texas) and Hannah (head women's volleyball coach at Queens University in Charlotte, N.C.)
Rocky Long Profile:
Born
January 27, 1950
Hometown
Provo, Utah
Alma Mater
New Mexico, 1971 (B.A., Education)
Playing Exp.:
New Mexico, 1969-71 (WAC Offensive Player of the Year)
Family
Married to Debby. Daughters are Roxanne, Hannah
Coaching Experience:
2020
New Mexico (Defensive Coordinator)
2011-19
San Diego State (Head Coach)
2009-10
San Diego State (Defensive Coordinator)
1999-08
New Mexico (Head Coach)
1996-97
UCLA (Defensive Coordinator)
1991-95
Oregon State (Defensive Coordinator)
1988-90
TCU (Defensive Backs)
1986-87
B.C. Lions (Linebackers)
1981-85
Wyoming (Defensive Coordinator/Defensive Backs)
1979-80
New Mexico (Defensive Backs)
1978
New Mexico (Offensive Backfield)
1974-75
Eldorado HS (Assistant)
1972-73
New Mexico (Graduate Assistant)
Postseason Coached (corresponding to the season, not the actual year of game):
2019
New Mexico Bowl
2018
DXL Frisco Bowl
2017
Lockheed Martin Armed Forces Bowl
2016
Las Vegas Bowl
2015
Hawai'i Bowl
2014
Poinsettia Bowl
2013
Famous Idaho Potato
2012
Poinsettia Bowl
2011
New Orleans Bowl
2010
Poinsettia Bowl
2007
New Mexico Bowl
2006
New Mexico Bowl
2004
Emerald Bowl
2003
Las Vegas Bowl
2002
Las Vegas Bowl
1997
Cotton Bowl