Santa Ana Star Field has become one of the toughest places for opponents to play in college baseball as The University of New Mexico baseball team is 94-38-1 (.711) since returning to its former location March 24, 2013, after nine seasons at Isotopes Park.
For decades the home of UNM baseball was known as Lobo Field, but thanks to a 10-year, $1 million naming rights gift from Tamaya Enterprises, Lobo Field was rechristened Santa Ana Star Field on Dec. 11, 2015.
"We are delighted to strengthen our relationship with Tamaya Enterprises, who have been long-standing supporters of the Lobos," said former UNM Vice President for Athletics Paul Krebs. "The field naming rights is a great example of their commitment to the community and provides us an opportunity for Lobo Athletics to give back to the Pueblo of Santa Ana. The beneficiary of this field naming rights is not just our baseball program but our entire community and state."
That was the second major announcement regarding the facility in a three-week span in 2015 as on Nov. 20, the UNM Board of Regents approved construction for the $2.3 million R.D. and Joan Dale Hubbard Clubhouse.
"This has been a long process, but I want to thank the Hubbards, Scott Grady and his family, our administration, Vice President for Athletics Paul Krebs, and everyone on main campus that helped this project," UNM head coach Ray Birmingham said. "I could go on for hours thanking people because so many have helped make this possible."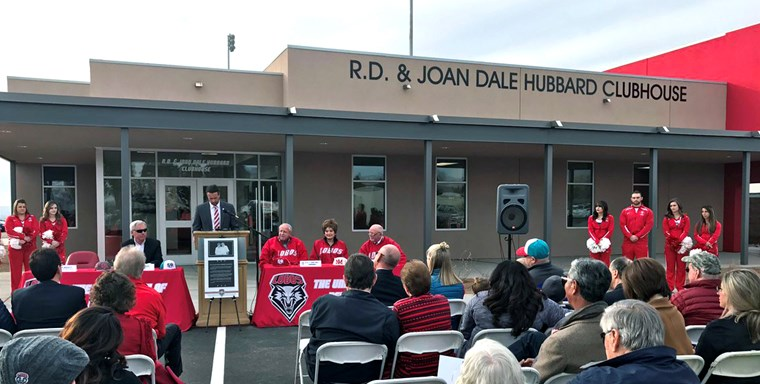 The R.D. and Joan Dale Hubbard Clubhouse was opened Dec. 28, 2016 and is located down the right-field line next to Santa Ana Star Field and includes locker rooms, restrooms, showers, a training room, storage and a player's lounge.
Santa Ana Star Field received a major upgrade that started before the 2013 season. It received a FieldTurf playing surface, upgraded scoreboard, dugouts, bullpens, and bleachers as a part of the first phase of the Santa Ana Star Field renovation. Further renovations and phases will enhance the concessions areas, the fan plaza between Santa Ana Star Field and the softball field, the press box and the bleachers. Lights were installed in the fall of 2013.
"We have lights because of (former Lobo) Dee Dennis and a bunch of guys who chipped in to help me and Dee do this," Birmingham said. "This is Lobo Field. This is (the state of) New Mexico's baseball field, at least that's how I feel about it. … There will not only be Lobo games on here, but there will also be state championship games here. We hope to bring in some great big tournaments over the years to this city and let our kids experience the world. We think New Mexico kids can get the rest of the experiences that the rest of the country has, then they will grow faster and realize they're as good as anybody."
For more information or to get involved with the renovations at Santa Ana Star Field, contact Ed Manzanares with the Lobo Club at 505-925-5607.
Santa Ana Star Field is located south of The Pit. Exit off I-25, just south of the Big-I, at Avenida Cesar Chavez and head east. Turn right (south) on University Boulevard. The Pit and the UNM Ticket Office will be on the right. Turn right into the first entrance just past The Pit. Drive through The Pit parking lot, passing the Ticket Office on your right. Santa Ana Star Field will be on your left.
| Year | W | L | T | .PCT |
| --- | --- | --- | --- | --- |
| 2013 | 14 | 2 | 0 | .875 |
| 2014 | 23 | 8 | 1 | .734 |
| 2015 | 20 | 10 | 0 | .667 |
| 2016 | 19 | 8 | 0 | .704 |
| 2017 | 19 | 10 | 0 | .655 |
| 2018 | 11 | 14 | 1 | .442 |
| 2019 | 14 | 16 | 0 | .467 |
| 2020 | 9 | 1 | 0 | .900 |
| TOTALS | 129 | 69 | 2 | .650 |