University of New Mexico Lobos athletics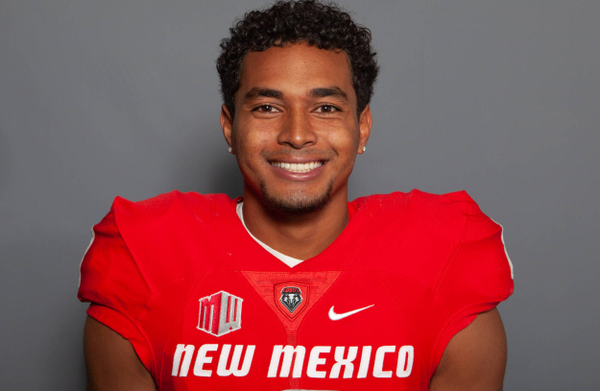 Academics:  A 2016-17 and 2017-18 Lobo Scholar-Athlete … named a 2017 Mountain West All-Academic selection … joined Teton Saltes in the spring of 2020 meeting with New Mexico legislators regarding mental health initiatives for student-athletes in the state of New Mexico.
2019 (Redshirt Junior Season): Played in nine games with seven starts … threw for 1,460 yards on 102-of-195 passing with seven touchdowns and six interceptions … also rushed for 262 yards on 52 carries … had his best game in week three, his first start of the season, throwing for 355 yards and rushing for 59 against New Mexico State … was 16-for-28 passing with three touchdowns … the 355 yards passing was a career-high … nearly hit 300 yards against, throwing for 293 on 23-of-40 passing with a pair of touchdowns against Hawai'i … followed that up with a 19-for-36 night for 237 yards against Nevada … rushed for 79 yards on just eight carries against Air Force in his final game of the season.
2018 (Redshirt Sophomore Season):  Earned a medical redshirt, but saw action in three games, all starts before suffering a season-ending injury against Liberty … was 24-for-43 passing for 439 yards and five touchdowns with a long of 69 … picked up a win in the season opener against Incarnate Word, throwing for 327 yards, going 13-for-21 passing with four touchdowns and a long of 69 yards … also rushed 11 times for 54 yards and a touchdown … drove UNM to a touchdown on the opening drive at Wisconsin, becoming the first quarterback to do that against the Badgers in four seasons, but left that game in the second quarter after an injury … was 5-for-8 passing for 55 yards and a touchdown against Wisconsin … returned for the contest with Liberty, throwing for 57 yards before suffering a broken collar bone that ended his season.
2017 (Redshirt Freshman Season):  Saw action in eight games with one start … went 57-for-118 passing with four touchdowns, throwing for 705 yards … also rushed for 142 yards on 28 carries with a touchdown … saw his first extended action, coming in with UNM down 25 points and he led UNM to a near miracle comeback against New Mexico State, going 10-for-19 for 151 yards and two touchdowns … also threw for a two-point conversion as well … came in in relief against Fresno State and had a career-high 200 yards on 13-of-24 passing … threw for 84 yards with a touchdown in another near comeback against Colorado State … threw for 47 yards in his only start, against Wyoming … ended the season by throwing for 156 yards on 10-for-20 and a touchdown against San Diego State.
2016 (Freshman Season):  Redshirted.
High School:  Lettered at La Mirada High School and coach Mike Moschetti … multi-threat option for La Mirada, playing quarterback, receiver and punter while serving as a kick returner and punt returner … was Named Daily News First Team All-Area.
Personal: Full name is Tevakatogia Salanoa-Tuioti … parents are Faafoi and Jackie Tuioti … has four brothers, Jacob, Juijan, Navy and Lawrence, and two sisters, Tuki and Hia … birthday is August 21, 1998 majoring in general engineering.