University of New Mexico Lobos athletics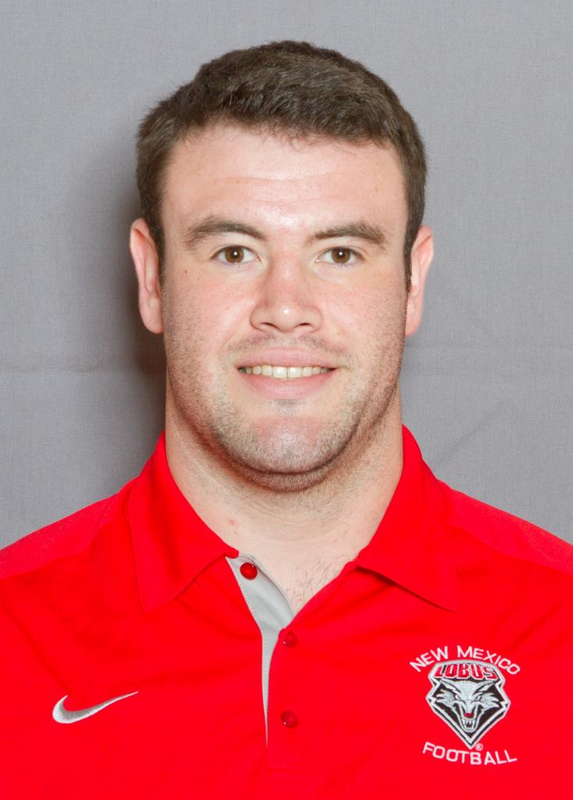 NEW MEXICO: Fifth-year senior who has found a niche on special teams and continues to improve at the tight end position after moving over from the offensive line during the 2011 season … has tremendous blocking skills for a tight end … coaches like the way he is working to develop to become a complete TE for the 2013 season … shed 28 pounds during the 2012 offseason to make himself more of a receiving threat.
2013 (SENIOR): Was a special teams stalwart, appearing in nine games as a senior … his teammates voted him the winner of the First-Team Award for his unselfish devotion to the team … appeared in 22 games in his Lobo career.
2012 (JUNIOR): A starter on special teams with 11 games played.
2011 (SOPHOMORE): Played in four games, including three of the last four, all on special teams.
HIGH SCHOOL: Four-year varsity starter on the offensive and defensive lines at El Paso Burges … 2008 preseason first team all-state by Dave Campbell's Texas Football magazine which also named him one of the top-300 players in the state of Texas … first-team All-District 1-4A defensive lineman as a senior when he had 47 tackles, 3 sacks, a fumble recovery and a blocked field goal in just 8 games … 66 stops, 2 sacks, 2 fumble recoveries, 2 pass breakups and a blocked field goal in nine games his junior season, earning first team all-Region 1 honors … 59 tackles, including five sacks, as a sophomore … all-city selection as an offensive lineman in 2008 when he helped pave the way for a pair of 1,000-yard rushers … helped Burges post a 7-3 regular season record last fall as the Mustangs advanced to the state playoffs for the first time since 2002 … played for coach Lloyd Smith.
PERSONAL: Born Nov. 4, 1990, in El Paso … full name is Mathew Garrett McBain … son of George and Cindy … father is a retired police officer … has two older brothers, Clint and Brandon …interested in Business or Kinesiology as a major.