University of New Mexico Lobos athletics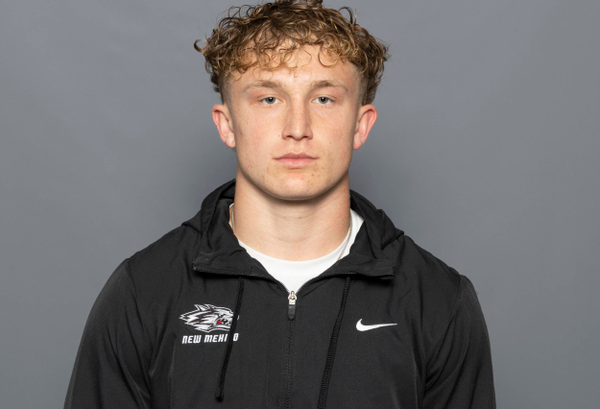 2021 (Freshman Season): Played in 11 games, earning five starts … led the Lobos with 24 receptions and 224 yards … also was UNM's leading punt returner and leading kickoff returner … averaged 11.0 yards per punt return on seven returns, including a 63-yard touchdown against Colorado State … averaged 20.3 yards per return on 15 returns, with a long of 36 yards … among Mountain West freshmen, he finished first in receiving yards, receptions, receiving yards per game, kickoff returns and all-purpose yardage, second in rushing yards opened his career with a career-high seven receptions for 46 yards, including a one-handed, juggling 22-yard catch setting up UNM's second touchdown in a 27-17 win over Houston Baptist … had four rushes for 19 yards and three catches for 24 yards against New Mexico State … rushed six times for 20 yards against Texas A&M, and added a reception as well … had three catches for 27 yards against UTEP, and he had his first career kickoff return … had a career-high 70 receiving yards on three catches against Air Force … had four catches for 51 yards with a long of 26 against San Diego State, and three kickoff returns for 65 yards … added his first career punt return … had a career-best 152 yards all-purpose against Colorado State, all on returns … had a 63-yard punt return for a touchdown for UNM's only score in a 31-7 loss to Colorado State … added four kickoff returns in that game for 92 yards including a career-long 36-yarder … set career highs in rushing attempts (8) and yards (46) against Wyoming, and he also returned two punts, including a 15-yard return … had four rushes for 26 yards against UNLV … was injured but played against Fresno State and Boise State.
High School: Lettered in football and track at Cleveland High School for coach Heath Ridenour … his father Adam and two uncles Ben and Daniel played football at New Mexico, and his mother Beth played volleyball at New Mexico … was named the Albuquerque Journal 6A State Player of the Year in football and the state of New Mexico Gatorade Player of the Year … caught 15 passes for 429 yards and six touchdowns, averaging 28.6 yards per catch in an abbreviated 2021 Spring season … he also rushed for two touchdowns and he averaged 23.0 yards on 12 punt returns … state champion in the 100 and 200-meter in 2021 and he was named the Gatorade State Track and Field Athlete of the Year, making him the state Player of the Year in two sports … Second Team 6A All-State in 2019 and First Team All-Metro … recorded 20 catches for 525 yards and two touchdowns, and also recorded two interceptions.
Personal:  Parents are Adam Wysong and Beth Wysong … birthday is May 29, 2003.