University of New Mexico Lobos athletics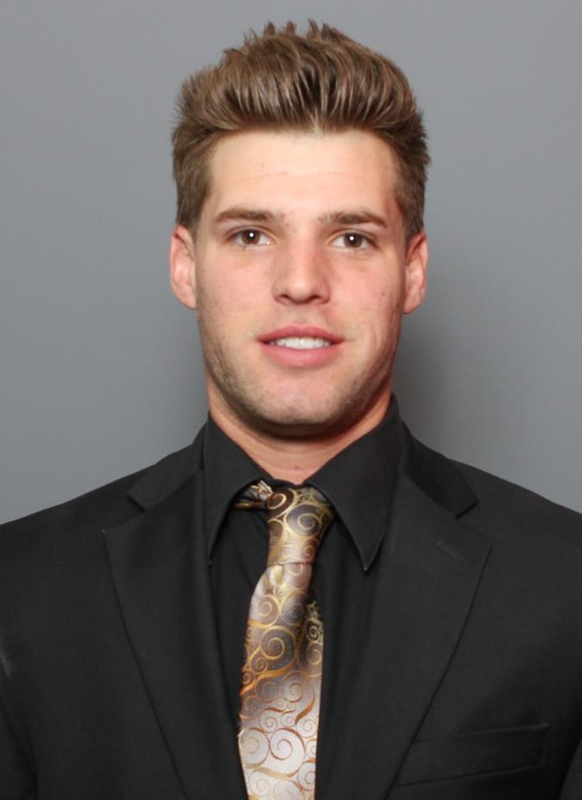 SOPHOMORE (2016): Led the Lobos with a .381 average, 21 doubles, five triples, 63 runs, a .470 on-base percentage and 18 stolen bases to go along with six home runs and 48 RBI to earn Second Team All-Mountain West honors … Also appeared in nine games on the mound (with six starts) and went 3-1 with a 5.51 ERA in 32.2 innings … His 96 hits on the season are tied for 10th in single-season Lobo history … He played and started in all 60 games for the Lobos, which is tied for 10th in single-season UNM history … Ended the season on a 10-game hitting streak – his second-longest hitting streak of the 2016 season (had a 13-game hitting streak from April 9-26) … Had four hits in a game three times: Feb. 26 versus Wichita State (4-for-5, 2B, 3B, 2 R, SB), April 1 versus UNLV (4-for-6, 2 2B, 4 RBI, R) and June 3 versus Dallas Baptist in the NCAA Regionals (4-for-4, 3 2B, 5 RBI, 2 R) … Had multiple hits in a game 31 times in 60 games … In the postseason (Mountain West Tournament and NCAA Regionals), went 15-for-25 (.600) with six double, a triple, six runs, three stolen bases and 10 RBI in six games … Struck out just once per 11.7 plate appearances (26 strikeouts, 303 plate appearances) … Went 7.2 innings and gave up two earned runs with six strikeouts in a 5-3 win over San Diego State on March 24 … Gave up just one earned run on four hits in six innings with two strikeouts in a victory over New Mexico State.
FRESHMAN (2015): Hit .299 (38-for-127) in 45 games and 37 starts … had 11 doubles, a triple, four home runs and 23 RBIs … also went 4-2 with a 6.10 ERA in five starts on the mound and 11 relief appearances … first pitching appearance came vs. Oregon State on Feb. 15 and he earned his first win by pitching 4.1 hitless innings of relief … did not allow an earned run over his first 9.1 innings as he went 2-0 … other wins came in starts vs. Grand Canyon (April 15) and New Mexico State (April 21) … first two home runs came at Wichita State on April 25, becoming the first UNM freshman with a two-home run game since 2011 … closed the season with hits in 13 of his last 15 games and batted .434 (23-for-53) over that span … had a four-hit game vs. Nevada on May 3 … in series vs. San Jose State he went 7-for-12 (.583) with nine runs, nine RBIs, three doubles and a homer … walked 23 times versus just 13 strikeouts, including just three punchouts over the last seven weeks of the season.
PERSONAL: Born Sept. 10, 1995, in Hermosillo, Sonora, Mexico, to Luis and Lisa Gonzalez … has an older sibling, Paloma … played for head coach Tim Baldwin at Catalina Foothills in Tucson, Ariz., where he was named the Division 2 MVP after hitting .500 with 10 home runs … favorite athlete is Mike Trout … loves carne asada … favorite movie is Troy … majoring in economics.