University of New Mexico Lobos athletics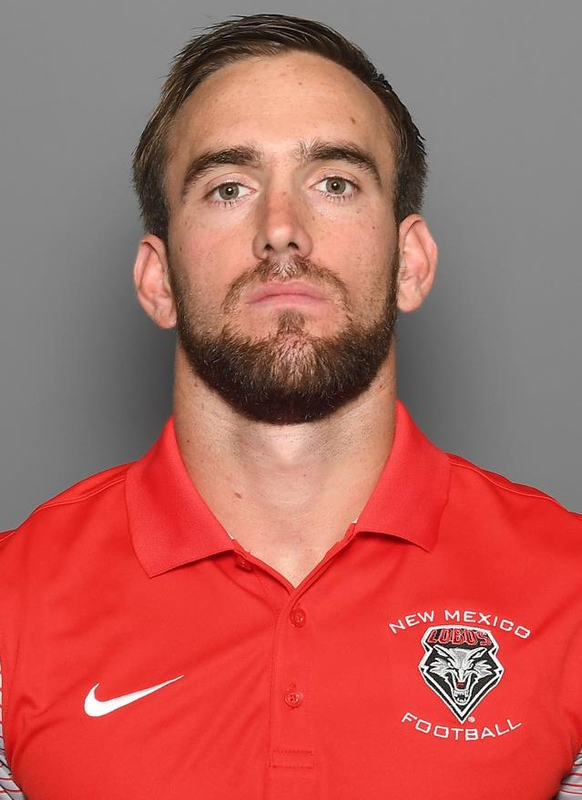 New Mexico: One of the nation's strongest kickers … a 2014 and 2015 Mountain West All-Academic selection … a 2014-15 Lobo Scholar-Athlete … owns the UNM record for consecutive extra points with 81 … named to the Lou Groza Fall Watch List.
2016 (Junior Season): Has been perhaps the nation's best all-around kicker, going a perfect 59-for-59 on extra points and 11-fo-12 on field goals, hitting his last eight in a row … leads the nation in touchback percentage at 83.8% … his 59 extra points easily broke the former UNM record of 49 … also recorded three tackles on the season … a two-time Mountain West Special Teams Player of the Week … won the award after the season opener going 6-for-6 on extra points, 2-for-2 on field goals and hitting eight of nine kickoffs for touchbacks … also won the award after going 3-for-3 on field goals against Utah State, including a 40-yard with 1:06 left that was the difference in a 24-21 win … against ULM hit all 10 of his kickoffs for touchbacks, and was 1-for-1 on field goals … one of his eight extra points in that game was a 45-yarder after a couple of penalties … hit his only field goal against Air Force, a 49-yarder … despite sub-freezing temperatures, drilled a 51-yard field goal against Colorado State.
2015 (Sophomore Season): Handled kickoff duties in all 13 games, and placekicking in the first five … went 22-for-22 on extra points including a Mountain West sophomore record 9-for-9 against Mississippi Valley State … hit a 28-yard field goal in that game … hit a 32-yard field goal against Arizona State and a 22-yarder against Wyoming … was 7-for-7 on touchbacks against Wyoming … had a stretch of the season where he had touchbacks on 25 of 29 kickoffs over a six-game stretch … finished the year with eight touchbacks on nine kickoffs against Air Force, with the only non-touchback on a pooch kick … his 63.9 yard average on kickoffs in eighth nationally, his 69.7 touchback percentage is seventh, and his total of 46 touchbacks is 12th.
2014 (Freshman Season): Handled kickoff duties for the Lobos in all 12 games this season … finished the season with 62 kickoffs, while averaging 62.1 yards on kickoffs and recording 37 touchbacks … also recorded four tackles during the season … the average opponent starting yard-line was the defensive 24-yard line.
High School: The 2013 Century League Special Teams Player of the Year as a senior for Villa Park … averaged 45.0 yards per punt on 26 attempts for the Spartans with a long of 74 yards and eight inside the 20 … also converted 7 of 12 field goals with a long of 51 yards, and made 31 of 34 extra-point attempts … kicked off 57 times and recorded 38 touchbacks … Villa Park went 9-3 in 2013, earning a Century League co-championship and advancing to the quarterfinals of the California Interscholastic Federation Southern Section Southwest Division state championships … was a first-team All-Century League and second-team All-State selection for the Spartans as a junior in 2012 … that season, he punted 47 times for a 45.9-yard average, including one punt that went for a career-long 77-yards against Foothill on Oct. 5, 2012, and landed 20 inside the 20 yard-line … made 8 of 15 field-goal attempts, including a long of 47 … converted 43 of 46 extra-point attempts … had 81 kickoff with 54 touchbacks … Villa Park went 12-2 his junior year in high school, won the outright Century League championship and advanced to the CIFSS Southwest Division finals … also played on the Villa Park boys soccer team in 2012, scoring 13 goals and adding six assists in 19 games…Recruited by Washington, Utah, Virginia Tech and Colorado.
Personal: Full name is Jason Thomas Sanders … parents are Thomas and Teresa Sanders … has three brothers, Matthew, Daniel and Andrew … birthday is November 16, 1995 … majoring in business and political science.