University of New Mexico Lobos athletics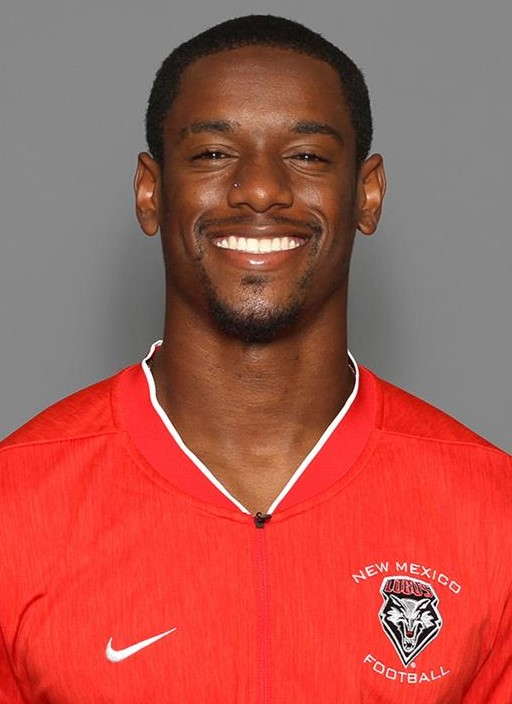 Academics:  Mountain West All-Academic in 2016, 2017 and 2018.
2019 (Senior Season): Played in three games, starting two, before opting for shoulder surgery, earning a medical redshirt for the season … caught seven passes for 95 yards, and rushed twice for three yards … caught three passes against Sam Houston State for 33 yards, with a long of 36 … had a catch against Notre Dame for 24 yards … caught three passes for 38 yards against New Mexico State with a long of 29.
2018 (Junior Season): Played in all 12 games, starting six at wide receiver in his first season as a receiver … he tied for second on the team in receptions with 21, and he was second in receiving yards with 375 … also rushed for 56 yards on eight carries, and he led UNM with  14 kickoff returns for an average of 17.6 yards per return … also tied for the team lead with five receiving touchdowns … caught at least one pass in each of the first three games of the season … recorded his first offensive touchdown in the opener, catching a 51-yard touchdown right before halftime … had a career-high four catches for 53 yards against New Mexico State … had a career-long 74-yard catch for a touchdown against UNLV … caught three passes in three different games, against Liberty, Colorado State and Utah State … had a 23-yard touchdown catch against Colorado State … ran his streak of games with a touchdown catch to three with a 16-yard touchdown against Fresno State … had his season-long kickoff return of 40 yards in the opener against Incarnate Word.
2017 (Sophomore Season): Played in all 12 games, returning kickoffs and serving as a corner … as a kickoff returner he averaged 23.6 yards per return on 31 returns … scored a touchdown, his second career kickoff return touchdown, on a 100-yard return against Texas A&M … had a touchdown earlier in that game of 98 yards called back upon review, and had a 100-yard kickoff return called back against New Mexico State on a penalty well behind play … had a 43-yard return against UNLV to open that game … also recorded 14 tackles on defense, 13 solos with one pass breakup … had a career-high three tackles against both Abilene Christian and New Mexico State.
2016 (Freshman Season): Was originally slated to redshirt, but due to injuries at corner, he was pressed into service against Boise State … while he has played corner at times, biggest contribution has been as a kickoff returner … opened his return career with four returns for 160 yards, including a long of 51 as he earned Mountain West Special Teams Player of the Week … returned a kickoff 93 yards for a touchdown against ULM, giving UNM a kickoff return for a touchdown in seven straight seasons … reeled off a 48-yard return against Colorado State.
High School: Lettered in football at Cajon High School … recorded 64 career tackles on varsity over two seasons plus one game … had 46 tackles as a junior with five interceptions … overall had seven career interceptions … also played on offense, rushing for 196 yards as a senior with three touchdowns … had 13 catches as a senior for 269 yards and four touchdowns after 14 catches for 135 yards and a touchdown as a junior … was unreal as a kickoff returner, returning 13 kickoffs for five touchdowns and a 60.5 yard average … also returned 12 kickoffs for a 32.1 yard average with a touchdown as a junior … averaged 20.9 yards per punt return as a senior.
Personal: Full name is Elijah Marcel Lilly … parents are Jerry Lilly and Monique Ware … has two brothers, Tahjhay and Syrano, and six sisters, Jazmine, Amori, Liric, Justice, Emajea and Solana … birthday is February 10, 1998 … majoring in history.