University of New Mexico Lobos athletics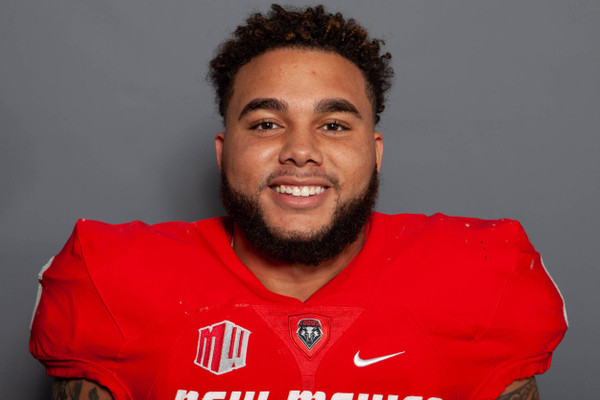 2020 (Redshirt Junior Season): Played in six games as a running back … rushed 24 times for 115 yards … had a season-long run of 37 yards against Utah State … caught nine passes for 79 yards … had a long of 19 yards against Hawai'i … season-best rushing total was 62 yards on just five carries at Utah State … had 23 rushing yards against Wyoming … went 2-for-2 passing with two touchdowns, connecting on touchdown passes to Trae Hall (16 yards against Nevada) and Andrew Erickson (24 yards against Utah State).
2019 (Redshirt Sophomore Season): Played in 10 games, starting four … was second on the team in rushing with 536 yards and two touchdowns with a long of 56 yards … also caught two passes for 12 yards and returned eight kickoffs for an average of 30.6 yards with a long of 58 yards … rushed for a career-high 193 yards and a touchdown against Colorado State … opened his UNM career with a 69-yard effort on just six carries against Notre Dame, including a 47-yard touchdown … rushed for 61 yards on 13 carries against Liberty … had 12 yards in the season finale against Utah State on 12 carries … was terrific on kickoff returns against Hawai'i, returning three kickoffs for 128 yards, a 42.7 yard per return average, with a long of 58 … returned three kickoffs for 82 yards, a 27.3-yard average, against San Jose State.
2018 (Sophomore Season): Played in two games, earning a redshirt for the season … rushed 12 times for 39 yards over his two games … also went 0-for-1 passing … rushed nine times for 35 yards against Boise State, with a long of nine yards … also rushed three times for four yards against Wyoming.
2017 (Freshman Season): Saw emergency action for two plays at Tulsa when UNM had lost three quarterbacks due to injury.
High School: Lettered at Roosevelt for coach Matt Carroll …blistering fast quarterback with 4.4 speed who rushed for 2,417 as a junior and a senior … in 2015 vs Lee HS, rushed for 351 yards and 8 TDs, also passed for 218 yards and 2 TDs … also runs track, where he ran a 10.4 in the 100-meter as a junior … lettered a total of 3 times in football and 4 times in track … a 4.0 student at Roosevelt, graduating Summa Cum Laude … named District 26 6A offensive MVP as a senior … named First Team All-District as a junior … named to Dave Campbell's Subway Super Team … named First Team Utility Player … chose the Lobos over Tulane, Southern Miss, Bowling Green, Army, Navy and Air Force.
Personal: Full name is Bryson Matthew Carroll … his parents are Matt and Dawn Carroll, and has a brother, Brennan … his birthday is May 17, 1999 … majoring in Education.