Preview: Lobos clash with Bulldogs on West Coast
FRESNO, Calif. – The first road series of the season awaits the New Mexico baseball team this weekend, as the Lobos square off against Mountain West Conference foe Fresno State University at Pete Beiden Field.
The three-game set kicks off Friday night, marking a stretch of six straight league games away from Albuquerque. The Lobos (11-5) break up the road trip with a Tuesday home game against rival New Mexico State, before a three-game series at Nevada running March 24-26.
Lobo Baseball Weekly Schedule
Friday, March 17 – 7:05 p.m. (MTN) – at Fresno State
Saturday, March 18 – 4:05 p.m. (MTN) – at Fresno State
Sunday, March 19 – 2:05 p.m. (MTN) – at Fresno State
LAST TIME OUT: New Mexico won its first conference series of the year 2-1 over Air Force at home last weekend, before an 11-8 mid-week loss at Grand Canyon on Tuesday in non-conference play. After dropping the opening game to Air Force 9-7 in extra innings, UNM responded with a resounding 15-0 shutout last Saturday before taking the series with an 11-4 triumph on Sunday. The win last Saturday was the Lobos' first shutout victory of the 2023 season. The Lobos will look for their first road victories of the season this weekend, after starting 0-2 in true road games this year.
KEEPING PACE WITH NCAA STAT LEADERS: New Mexico continues to lead the NCAA in hitting 16 games into the season, as the Lobos' team batting average of .362 is the best mark in the country. UNM ranks in the top-10 in six other categories, including second in runs per game with 11.3, third in hits with 221, triples with 11, and triples per game with 0.69, seventh in total runs scored with 181, and 10th in slugging percentage at .592. Defensively, UNM's team fielding percentage of .985 ranks 12th in the NCAA, and the pitching staff's walks-per-9 innings figure of 2.93 ranks 12th in the NCAA.
MILESTONE TRACKER: The Lobos achieved six notable career statistical milestones in their four games last week.
Milestones Achieved Last Week
Milestone
Player
Date Achieved
Notes
30 Home Runs
Reed Spenrath
3/12/2023
24 at Cisco/TCU; 7 at UNM
100 Hits
Lenny Junior Ashby
3/14/2023
During UNM career (2022-23)
600 At-Bats
Dylan Ditzenberger
3/12/2023
543 at Kansas; 65 at UNM
500 At-Bats
Lenny Junior Ashby
5/10/2023
232 at Odessa; 286 at UNM
500 Putouts
Reed Spenrath
3/11/2023
384 at Cisco/TCU; 137 at UNM
50 Strikeouts
Terrell Hudson
3/12/2023
---
Milestone Watch This Week
Milestone
Player
Total
Needs
200 Hits
Lenny Junior Ashby
197
3
100 Hits
Devon Dixon
99
1
50 Doubles
Lenny Junior Ashby
47
3
50 Striketous
Brett Russell
49
1
150 Innings Pitched
Brett Russell
149.0
1.0
250 Assists
Chase Weissenborn
242
8
200 Assists
Devon Dixon
198
2
500 At-Bats
Braydon Runion
495
5
10 Wins
Tristin Lively
9
1
---
LIVELY WITH A CAREER OUTING: Turning in the top outing of his collegiate career to date last Saturday, senior right-hander Tristin Lively shut down the Falcons to win his third game of the season and the ninth of his career. Lively had six strikeouts and one walk, while allowing just three hits in a career-high 8 1/3 shutout innings. It was the third time this season Lively has gone six or more frames in an outing, and his walks/9 innings figure of 1.21 ranks him 45th in the NCAA.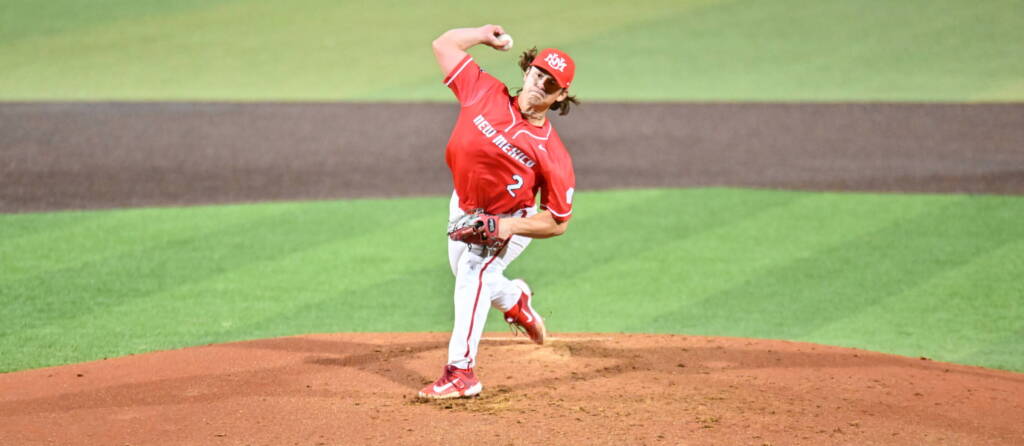 ---
DITZENBERGER REACHES IN 30 STRAIGHT: The season-long reached base streak for Dylan Ditzenberger remained intact last week, as he made it 16 games this spring to go along with the final 14 games of his career at Kansas in 2022 for a streak of 30 straight games on base. Ditzenberger also owns a 12-game hitting streak, as the Lobo leadoff man has gone hitless just once this spring. Ditzenberger is fourth in the NCAA with 1.75 runs per game, eighth in total runs with 28, ninth in hits per game with 1.94, 11th in total hits with 31, and 13th in batting average at .477. All of those figures lead the Mountain West Conference, as does his on-base percentage of .533.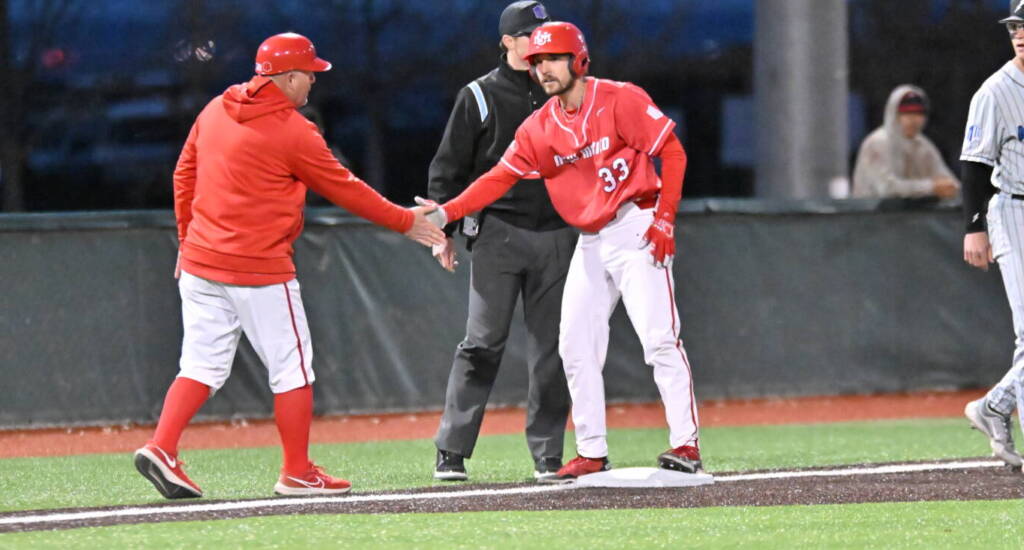 ---
SPENRATH THE MW LEADING SLUGGER: By way of the Lobos' first grand slam of the season on Tuesday, Reed Spenrath elevated his slugging percentage to .768 to rank him atop all Mountain West players. He is also tied for the conference lead in home runs with seven, and he reached the 30-career home run plateau with a long ball last Sunday in the series-clinching win over Air Force. Spenrath had a hit, run, and RBI in all four games last week, pulling into a tie for the team lead in RBIs with Lenny Junior Ashby and Jeffrey David with 23 on the season. Twelve of Spenrath's 17 hits this spring have gone for extra bases, and his 15 walks drawn in 16 games are the most in the conference as well. Spenrath eclipsed the 500-career putout plateau last week as well, and he has played error-free defense in 142 chances at first base this spring.
---
---
RUNION REMAINS RED HOT: Senior Braydon Runion extended his hitting streak to 12 games with his seven hits last week, and he has scored at least one run in each of the last seven games as well. Runion hit his fourth home run of the year and the 33rd of his collegiate career last Sunday, helping up his RBI count to 19 while hitting out of the cleanup spot this season. Runion owns a stellar slash line of .444/.486/.714, and his 1.75 hits per game rank him No. 29 in the NCAA.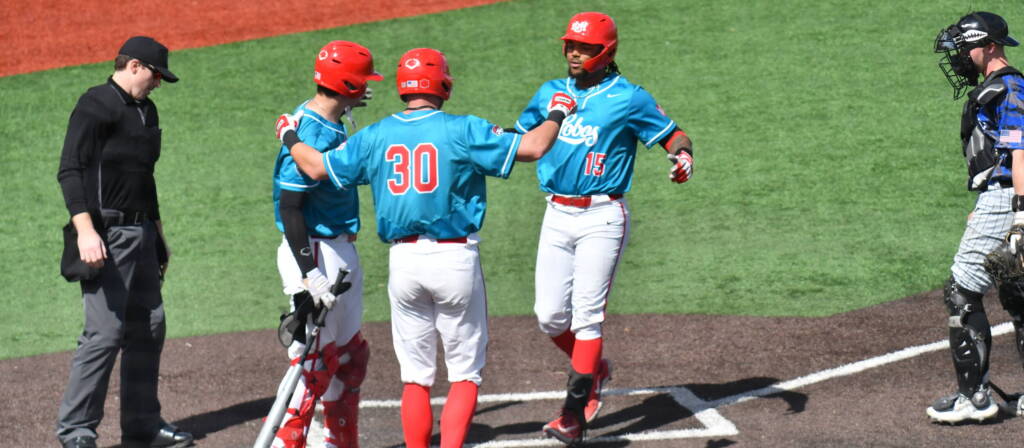 ---
ASHBY REACHES 100 HITS AS A LOBO, CLOSES IN ON 200: Lenny Junior Ashby went 2-for-5 in Tuesday's game at Grand Canyon, giving him 101 hits in just 70 games so far in his two-year Lobo career. Including the 96 hits he accumulated during his two seasons at Odessa College, Ashby enters this weekend's series just three hits away from the 200-hit mark in his collegiate career. Three of Ashby's hits last week were doubles, giving him 47 in his collegiate career as he closes in on the 50-doubles milestone as well. Ashby is batting .388 this spring, and is tied for the Mountain West lead in RBIs with 23. Ashby's 20-game reached base streak came to an end last Saturday against Air Force, as he logged the team's second-longest such streak this season.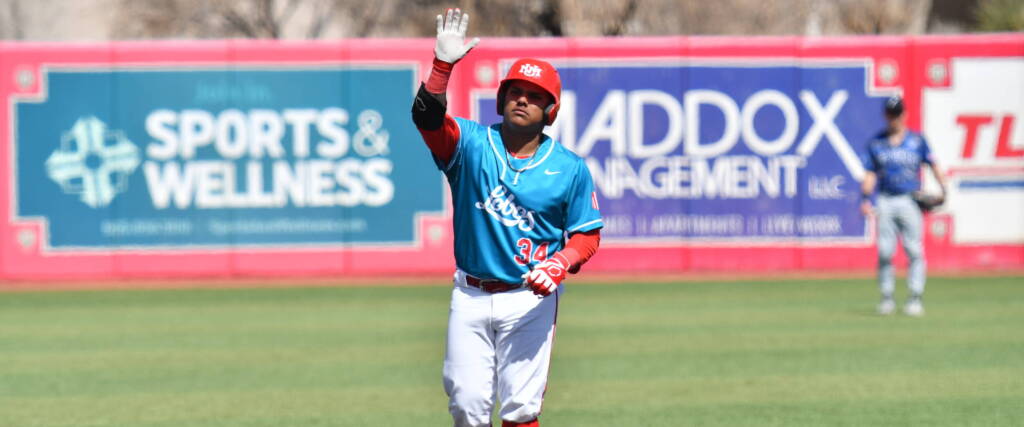 ---
DAVID HEATING UP: Jeffrey David is hitting .414 (12-for-29) in his last six games, elevating his season batting average to .347. The second-year Lobo has driven in seven runs during that span to level him with Ashby for the team and conference lead at 23, and he is coming off his second home run of the year on Tuesday in Arizona. David's four triples this year rank him fifth in the NCAA, and he is slugging a lofty .597 while reaching base at a clip of .395.
---
---
PIGFORD RUNNING WILD: Deyland Pigford has provided UNM with a spark in the middle of the lineup, producing a slash line of .393/.500/.607 while starting all 16 games this spring. Pigford leads the team and ranks second in the Mountain West in steals, as he is a perfect 7-for-7 thus far. Eight of Pigford's 22 hits have gone for extra bases, and he has drawn 11 walks while striking out just eight times in 68 plate appearances. Pigford is also close behind Ditzenberger with 22 runs scored, ranking him 53rd in the NCAA.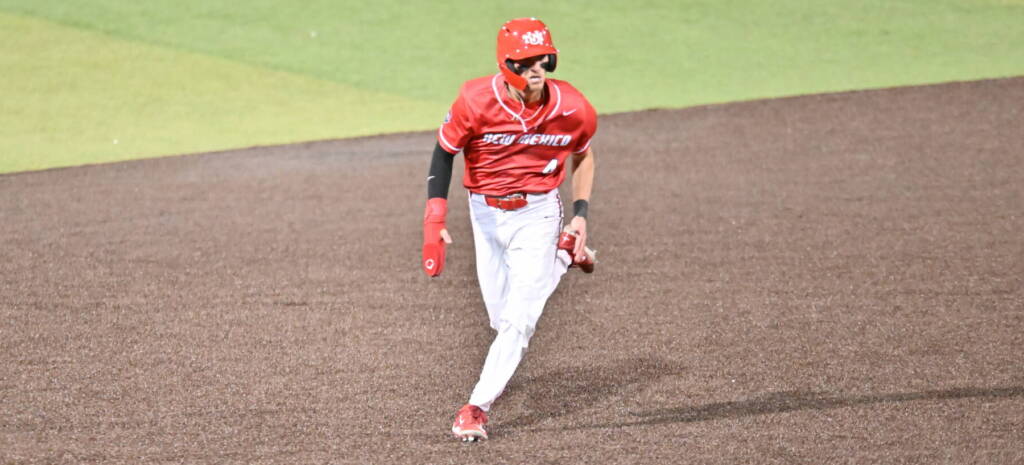 ---
GALLEGOS WINS THIRD STRAIGHT: Isaac Gallegos made it three consecutive victories on the mound, striking out a season-high six hitters in a season-high six innings last Sunday to cap the series win over Air Force. The junior right-hander ranks in the top-100 in the NCAA in both hits/9 innings at 5.14 (63rd) and WHIP at 0.90 (67th) through the first four starts of his UNM career.
HOLLAND BRINGS THE POWER: Junior catcher Jake Holland has sustained his high slugging numbers, hitting his fifth home run of the year in the series opener against Air Force. Holland's slugging percentage of .761 ranks him second in the Mountain West behind Spenrath, and he is batting .391 with 19 RBIs.
DIXON CAN PICK IT: With just one error in 58 chances in the middle infield this season, Lobo newcomer Devon Dixon has solidified himself as one of the top defensive players in the conference. Dixon had 11 assists and five putouts last week, and stood out in Saturday's win over Air Force with multiple highlight-reel stops. Dixon had a pair of hits last week, giving him 99 in his collegiate career as he approaches the 100-hit milestone. He is also two assists away from 200 in his collegiate career, which began with two seasons at Central Arizona College.
---
---
WEISSENBORN MATCHES CAREER HIGH: Junior shortstop Chase Weissenborn had his second four-hit game of the season last Saturday, going a perfect 4-for-4 while driving in three runs in the lopsided win over Air Force. Overall Weissenborn went 6-for-16 last week, to keep his batting average at .333 on the season. Like his double play partner, Weissenborn has committed just one error this season in his 63 chances at short. The third-year Lobo needs eight more assists to reach 250 in his career, and he is a career .955 fielder in 376 chances.
HUDSON REACHES 50 STRIKEOUTS: Fourth-year Lobo Terrell Hudson struck out a pair of Falcons in a scoreless outing last Sunday, giving him 50-career strikeouts in his tenure at UNM. Hudson has eaten up 67 1/3 innings across 37 appearances primarily out of the bullpen, including nine innings in five outings this spring.