UAB OC/Interim Head Coach Vincent Named Offensive Coordinator
ALBUQUERQUE, N.M. — Bryant Vincent, who spent the past five seasons with UAB as offensive coordinator and quarterbacks coach and led UAB to a 7-6 season and a win in the 2022 Bahamas Bowl as UAB's interim head coach, has been named offensive coordinator by Danny Gonzales.  The 47-year old has been a Division I offensive coordinator since 2014.
"I'm thrilled to have someone with the caliber and experience of Coach Vincent joining our staff," said Gonzales. "To step into the interim role as head coach last year at UAB and led the team to a win in the Bahamas Bowl is a credit to how well prepared he is, and how well prepared his team at UAB was."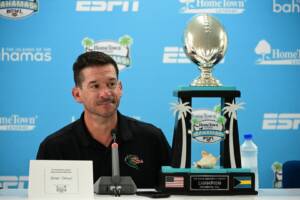 Vincent was named the interim head coach for the Blazers on June 27 of this past year upon the retirement of Bill Clark.  In 2022, the Blazers went 7-6 overall, finishing off the season in style with a 24-20 win over Miami of Ohio in the HomeTown Lenders Bahamas Bowl.
The 2022 Blazers scored 30.1 points per game and currently rank just outside of the top-30 in total offense at 438.2 yards per game, a figure that would rank eighth in Lobo history over 124 seasons.  Additionally, the Blazers this past season totaled 5,697 yards of offense.  UNM's best yardage total in history was 5,664 yards in 1994.
The Blazers ranked in the top five in scoring offense within Conference USA in five of his six seasons with the program as the offensive coordinator, and in his time with UAB, the offense broke over 20 school records.
Since 2018, Vincent helped lead the Blazers to two Conference USA Championships and two bowl game victories. UAB has been the winningest team in Conference USA since returning to the playing field and collected 42 wins since Vincent returned as OC.  The Blazers won the 2018 CUSA title game 27-25 over Middle Tennessee State, winning on the road, and the 2020 CUSA title game, that one 22-13 over Marshall, again on the road.
UAB also made it to the 2019 championship game as champions of their division.  Since the reinstatement of the program in 2017, Vincent coached in five bowls games, qualifying for six.  UAB won the 2018 Boca Raton Bowl 37-13 over Northern Illinois, the 2021 Independence Bowl 31-28 over BYU and this year's Bahamas Bowl.  UAB also played in the 2017 Bahamas Bowl against Ohio and the 2019 New Orleans Bowl against Appalachian State, and the team qualified for the 2020 Gasparilla Bowl against South Carolina, but that game was canceled.
With Vincent at offensive coordinator, the Blazers set FBS-program records for wins in 2018, going 11-3.  Vincent never had a losing season with Blazers, going 7-6 as head coach and going 48-27 overall in his six years with UAB. The 2018 Blazers had the best offensive season in program history which resulted in 21 school records, including the aforementioned 11-3 overall record and winning the program's first Conference USA title and bowl game.
Among the school records that fell in 2018 included total points (418), total touchdowns (53), rushing touchdowns (32), total yards (5,680) and rushing yards (2,818). Additionally, UAB set the single game school record for total yards (668) and rushing yards (419) in a 52-3 victory over UTSA on Nov. 3, 2018.
Vincent spent six years in two different stints with South Alabama. He served as the offensive coordinator and quarterbacks coach at the University of South Alabama from 2015-17. He also worked for the Jags from 2011-13 as an assistant coach before joining UAB in 2014.
Vincent helped guide the Jaguars to the 2016 Nova Home Loans Arizona Bowl led by record setting quarterback Dallas Davis. In Vincent's offense, Davis threw for the most yards in school history (2,706) and his 2,951 total yards of offense are second most in program history.
Prior to coaching in the college ranks, Vincent was a very successful high school coach who compiled an overall head coaching record of 49-16 and won a State Championship at Spanish Fort in 2010. In his one season at Greenville High School in 2006, he was 10-3 overall and was named the 5A State Coach of the Year.
Vincent and his wife Holli have two sons, Brady and Bret.
Bryant Vincent Coaching Experience
1996-97
West Alabama
Student Assistant
1998
Hart County (Ky.) HS
Assistant Coach
1999-02
Charles Henderson (Ala.) HS
Assistant Coach
2003-05
Spain Park (Ala.) HS
Assistant Head Coach
2006
Greenville (Ala.) HS
Head Coach
2007-10
Spanish Fort (Ala.) HS
Head Coach
2011-13
South Alabama
Assistant Coach (TE/FBs)
2014
UAB
Assistant Coach (OC/QBs)
2015-17
South Alabama
Assistant Head Coach (OC)
2018-21
UAB
Assistant Coach (OC/QBs)
2022
UAB
Interim Head Coach (OC/QBs)
Bryant Vincent Quick Facts:
Born: Oct. 18, 1975
From: Glasgow, Ky.
Education: West Alabama, '98 (undergrad), Troy, '01 (masters)
High School Head Coaching Record: 49-16
Superlatives:
2006 Alabama 5A Coach of the Year (Greenville HS)
2010 5A State Champions (Spanish Fort HS)
College Coaching Experience:
South Alabama: 2011-13 (TEs/FBs)
UAB: 2014 (OC/QB)
South Alabama: 2015-17 (OC/Assistant HC)
UAB: 2018-21 (OC/Assistant HC/QB); 2022 Interim HC