Lobos Taking a Trip to SEC Country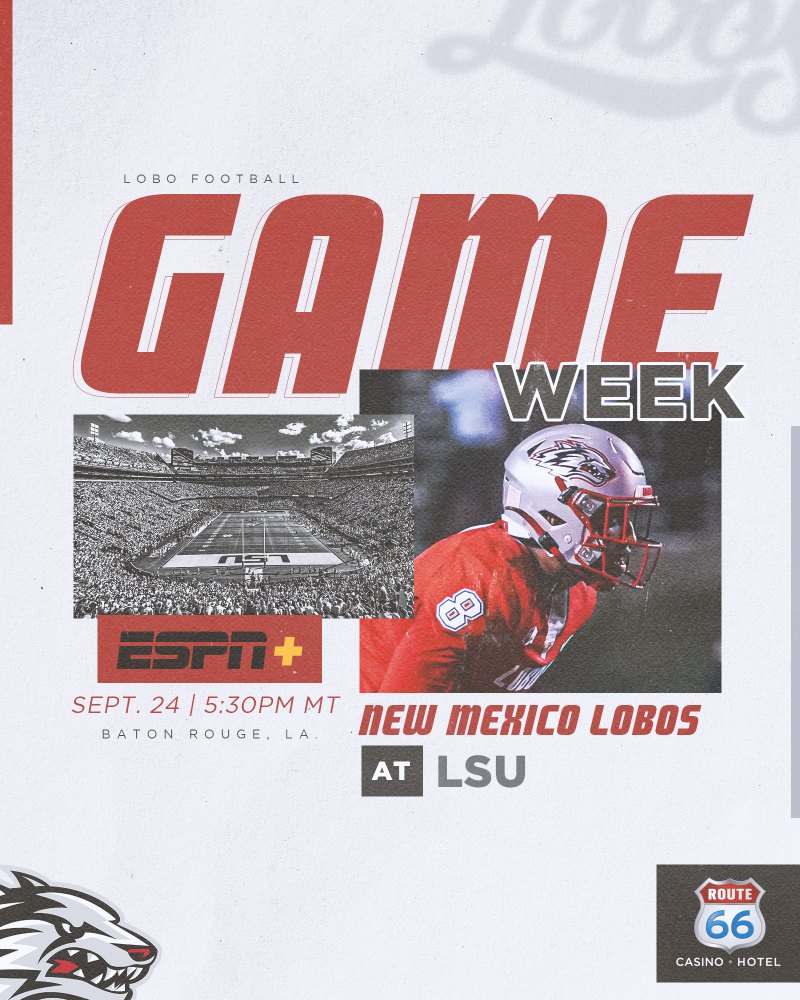 ALBUQUERQUE, N.M. — The Lobos enter a monumental challenge heading to Baton Rouge, Louisiana to face LSU at Tiger Stadium.  The Lobos are 1-13 all-time against teams currently in the SEC, but if you are looking for an omen, any omen, there's this:  the lone win was over the Tigers.
Not the LSU Tigers … the win was in 2005 over the Missouri Tigers when they were not actually in the SEC, but that's neither here nor there.  This week it's about want-to and desire, and for UNM, a chance to match up with the best in the nation.  The game kicks off at 6:32 p.m. Central Time (5:32 p.m. Mountain Time) on SEC Network+ and ESPN+ with Mike Corey and Dave Steckel on the call with Jalyn Johnson.  Robert Portnoy and DonTrell Moore will have the call for the Lobo Sports Radio Network.
UNM comes into the game 2-1 after a 27-10 victory over UTEP in which it forced seven turnovers for the first time in 36 years.  LSU comes in after a wild comeback in which it outscored MIssissippi State 21-0 in the fourth quarter for a 31-16 win.  LSU's only loss was in the opener to Florida State in which LSU against amassed a wild late comeback, scoring twice in the final minutes to get within 24-23, scoring a touchdown with no time left. LSU had the extra point blocked, with the ball dinging off the crossbar as Florida State won 24-23.
LSU's Tiger Stadium is one of the iconic venues in all of college football, and it holds 102,321 fans.  While a capacity crowd would be a record for UNM (the largest crowd UNM has ever played in front of was 100,990 in at Texas in 2012), a full house isn't expected.  However, it should be just the sixth time a Lobo Football team has ever played in front of a crowd of at least 80,000 fans.
It will be a fun game for UNM's four Louisiana players as Justin Harris, Chad Alexander, Duece Jones and Christian Jourdain all will get a chance to play in front of friend and family.  "Those guys talk about how good the food is down there, and Justin is a really good cook.  They aren't going to get to eat it though … they can smell it," said head coach Danny Gonzales, who is excited for the opportunity.
"Last year when we played Texas A&M I thought our guys were scared, and it showed because it was 14-0 five minutes into the game.  They settled down after that and they realied we can play with these guys, but by then it was too late," he said.
The Lobos will be attempting to hold down an offense that is averaging 438.3 yards per game and 39.7 points per game.  The Lobo defense ranks 15th in the country in total defense and fifth in third down defense, and UNM will have to keep that up, and limit Jayden Daniels who is averaging 260.3 yards of total offense including 75.0 yards per game rushing.