Lobos Host CSU on What Will Be a Legendary Night
ALBUQUERQUE, N.M. — The Lobos enter this week's game with Colorado State with plenty of adversity. Maybe that's a good thing because UNM football has shown under Danny Gonzales that adversity is nothing the team shies away from.  That adversity, and how UNM handles it, will be on full display at 5 pm on Saturday as the Lobos return to University Stadium to face the first place Colorado State Rams.
The game itself should have plenty for the Lobo faithful to enjoy, from all of the legendary figures being honored during the game, to some new fun concessions items inside the stadium.  Fans will want to hit the Howl Zone starting at 3 p.m., and the tailgate lots even earlier as the weather for Saturday should be about as perfect a Fall day as Albuquerque can muster iwth a high of 68 degrees and sunshine all day.
Fans will want to make sure they are in their seats for the kickoff as UNM has three different presentations during the game, starting with the man of the hour in DonTrell Moore.  Moore, who owns 16 Lobo records, some of which may never be broken, will be inducted into the Lobo Football Ring of Honor in between the first and second quarters.  Moore will also be on the field prior to the game taking part in the pregame coin toss.  Colorado State fans and players might get spooked at the sight of Moore after he rushed for nearly 700 yards in four games against CSU, including a career-high 242 in a 37-34 win in front of 37,133 at University Stadium in 2003.
Fans without tickets yet can certainly honor the Roswell native by taking advantage of our "Moore for Less" promotion, where fans can get two tickets for $22 (Moore's number 22 is what will be going on the stadium tower).  Fans can get those tickets anywhere in the Cherry section (which is the North End Zone) by clicking here.  We are even making it easy for fans … if you need more than two tickets, each additional ticket is just $11.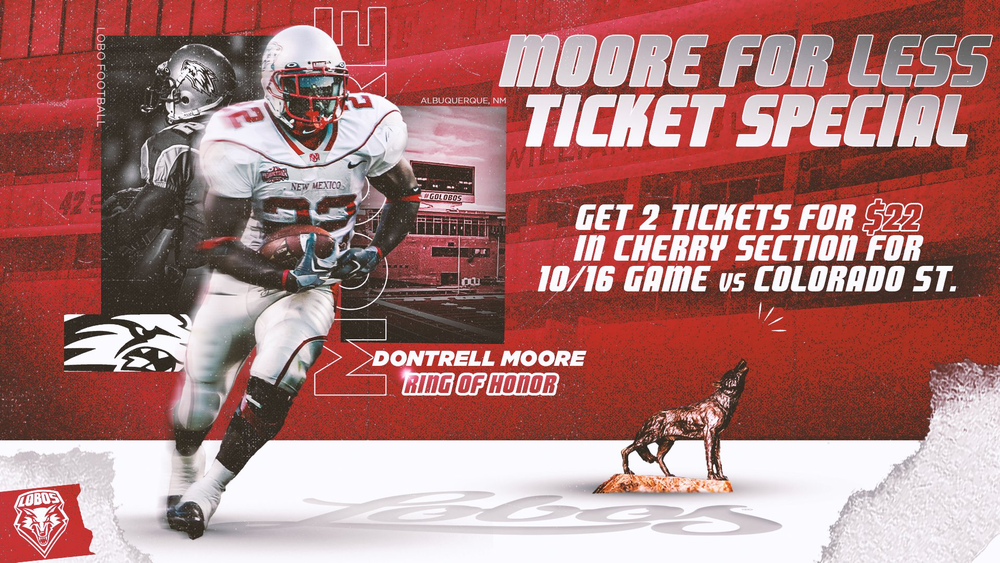 Fans getting the "Moore for Less" tickets will have the added bonus of being able to hit the newest concessions partner inside University Stadium as Chick-Fil-A will be available in the west side concessions booth near sections D, E and F.  Additionally, mobile concessions ordering will be available at UNM's other stands as well after a soft opening of the process in UNM's last game against Air Force.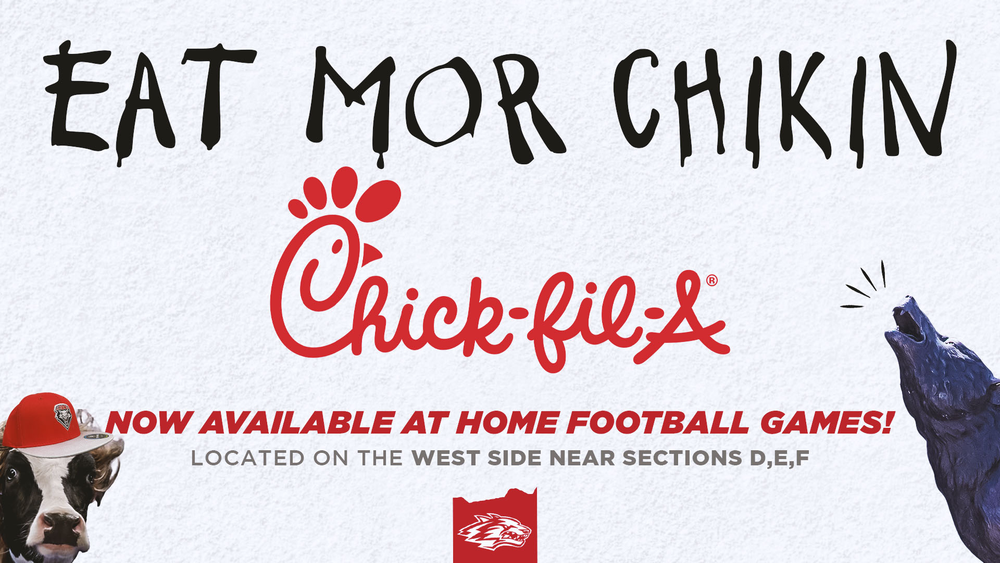 Now, about that adversity.  The Lobos are taking on a Rams team that potentially after week one looked like a team that might struggle all season, losing to FCS UC Davis 42-23 in a game that wasn't that close.  Instead, UNM will take on a Rams team that has won two of three, including a 32-14 pasting of defending Mountain West champion San Jose State.  The lone loss?  A 24-14 loss to No. 2 Iowa, a game that CSU led 14-7 at the half and turned on an eight-play sequence in the third quarter.  CSU fumbled deep in its own territory, Iowa scored on the following play, and after a three-and-out, Iowa took the lead for good.
The Rams also feature the hottest placekicker in the league in Cayden Camper, who tied a Mountain West record by going 6-for-6 on field goals, accounting for 20 points in their 32-14 win.  He also went 5-for-5 in a 22-6 win over Toledo.  The win over San Jose State put CSU in first place in the Mountain West's Mountain Division, and the Rams are playing as well as anyone in the league.
UNM will have to end a four-game losing streak with a new quarterback most likely, and it will be a freshman.  The question is which one?  Terry Wilson took mental reps at practice on Tuesday and will try and make a go of it on Wednesday, but he dislocated his elbow on Saturday and despite it being his non-throwing elbow, he will still have to be able to catch a snap and bring his arm up.  If he can't go, UNM coach Danny Gonzales has said he will most likely turn to true freshman C.J. Montes.  UNM's No. 2 QB when the season started Trae Hall is now a starting slot receiver, filling in for Mannie Logan-Greene and helping to lighten the load on true freshman Luke Wysong.  Last year's true freshman quarterback Isaiah Chavez just returned to practice after missing six weeks with an injury, so while he is available and taking some first team reps, he also is working through getting back into game shape.
The Lobos offense, which has only scored 23 points in the last four games, could very well be going after a Ram squad with five true freshmen in the lineup in Montes, Wysong, Keyonta Lanier, Aaron Dumas and Shancco "Ise" Matautia.
While some coaches would moan or lament the hand laid out in front of them, Gonzales is ready to go, as is the rest of his team, and it's due in part to Montes and his chutzpah so to speak.  "He's going to be a very good quarterback for us.  He is very smart, and fearless.  He will screw some things up and just go "OK, I'll fix that", and that's what you want.  You want the water to roll off down their back."
UNM did get some good news in that Reco Hannah could return ot the lineup.  Hannah most likely will play in only three of the final six games of the season in order to utilize a redshirt season and return for another year in 2022.
The Lobos will be looking for their first win over the Rams since 2009, when UNM hit a walk-off field goal for the first win of the Mike Locksley era (one of  only two wins in his 2+ years as head coach).  The Lobos have been close, losing 10 straight but five of those were within a score.  The contest between the two teams last year was canceled … it would have been the season opener for both teams. It was UNM's only cancelation, and it was one of four for Colorado State (three were canceled and one was forfeited by Utah State).