Gonzales Names Rocky Long as Defensive Coordinator
Fans, you lock in your 2020 Season Tickets with a $20 deposit.  The Lobos open to 2020 season on August 29 against Idaho State and have home games with UMass, Boise State, Wyoming, Nevada and San Jose State.  Click here to place your deposit and lock in your tickets for 2020!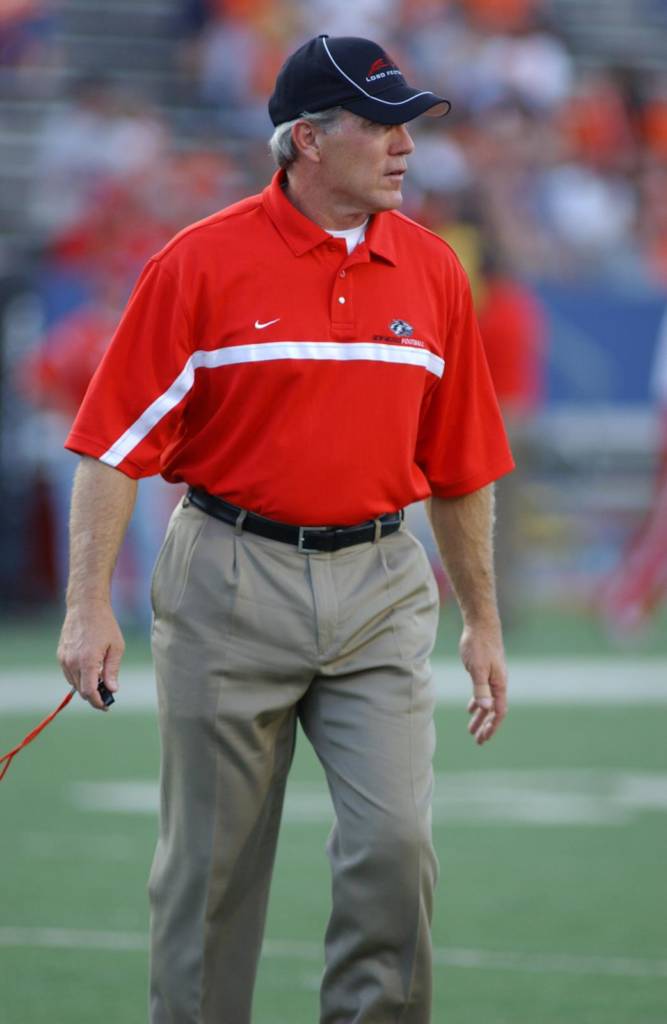 ALBUQUERQUE, N.M. — Rocky Long, the winningest coach in both New Mexico and Mountain West history, has been named defensive coordinator by new head football coach Danny Gonzales.  The hiring pairs back up Gonzales and Long, who have a 20+ year history together. Long recently retired as the head football coach at San Diego State University.
 
The hiring is a role reversal of sorts as Gonzales spent the 2017 season as defensive coordinator at San Diego State under Long. Gonzales and Long's association dates to 1998, Gonzales' senior season at UNM and Long's first as head coach. 
 
Long played quarterback at UNM from 1969-71, earning WAC Player of the Year honors in 1971. He then played professionally in both Canada and with the Detroit Wheels of the short-lived World Football League.
 
"I'm tremendously excited to have Rocky Long back at New Mexico," said Gonzales.  "Coach Long's teams at both UNM and San Diego State were known for their defense, and I don't think there is a better defensive coach in the country.  We are lucky to him back with our program.  It's very exciting."
 
The coaching stint will be his fourth at his alma mater.  Long was a graduate assistant from 1972-73 and the offensive back field coach and then defensive backs coach from 1978-80 with New Mexico before becoming defensive coordinator at Wyoming, Oregon State and UCLA.  He was named UNM's head coach January 12, 1998 and coached the Lobos from 1998-2008, winning a school record 65 games.
 
Long has UNM bowl eligible for a school record seven straight seasons, and UNM played in back-to-back-to-back bowl games from 2002-04, a first in school history.  Long led UNM to a 23-0 win over Nevada in the 2007 New Mexico Bowl, ending a 46-year bowl victory drought for the school.
 
Look who's back on the sideline together!!! Welcome back Coach Long DC /Linebackers Best DC in CFB!!! Let's Do This! The goal is Conference Championship #5 Lets Gooooooo! #GoLobos #WIN5 pic.twitter.com/dS27ri8D7j

— Coach Gonzales (@CoachGonzUNM) January 27, 2020
Throughout his time as UNM's head coach, Gonzales was a player (1998) or on staff with Long.  Gonzales was a graduate assistant from (1999-02), video coordinator (2003-05) and safeties and special teams coordinator (2006-08). 
 
Long left UNM after the 2008 season and became San Diego State's defensive coordinator for the 2009 and 2010 seasons before replacing Brady Hoke for the 2011 season.  Long remained as defensive coordinator from 2011-16, bringing Gonzales on staff to coach safeties.  In 2017, he stepped aside from serving as his own coordinator and Gonzales stepped in.
 
Long won 81 games over his nine seasons with San Diego State, never suffering a losing season and winning double digits in four of the last five years.  He also led San Diego State to three Mountain West titles and nine bowl games.  His final head coaching win was a 48-11 win over Central Michigan in the 2019 New Mexico Bowl, in the same stadium he used to coach and play on.
 
Long is a three-time Mountain West Coach of the Year and he is the winningest coach in the history of the league, with 143 of his 146 win coming since the league's inception in 1999.  Long and his wife Debby have two daughters, Roxanne (a former college women's basketball head coach and current professor at North Texas) and Hannah (head women's volleyball coach at Queens University in Charlotte, N.C.)
 
Click here to lock in you 2020 Season Ticket Deposits