Gonzales Names Nine to First Coaching Staff
ALBUQUERQUE, N.M. — When Danny Gonzales was named the head coach of The University of New Mexico Lobos, many fans were wondering if that would be the start of familiar names coming back into the fold. 
 
Based on Gonzales' first coaching staff hires, that would be a resounding yes.  Gonzales has announced nine assistants to his first staff, with two more to be named shortly.  Among the nine are four coaches how have already served as assistants at UNM, one that has coached in the Albuquerque prep scene for over 25 years.
 
Joining the staff for the 2020 season are:
 
Derek Warehime, Offensive Coordinator
Saga Tuitele, Offense
Jason Lenzmeier, Offense
Jordan Somerville, Offense
Troy Reffett, Safeties
David Howes, Linebackers
Brandon Blackmon, Cornerbacks
Jamie Christian, Special Teams
James Carson, Head Athletic Performance
 
Tuitele served on the UNM staff last season, and he is the only coach to return from the 2019 season.  For Warehime and Reffett, this will each be their second stints with UNM, while it will be the third for Lenzmeier.
 
"I'm really excited for our staff," said Gonzales.  "I really like the mix that we have, with several young up-and-coming coaches, and several experienced coaches who understand the systems that we want to run.  This is a staff that understands not just Lobo Football and The University of New Mexico, but what it takes to win in Albuquerque and what it UNM means to our state."
 
Gonzales added, "We still have two spots left to fill, but this is a staff that will be able to establish what we all want this program to be, and what we want it to be known for.  We have already hit the ground running with recruiting, and these are coaches that can really sell this university and community because they believe in it and they care about it."
 
Below are quick capsules on the 2020 staff.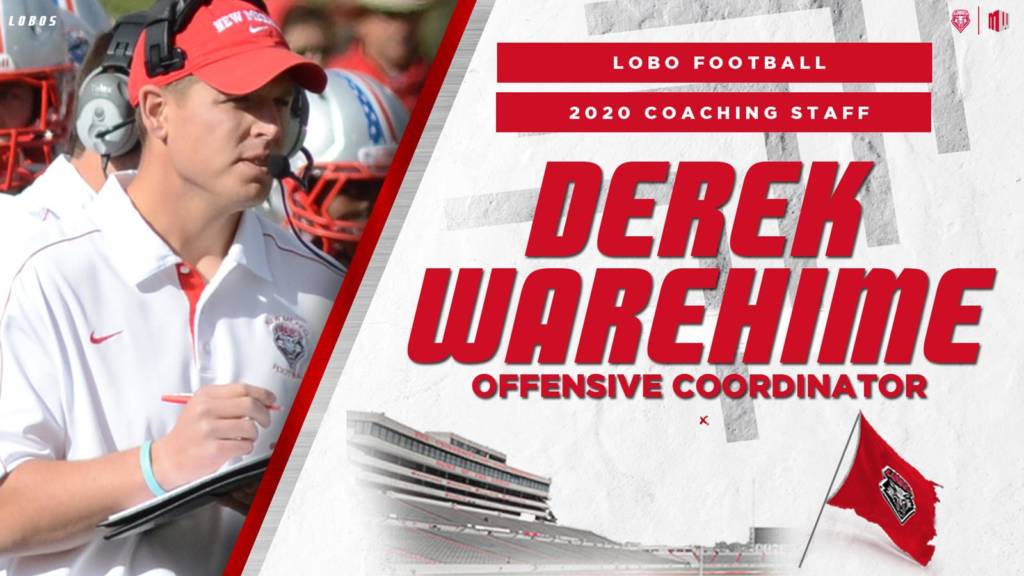 Offensive Staff
Derek Warehime – Offensive Coordinator
Derek Warehime returns to UNM, this time as offensive coordinator.  Warehime served as tight ends coach at UNM from 2012-2014, and in his final season with the Lobos, he added the title of run-game coordinator, helping UNM to finish fourth nationally in rushing in 2014.  Warehime left UNM and headed to Houston, where he joined Tom Herman's staff.
 
Warehime comes to UNM after a three-season stint at Texas, also under Herman.  He served as offensive line coach for one season and tight ends coach for two, and he was also special teams coordinator in 2019.  Warehime has coached in five straight bowl games, including three straight wins with Texas.
 
This will be Derek's fourth year overall with UNM.
 
Danny Gonzales on Derek Warehime: "Derek brings with him a very successful track record on offense, with his teams always ranking high in the national NCAA statistics.  Derek is also a proven recruiter and he has a great passion for this university."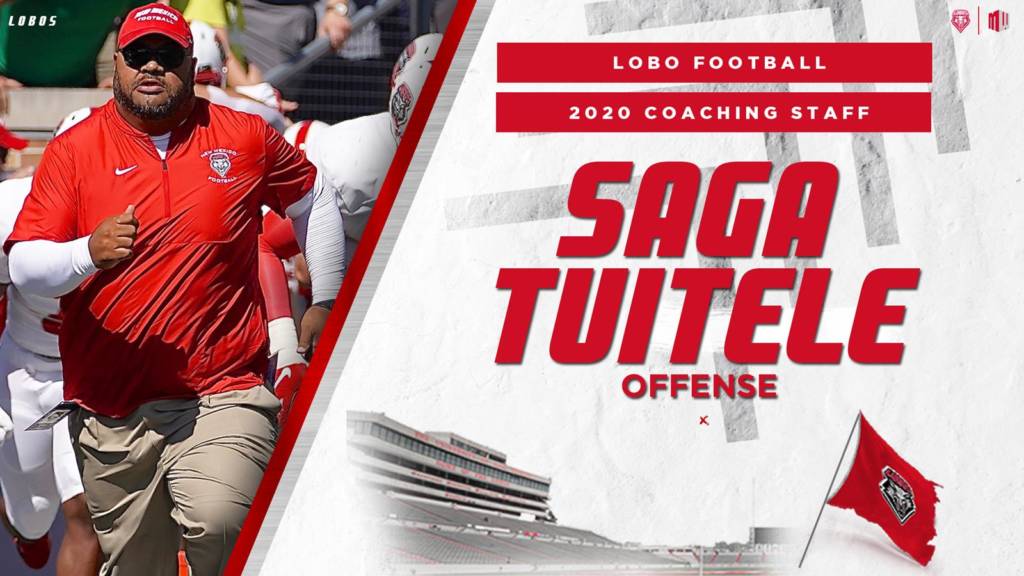 Saga Tuitele – Offense
Saga Tuitele returns to the staff after serving as the offensive line coach for the past four seasons.  Tuitele, who also spent two games as the acting head coach in 2019, including a win over New Mexico State, handled one of UNM's top units as Kyle Stapley was a Rimington Award candidate and Teton Saltes was a semifinalist for the Wuerffel Trophy.  IN his first season in 2016, Tuitele's line led the way for UNM to lead the nation in rushing, a first in school history.  Last season, UNM was the final team in the FBS to allow a sack.
 
Tuitele, who also was UNM's run game coordinator, also has served as offensive coordinator and offensive line coach at Cal Poly, where his team led the nation in rushing four straight years.  He has also made coaching stops at Army and Portland State.
 
This will be Saga's fifth year overall at UNM.
 
Danny Gonzales on Saga Tuitele: "Saga brings an experienced play-caller and decision-maker to our staff.  He is a great recruiter with strong ties to the Inland Empire, and he is tremendous with the student-athletes."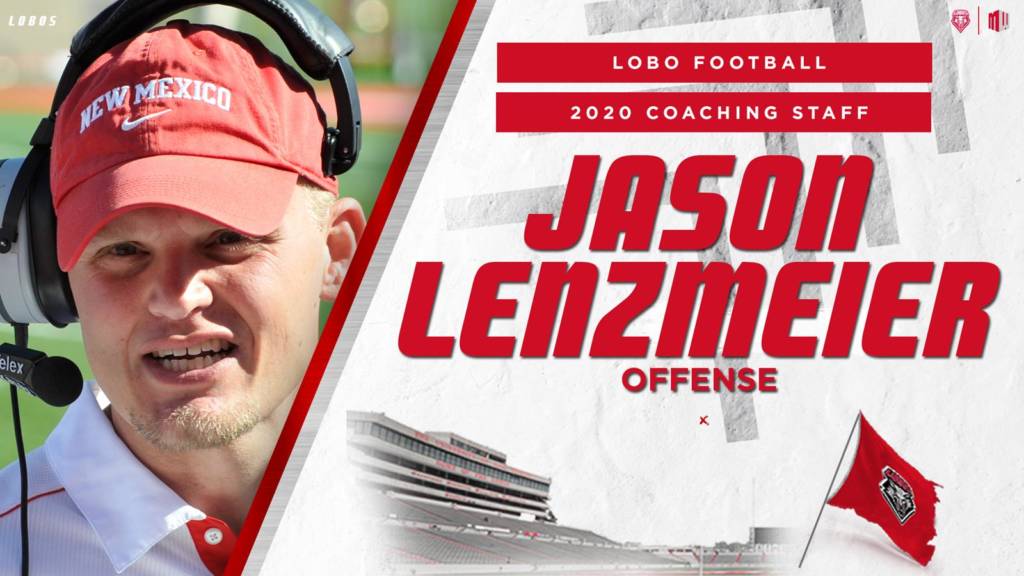 Jason Lenzmeier – Offense
One of the most popular players and assistant coaches returns for his third stint with New Mexico as Jason Lenzmeier returns to coaching after a spell in the private sector.  Lenzmeier was previously UNM's offensive line coach from 2012-2015, where he worked closely with Warehime for three seasons.  Under Lenzmeier's tutelage, the Lobo offensive line paved the way for Kasey Carrier to break the single-season rushing record at UNM.
 
Still the only offensive lineman in the history of the Mountain West to earn Offensive Player of the Week honors, Lenzmeier's first stint at UNM was in 2007-08, where he served on the staff with Gonzales under Rocky Long.  Lenzmeier also spent three seasons at New Mexico State from 2009-2011.
 
This will be Lenzmeier's seventh year overall with UNM
 
Danny Gonzales on Jason Lenzmeier: "Jason is a great Lobo, and he has a great track record of success.  Jason has a history of coaching very physical, strong offensive line play, and he gets the absolute best out of his players.  It's great to have Jason back at UNM."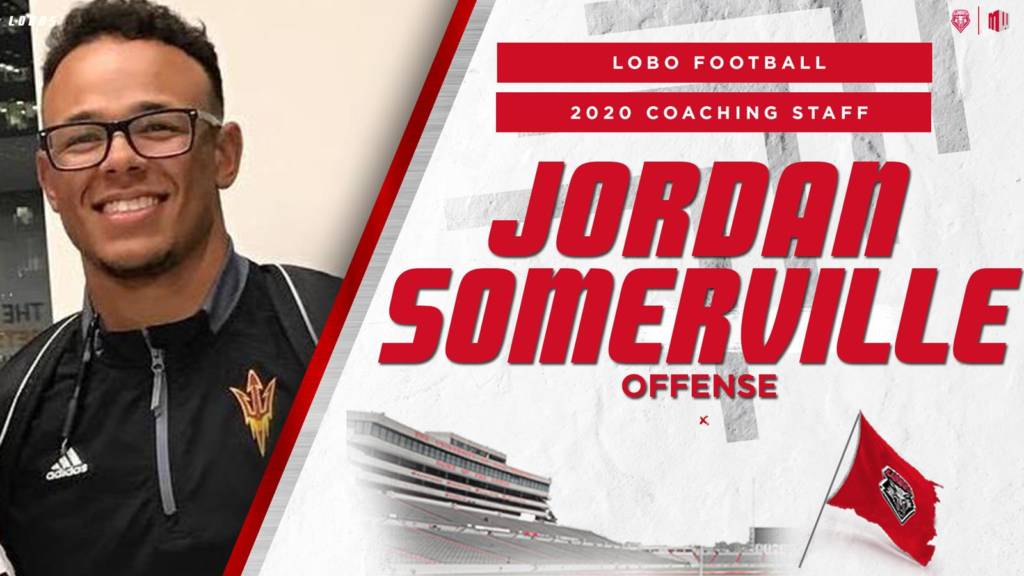 Jordan Somerville – Offense
The youngest member of the staff is Jordan Somerville, who will coach running backs at UNM.  Somerville has spent time at Arizona State as both a student assistant and last year as a graduate assistant under Herm Edwards with the Sun Devils.
 
At Arizona State, in addition to working with the running backs and receivers, Somerville handled scouting analysis for future opponents and he oversaw the scout teams for the various offensive and defensive looks during game preparations.  He also was heavily involved in the film evaluation and breakdown of incoming recruits from Arizona, Southern California, Dallas/Ft. Worth, Utah, Colorado and Louisiana.
 
This will be Somerville's first year overall with UNM.
 
Danny Gonzales on Jordan Somerville: "Jordan is one of the sharpest young coaches in college football, and he is very detail oriented and organized.  Jordan is a rising star in my mind and I'm excited to have him with our offensive staff."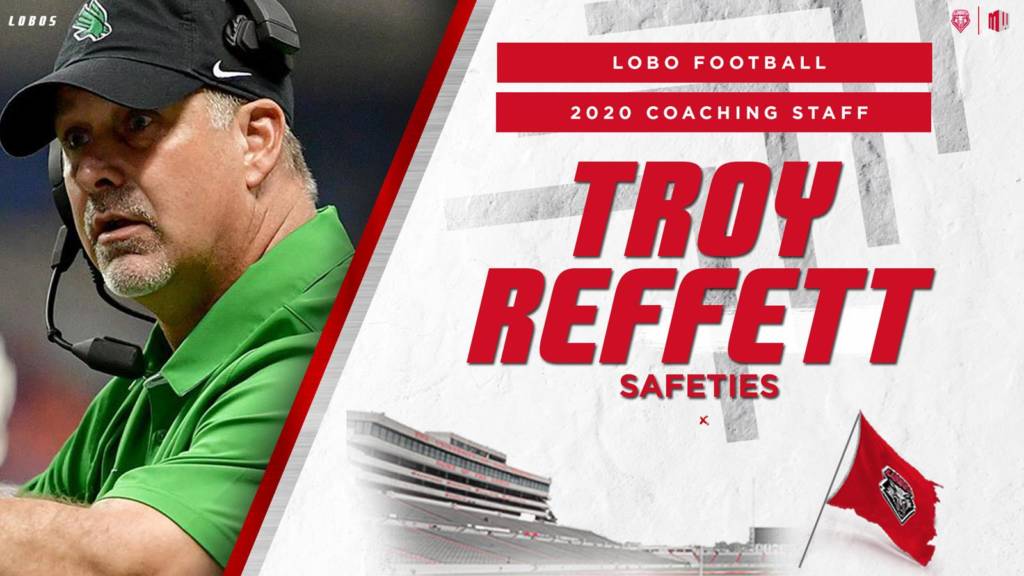 Troy Reffett – Safeties
Tony Reffett returns to UNM after spending the past four seasons at North Texas, three as defensive coordinator and one as co-defensive coordinator.  Reffett was with New Mexico from 2004-2008 on the same staff with Gonzales.  Reffett was UNM's corners coach for four seasons from 2004-2007 and then in 2008 he was named defensive coordinator.  He coached a pair of draft picks in Glover Quin and DeAndre Wright while at UNM.
 
A veteran coach who started as a graduate assistant in 1990, Reffett's teams have qualified for nine bowl games.  In his most recent coaching stint at North Texas, he oversaw a defense that helped the Mean Green to three straight bowl games.  Reffett's defensive players have a reputation for attacking the ball and causing turnovers.  His 2018 unit ranked fifth nationally with 18 interceptions, and regardless of school, whether North Texas, ULM, New Mexico or UTEP, interceptions and takeaways are a running theme.
 
This will be Reffett's sixth year overall with UNM.
 
Danny Gonzales on Troy Reffett: "Troy brings tremendous experience to our defense, both within our scheme and through various positions on the defense.  He is great at coordinating, and he understands Lobo Football having served on the staff previously."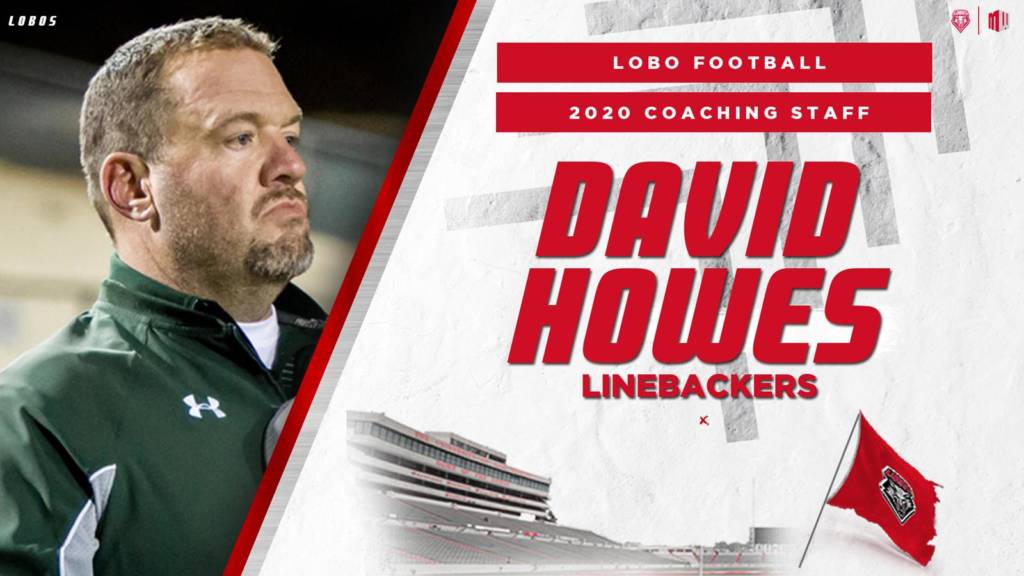 David Howes – Linebackers
David Howes joins the college ranks after a stellar and legendary prep coaching career in the Duke City and surrounding area that stretches back to 1994.  Howes most recently has served as the head coach of New Mexico powerhouse Rio Rancho High School.
 
Howes served as head coach at Rio Rancho for 11 seasons, and he won a pair of state titles, going 13-0 in both 2014 and 2016.  His 2019 team lost a heartbreaker in the state title games.  Howes, who was also a Rio Rancho assistant from 2003-2008, also coached at Cibola and West Mesa.
 
This will be Howes' first year overall with UNM
 
Danny Gonzales on David Howes: "David is a great voice of football in Albuquerque, and he understands the culture of Albuquerque and New Mexico prep football. He will be a great bridge between our program and New Mexico high schools so that we can keep great players that want to play at UNM here.  He's won two 6A titles and he has coached our scheme for many years."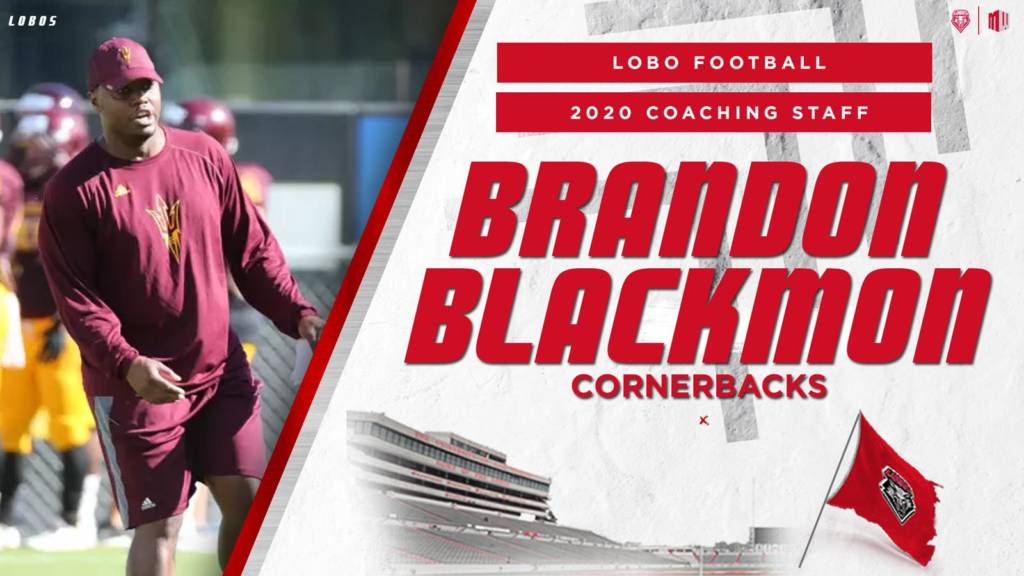 Brandon Blackmon – Cornerbacks
Brandon Blackmon comes to Albuquerque after a one-year stint with the Western Illinois Leathernecks.  Blackmon's varied career has seen him coach at a variety of levels from FBS to FCS to JUCO to professional to NAIA.
 
Blackmon went to Western Illinois to coach the defensive backs after two seasons with Arizona State where he was a graduate assistant under Danny Gonzales for one of those seasons.  He also was a DBs coach and recruiting coordinator at Orange Coast College, and he spent two seasons coaching Indoor Football with the Texas Revolution.
 
This will be Blackmon's first year overall with UNM
 
Danny Gonzales on Brandon Blackmon: "Brandon brings great energy to our staff.  He is very familiar with our scheme that we will be running, and he is a tremendous recruiter having concentrated in the California area."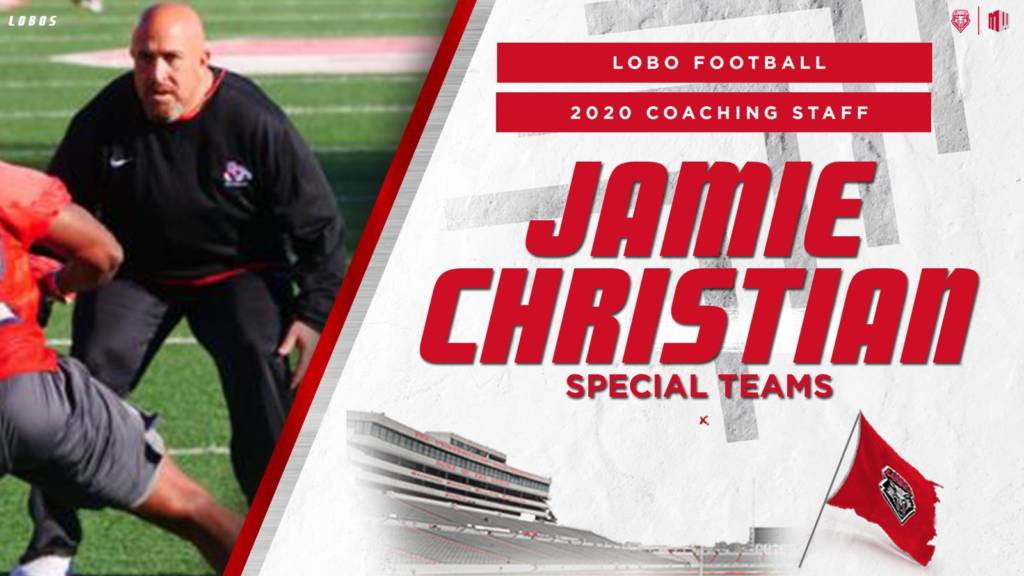 Jamie Christian – Special Teams
Jamie Christian comes to New Mexico after a successful three-year run on Jeff Tedford's staff at Fresno State, including a Mountain West Championship.  Christian, who has served as special teams coordinator for 11 of the past 13 football seasons across three different schools, will be UNM's special teams coordinator.
 
He inherits some of UNM's most prolific units as the Lobos were nationally ranked in kickoff coverage, kickoff returns and punting, and the Lobos have a returning Ray Guy semifinalist.  Christian, who also coached running backs at Fresno State, was a special teams coordinator and position coach for three years at Houston and five years at Arizona State.  He also has time in the NFL with the San Francisco 49ers, and he also has Mountain West experience through two years as running backs coach at UNLV.
 
This will be Christian's first year overall with UNM
 
Danny Gonzales on Jamie Christian: "Jamie is a nationally elite special teams coordinator, and he has also been the lead recruiter at many of his coaching stops.  Jamie brings a championship mentality, having won a Mountain West title at Fresno State.  Jamie is tremendously versatile in his knowledge-base, and he will be a great addition to our staff."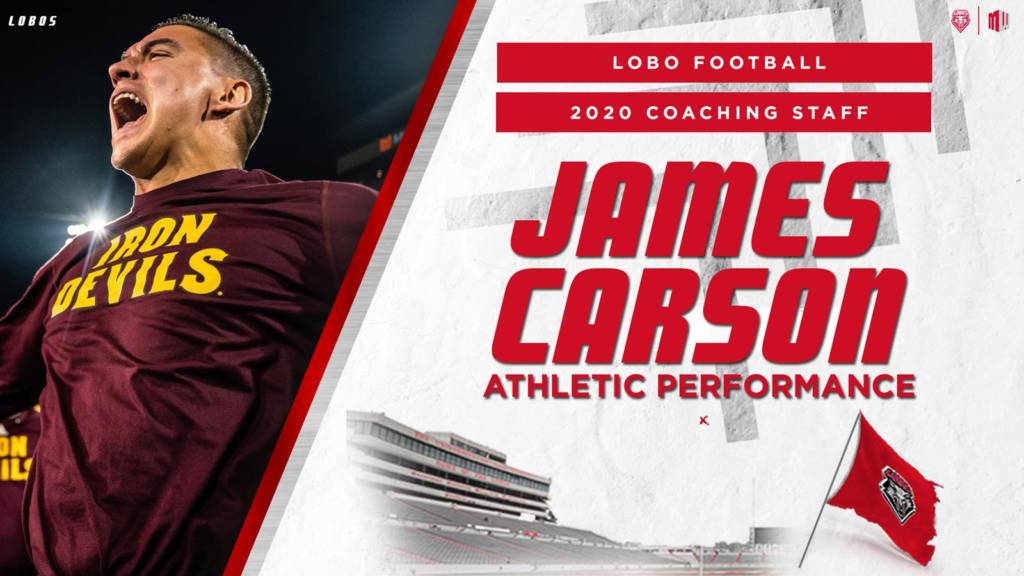 James Carson – Head Athletic Performance
James Carson joins the Lobo football program after two seasons as the senior assistant sports performance coach at Arizona State, working directly with the football program under Herm Edwards. 
 
Prior to heading up the Iron Devils, Carson was an assistant at Massachusetts.  He also was a graduate assistant at Valdosta State in Georgia, and he interned with South Carolina and Ohio State.
 
This will be Carson's first year overall with UNM
 
Danny Gonzales on James Carson: "Having worked with Jimmy for the last two years, he understands my expectations that I have for our football program.  We saw record growth at ASU in his two years with the program.  He has experience in many big-time football environments, and when we talk about being a tough team, Jimmy will play a lead role in setting that tone."