Mathis to be Enshrined in Ring of Honor on Sept. 9
ALBUQUERQUE, N.M. — Terance Mathis, one of the best and most productive wide receivers and all-purpose players in the history of The University of New Mexico, will become the fifth person enshrined in UNM Football's Ring of Honor when his name goes inside Dreamstyle Stadium permanently on September 9 at halftime of Rio Grande Rivalry Game between New Mexico and New Mexico State.
 
Mathis will join Mike Williams, Bobby Santiago, Don Perkins and Brian Urlacher in UNM's Ring of Honor.  Mathis is currently in his first year as the head coach at Pinecrest Academy in Cumming, Georgia.  Mathis, who will be in attendance, will see his name unveiled on the façade of the press box at Dreamstyle Stadium at halftime.
 
Mathis lettered at UNM from 1985-87 and 1989, playing for Joe Lee Dunn and Mike Sheppard.  He finished his career as the first player (and to this point, still the only player) in school history with 250 receptions, 4,000 receiving yards and 6,000 all-purpose yards. 
 
Mathis still holds several school records, including career receptions (263), career receiving yards (4,254), single season receiving yards (1,315), career touchdown receptions (36), single-season touchdown receptions (13) and touchdown receptions in a game (3).  Additionally, his five straight 100-yard receiving games still stands as a school record.
 
"God has truly been good to me. I am truly grateful and humbled by this moment," Mathis said.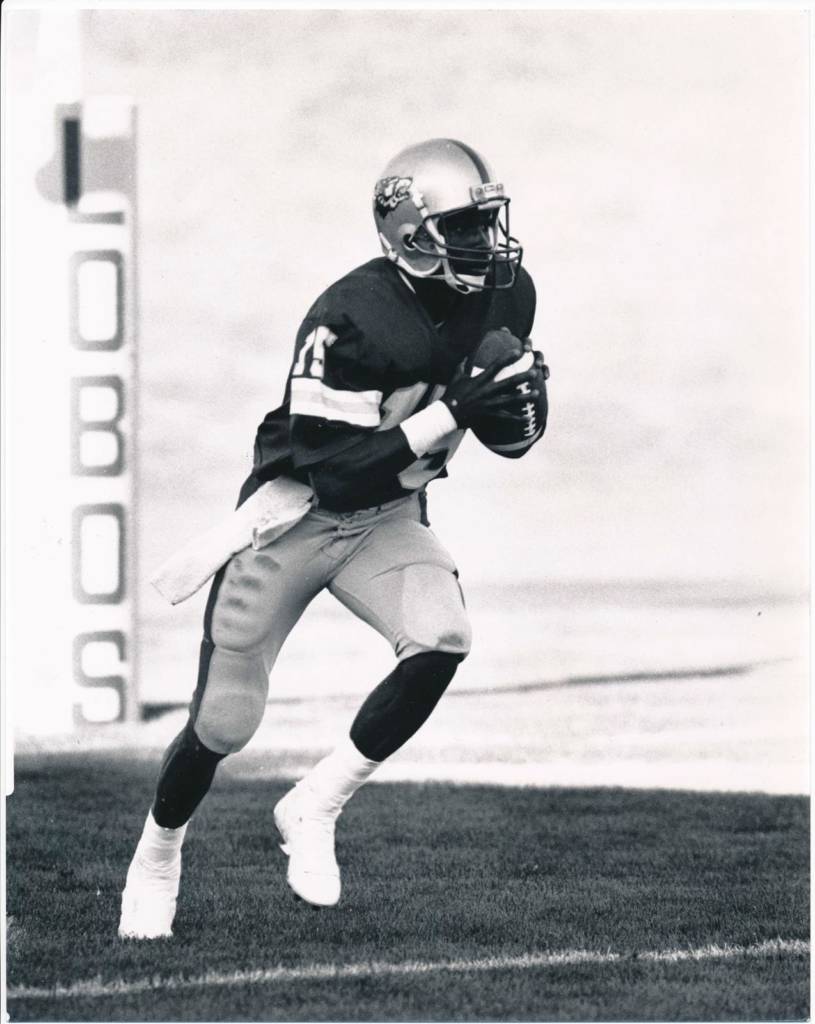 It's impossible to look the Lobo record book and not find Mathis' name dotting the various lists.  He is second, third and seventh on the single-game receptions list (16 vs. Utah, 14 vs. Arkansas and 12 vs. San Diego State); he is second, third, fourth, eighth, ninth and 10th on the single-game yardage list; second and sixth on the single-season receptions list; first and fourth on the single-season receiving yards list; first, third and eighth on the single-season touchdown receptions list; and first and third in single-season all-purpose yardage.  His three kickoff returns for touchdowns in 1989 has been tied, but not broken, at UNM.
 
He is the only player in school history to amass 6,000 all-purpose yards, as his 6,691 career all-purpose yards is far and away ahead of DonTrell Moore's second place total.  Mathis also owns the single season record for all-purpose yardage with 2,138 in 1989, a season in which he became UNM's first consensus All-America selection.
 
When his Lobo career ended, Mathis was, at the time, the NCAA leader in career receptions and receiving yards. He was also the only player in NCAA history with 200 receptions, 4,000 receiving yards and 6,000 all-purpose yards at the time.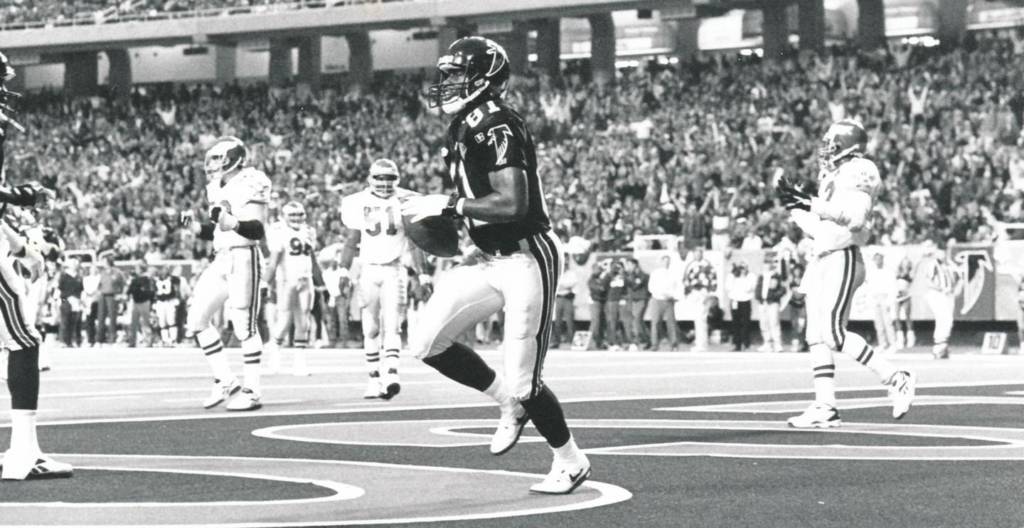 After his Lobo career was complete, he was drafted by the New York Jets in the sixth round of the 1990 draft, as the 140th selection overall.  Used mostly as a kick returner by New York, Mathis spent his first four years with the Jets, catching 93 passes and scoring four touchdowns.  However it was his subsequent move to Atlanta that made Mathis an NFL star.  In 1994, his first season with the Falcons, he caught 111 passes for 1,341 yards and 11 touchdowns.  He was go on to play 13 seasons in the NFL, four for New York, eight for Atlanta and one for the Pittsburgh Steelers, catching 689 passes for 8,809 yards and 63 touchdowns.  Overall, he scored 66 NFL touchdowns, including one on a kickoff return and two rushing.  He was named All-Pro in 1994 and he played and started in Super Bowl XXXIII, catching a team-high seven passes for 85 yards and a touchdown as Atlanta lost 34-19 to Denver.
 
He and his wife Arnedia have a daughter named Terae and a son Terance ,Jr. He also has three other children Sydney, Erik, and Vanessa.
 Lobo Football not only is one of college football's most entertaining teams, but it's probably the most affordable and best value.  Season tickets can be purchased for as low as $86 for a great six-game home schedule that features New Mexico State as well as bowl teams in Colorado State and Air Force.  There are also new corporate plans available for businesses to take advantage of and bring a group out to Dreamstyle Stadium.  To purchase new season tickets, call 505-925-LOBO, log on unmtickets.com or visit the Dreamstyle Arena Ticket Office Monday through Friday 8:30 am – 5:00 pm Mountain.