University of New Mexico Lobos athletics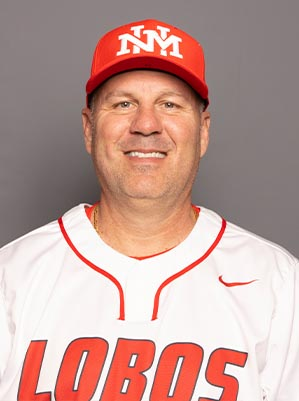 Tod Brown has been named the new Lobo Baseball coach. Brown comes to New Mexico after a successful 14 years and 341 wins with North Dakota State. Brown currently sits as the second-winningest coach in program history and is the all-time leader in wins per season (24.4). In 2021, Brown led the Bison to the 2021 NCAA Tournament, winning its first Division I postseason game 6-1 over Mountain West opponent Nevada. In the same season, NDSU broke a school record with 20 Summit League victories, besting the previous record of 19 set by his 2017 team, and posted an overall record of 42-19. The Bison also led the nation with 25 road wins and set new school records in strikeouts (474) and putouts (1,567) in a single season.
Brown is no stranger to winning as he owns the two highest single season win totals in NDSU history (42 wins in 2021, 40 wins in 2012), and the only two 40+ win seasons by the program. Brown also owns three of the top-five single-season win totals in NDSU history. Under Brown's leadership, NDSU has played in five Summit League championship games, winning it outright in 2021 and 2014, and qualified for the league's baseball championship eight out of the last 11 years.
Brown took the helm of NDSU in 2008 and turned around a program that had faced three consecutive losing seasons, posting just 38 wins from 2005-07. In 2012, NDSU won a then-school-record 40 games, including an 8-2 win over a No. 5-ranked Arizona team that went on to win the 2012 College World Series. North Dakota State had a school-record .973 fielding percentage and posted a team ERA of 3.38, which was the program's lowest ERA in 37 years.
In 2016, the Bison posted a 29-25 overall record and set a new record for home wins at Newman Outdoor Field with 17 victories. In addition, North Dakota State set a new single season record in saves (17).  NDSU defeated No. 19-ranked Minnesota on April 26 in Fargo, marking the second-ever win over an NCAA Division I top-25 opponent.
In the Summit League, Brown has coached two Summit League Players of the Year, one Summit League Newcomer of the Year, 46 All-Summit League selections, 22 Summit League Players of the Week, and 30 Summit League Pitchers of the Week. Under his leadership, Brown has also led players to two Collegiate Baseball Freshmen All-America selections and two College Baseball National Players of the Week.
Not only does Brown produce talent on the field, but also in the classroom. During his tenure at NDSU, Brown has had three NCAA Postgraduate Scholarship Winners, one Senior CLASS Award All-America, one CoSIDA Academic All-America Athlete of the Year, nine CoSIDA Academic All-America selections, 11 CoSIDA Academic All-District selections, one Summit League Scholar-Athlete of the Year, 16 Summit League Academic All-League selections, and was twice honored by NCAA with Public Recognition for perfect APR scores (2012-13 and 2015-16).
The Tucson, Ariz. native, was a left-handed pitcher for the Arizona Wildcats from 1989-94, leading the team in 1992 to a Pac-10 Championship. In 1993 he won six games and saved eight, setting a record with 35 appearances as Arizona fell one game short of the College World Series.
Brown then made a career out of coaching college ball in the northern tier of the country. He came to NDSU after eight seasons in Ohio as the pitching coach and recruiting coordinator for Bowling Green State University.
During this time, he recruited or helped develop eight players who have reached the major leagues, including former UNM pitching standout Jamie Vermilyea, who played for the Lobos from 2001-03. This list also includes Jay Flaa, who made his MLB debut this year, J.J. Hardy and pitcher Tim Wood from Sabino High School, in Tucson, Ariz., outfielder Shelley Duncan and pitchers Josh Pearce and Ben Diggins at the University of Arizona, and pitcher Burke Badenhop and outfielder Nolan Reimold from Bowling Green.
After two years as the pitching coach at Sabino High School in Tucson, Ariz., Brown began his collegiate coaching career in 1999 as a volunteer assistant for Arizona. He worked with pitchers and catchers and was the first-base coach for the Wildcats, who qualified for an NCAA regional.
Brown was also a head coach for the San Francisco Seals of the California Coastal Collegiate League in the summer of 1999, compiling a 43-29 record and making a fourth-place finish in the National Baseball Congress World Series.
Tod and his wife Janet have a 20-year old son, Brooks, and a 18-year old daughter, Blake.