University of New Mexico Lobos athletics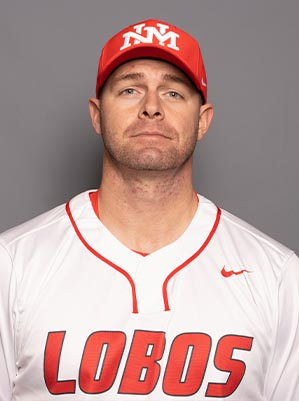 The University of New Mexico baseball program has announced an addition to their coaching staff as Nate Causey has been named the assistant coach and recruiting coordinator. Starting on July 1, 2022, he will serve as the Lobos' hitting coach, as well as taking over the recruiting efforts for the Lobos.
Causey was the volunteer assistant coach for the Lobos from 2018-2021, working as the primary catching coach during his previous three-year tenure at UNM. He coached third base, ran youth and prospect camps, helped with recruiting and any other baseball activities the previous coaching staff needed.
"I'm really excited to announce Nate Causey as our new hitting coach and recruiting coordinator here at the University of New Mexico," head coach Tod Brown said. "Nate comes with a great resume of on-the-field coaching, along with great recruiting ties in our region that will be a big benefit for the Lobos in the future."
Causey spent the last season (2021-22) as the hitting coach and recruiting coordinator at Pima Junior College. He helped lead the Aztecs to a program-high 38 wins, Pima's most since joining the Division I JUCO ranks. He also aided his hitters to be top three in the Arizona Community College Athletic Conference in all major hitting categories.
Causey led the recruiting efforts at Pima, recruiting heavily from the state of New Mexico – something he plans to bring to UNM as he continues to recruit local talent from the Land of Enchantment.
"I am very excited to get back to Albuquerque and to be a part of the University of New Mexico baseball program once again," Causey said. "This is the place where I fell in love with coaching. There are so many friends and wonderful people here at the university and in the community.  I could not be happier to have this opportunity to once again be a part of such a storied program and work alongside Coach Brown and Coach Lopez."
Causey was a 19th-round draft pick of the Colorado Rockies in the 2014 MLB Draft out of Arizona State University. Causey played two seasons in the Rockies organization with stops in Grand Junction, Ashville and Boise. He also spent one season in the Chicago White Sox organization.
The Gilbert, Ariz., native was also drafted out of Gilbert High School by the Rockies in the 2011 MLB Draft, but chose to attend Arizona State instead. He was the No. 1 ranked player in Arizona in 2011 as well as being named First Team All-Arizona.
In his collegiate career, Causey played three seasons at both the catcher and first base positions for the Sun Devils. Over the course of his three years, Causey hit .298 with 66 runs scored, 24 doubles, two triples, 10 home runs and 72 RBIs. In his final season of 2014, Causey was an All-Pac 12 First Team selection at first base. That season, he hit .323 (65-for-201) with 33 runs scored, 14 doubles, four home runs and 31 RBIs. All those stats except for his home runs were single-season bests.
Causey earned his Bachelor of Science in Sociology from Arizona State.