University of New Mexico Lobos athletics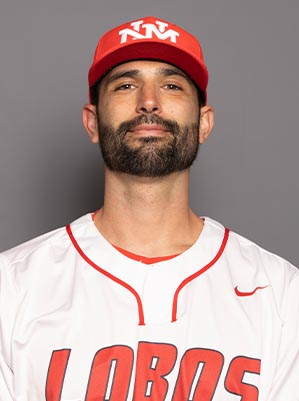 Michael Lopez, who previously served as head coach at Howard Community College in Big Spring, Texas, joined the Lobos in the 2021-22 season as a pitching coach. Lopez joined the Lobo squad after spending two seasons at the helm of the Howard program, bolstering a 48-19 overall record.
In the second season with Lopez coordinating UNM's pitching, the team's ERA improved from 9.06 to 5.95 — UNM's lowest since 2016. UNM pitchers under Lopez also posted their lowest WHIP (1.59) since 2015 and fewest walks per nine innings (3.20) since 2014 in the process, with RHP Isaac Gallegos selected in the 2023 MLB Draft following the season's completion.
Under Lopez, two Howard Hawks were named to the 2021 All-Region V Baseball Team, including pitcher Kris Anglin, who led the league in strikeouts (103). Howard's Ethan Coombes was second in the league in strikeouts, retiring 82 throughout the season. Prior to becoming the head coach of the Hawks, Lopez spent three years as an assistant coach under previous head coach, Rob Martinez.
During his time at Howard College, Lopez worked primarily with the pitchers and served as the recruiting coordinator. He has had over 40 players sign with Division I schools during his tenure, three players sign contracts with professional teams, and three players selected as NJCAA All-Americans.
Lopez originally came to Howard College after a one-year stint with a brand-new NAIA program, Marymount California University (MCU). During his one year at MCU, Lopez was named the associate head coach and helped with day-to-day recruiting.
In the first year of the program, Lopez helped the Mariners win the CAL PAC Conference Championship and reach the 2016 West Grouping Championship. Lopez had three players selected to the 2016 All-California Pacific Conference Team while also coaching the CAL PAC conference player of the year and the CAL PAC Freshman of the year.
Prior to coaching at Marymount California University, Lopez was the volunteer assistant coach for two seasons at the University of Arizona under head coach Andy Lopez. Lopez assisted with the pitchers during practices and helped run the bullpen during games. Off the field, his job consisted of preparing scouting reports on opposing teams, directing the Andy Lopez Baseball Camp, and assisting with recruiting.
Lopez's collegiate career in baseball includes four years (2009-2012) at the University of Arizona. Lopez was named captain of the 2012 team, which won the NCAA National Championship in Omaha, Nebraska.
Lopez graduated from The University of Arizona in 2013 with a bachelor's degree in family studies.