University of New Mexico Lobos athletics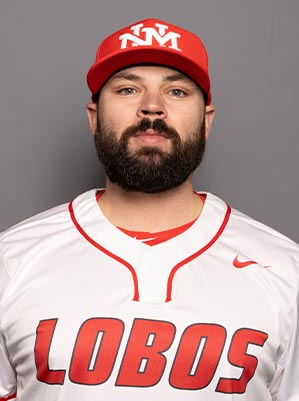 Matt Risdon joined the Lobo Family in 2022 as a volunteer assistant coach, and he currently serves recruiting coordinator and assistant coach. Risdon was previously at Lenoir-Rhyne University for three seasons. Risdon was a Division I catcher at Western Illinois for two seasons and served on the coaching staff for the Fighting Leathernecks from August 2015-July 2019. At UNM, he has been primarily responsible for coaching fielders and hitters.
Last season, Risdon-coached hitters posted UNM's highest team batting average since 2013 (.328) — good for best in the conference and No. 3 in NCAA D-I — while leading the MWC in OPS, hits, runs, triples, RBI and home runs. The Lobos' .974 fielding percentage in 2022 was the second-best in program history and best in the MWC, and their 48 double plays turned was the most in the conference.
In 2022, Risdon helped Lenoir-Rhyne University to the best season in program history with a 46-13 overall record and a record 25 wins at home. The Bears would post a 19-game winning streak, the longest in program history, and were ranked as high as No. 11 in the nation. The Bears would capture just the third SAC Tournament title in program history and advanced to just the second NCAA Tournament appearance in team history. Risdon was the catching coach and assisted with hitting and recruiting. In 2022 the Bears broke multiple offensive records such as: home runs, runs, RBIs, walks, HBPs, hits, as well as many other team records. The Bears season was capped off with their senior catcher, Nick Clarno, signing with the Atlanta Braves.
Risdon began his coaching career as the Director of Baseball Operations with WIU in August 2015 and served in that role for one season before being named the program's graduate assistant. After finishing his Master in Sports Management in May 2017, Risdon earned the title of assistant coach and recruiting coordinator prior to the 2018 campaign. Risdon was primarily responsible for catchers and assisted with hitting and infielders while also serving as the third base coach. Risdon helped with defensive positioning and discussed hitting approach with players during game review. Risdon also helped with administrative duties such as: travel, team meals, fundraising, scouting, and monitoring student-athlete academic eligibility.
Risdon played in 40 career games for Western Illinois. He earned his bachelor's degree in exercise science in 2015.