University of New Mexico Lobos athletics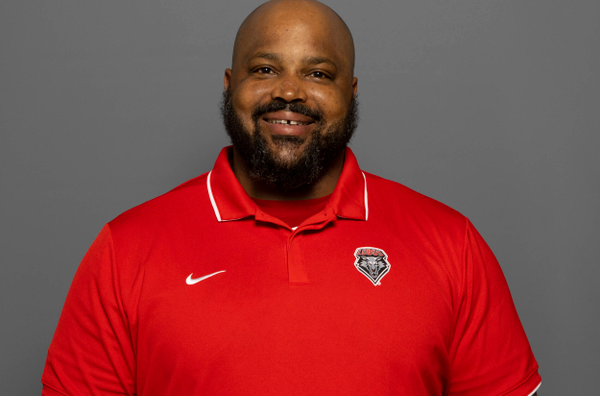 Jerome Haywood joined The University of New Mexico in February of 2020. He came to UNM from San Diego State, where he spent two years on the staff under Rocky Long as a defensive quality control coach and assistant on-campus Recruiting Coordinator.
In the 2022 season, the Lobos defensive line saw six different starters, but the line still racked up 161 tackles, 27 TFLs and 12.5 sacks.
In 2021, the Lobo defensive line was superb. Headed up by Joey Noble, who ended up in a minicamp with the Saints, the Lobo line accounted for 16.5 sacks and 35.5 tackles for loss. Noble himself racked up 18.5 TFLs, placing him fourth in the country and putting him 10th on the all-time UNM list. It was the most by a Lobo since the NCAA started to account for half-tackles for loss in 2003.
The Lobo defensive line under Haywood also excelled in 2020, with Joey Noble earning Honorable Mention All-Mountain West honors. The Lobos defensive line helped UNM sack Fresno State quarterbacks eight times in the season finale. The Lobos recorded 14 sacks in its seven games, an average of 2.0 per game.
With the Aztecs, he helped break down game film and handled a variety of tasks with the Aztecs defense. Prior to his time on staff with San Diego State, Haywood served as the athletic director for the San Diego Center for Children Academy for six years.
That followed a successful eight-year career in the Canadian Football League with the Ottawa Renegades (2002-05), the Montreal Alouettes (2006, 2009), the Winnipeg Blue Bombers (2007-08) and the Edmonton Eskimos (2009).
With Ottawa, he started 64 of 72 games, and was twice named the CFL's defensive lineman of the week. He played on a pair of Eastern Conference title winning teams in 2006 and 2007.
Haywood starred as a defensive tackle at San Diego State, where he was a three-time second team All-Mountain West selection. In 1998, he was named the WAC Pacific Division Freshman of the Year.
Haywood graduated from SDSU in 2002 with a bachelor's degree in criminal justice. He and his wife Talia have four children.