University of New Mexico Lobos athletics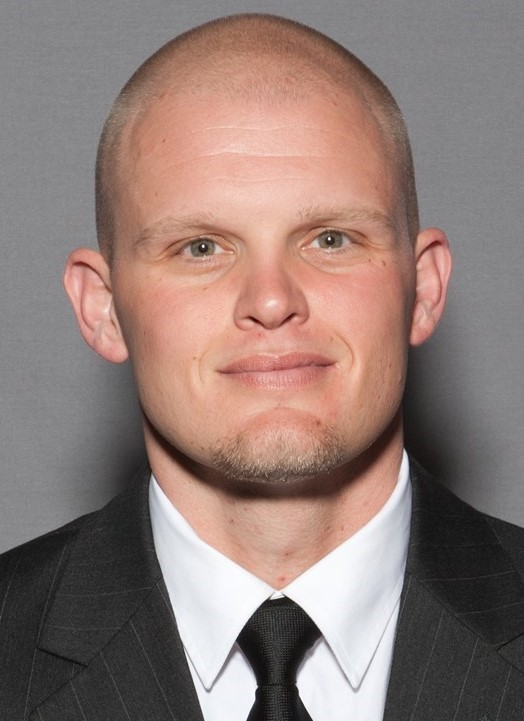 Jason Lenzmeier rejoined The University of New Mexico in January of 2020, and he is in his third tour of duty as offensive line coach of the Lobos. In his previous stints with UNM, his unit became one of the most dominant run-game units in the Mountain West.
UNM once again had an offensive lineman earn postseason honors as J.C. Davis was named Honorable Mention All-Mountain West, and Isaak Gutierrez was a nominee for the Weurffel Trophy.  Additionally, the Lobo offensive line held fast despite 10 different players starting, and several players shifting and starting multiple positions along the line.
Kyle Stapley anchored UNM's offensive line in 2021, earning honorable mention All-Mountain West.  Injuries and position shuffling showcased Lenzmeier's coaching and adaptability in what was a tough year with 10 different players starting along the line, and a total of 13 different positional starters.
There was an immediate impact upon Lenz's return to the Duke City, as the 2020 Lobos featured one of the top lines in the Mountain West.  A pair of linemen in Kyle Stapley and Teton Saltes were named honorable mention All-Mountain West, and Saltes was twice named to the national team of the week by Pro Football Focus.  Saltes also became UNM's first major award winner when he was named the 2020 Wuerffel Trophy winner.
In his second stint with UNM, his Lobos ranked ninth, fifth, fourth and fifth nationally in rushing over his four seasons (2015, 2014, 2013 and 2012, respectively).
In 2015, Lenzmeier's big men up front plowed the way towards a school record-tying 42 rushing touchdowns with 10 different players rushing for touchdowns.  Including among those 10 was Reno Henderson, who scored the first rushing touchdown by an offensive lineman in at least the last 44 years.  UNM had three different players hit the 800-yard mark for the season and Eden Mahina was named All-Conference.
The Lobos did all that despite having lost two starters prior to the season to season ending injuries and then a third that got hurt in game two.  In their place, UNM and Lenzmeier turned to a pair of fifth-year seniors who had zero career starts between them and got a combined 23 starts, allowing UNM's rushing attack to continue.
In 2014, the Lobos averaged 310.4 yards per game on the ground, finishing fourth in the NCAA. UNM is the only team in the FBS to finish in the top five and average 300 or more yards on the ground in each of the last three seasons.
The anchor of that line was four-year starter LaMar Bratton, who was a team captain, the center, and a first team All-Mountain West selection in 2014. Bratton started 49 consecutive games. Lenzmeier's offensive line paved the way for UNM to finish third in the NCAA in yards per carry, averaging 6.4 yards per tote.
New Mexico averaged 308.8 rushing yards per game in 2013 to rank fourth in the country. The total also was the best in the Mountain West and ended Air Force's monopoly on the team rushing crown. The Falcons had been MW rushing champions every season since the Mountain West's inception in 1999.
The Lobos' 40 rushing touchdowns ranked eighth in the NCAA in 2013 and were the second most in UNM history.
UNM has had a 1,000-yard rusher in each of Lenzmeier's five seasons as offensive line coach (2007-08, 2012-14).
He made an immediate impact during his return to New Mexico in 2012. The Lobos rushed for 301.5 yards per game, which ranked fifth in the nation and was the most by a New Mexico team since 1971 rushed for 384.3 yards per game.
UNM set a school record with 10 300-yard rushing games in 2012, tying the 1971 team with nine straight games of 300 yards. Its 34 rushing touchdowns in '12 rank as the second most in school history.
Under Lenzmeier, the Lobos surrendered just 12 sacks in 2012 after allowing 30 sacks in 2011.
Three Lobos earned honorable mention All-Mountain West honors in 2012: junior left tackle Darryl Johnson, sophomore left guard LaMar Bratton and junior center Dillon Farrell.
Lenzmeier, who began his coaching career at UNM in 2006, spent three seasons at rival New Mexico State (2009-11) prior to returning to the Lobos in 2012.
In 2011, sophomore Davonte Wallace earned second-team All-Western Athletic Conference honors under Lenzmeier's tutelage.
In his first season with New Mexico State, Lenzmeier guided the offensive line as it allowed just 23 sacks on the year, a 21-sack improvement from the 44 sacks given up by the Aggies in 2008. The Aggies' offensive line also helped running back Seth Smith become the first Aggie since 2000 to rush for a 1,000 yards in a season. The Aggies ranked No. 66 in the nation in rushing offense. In 2010, the line allowed just 19 sacks on the season.
A former University of New Mexico all-conference offensive lineman, Lenzmeier spent three seasons with the Lobos, two as the offensive line coach and one as UNM's graduate assistant on offense. He helped the Lobo offense rush for 208 yards a game in 2008 and 135 yards a game in 2007.
Entering the 2007 season at the age of 26, Lenzmeier was New Mexico's youngest full-time assistant coach in 23 years, since Greg Azar, then 24, coached the Lobo defensive line in 1984.
Lenzmeier did an outstanding job in his rookie season as a pair of seniors, offensive tackle Devin Clark and center Vince Natali were named first-team All-Mountain West Conference selections in 2007.The Lobos improved in every offensive category from the previous season.
Natali was also an Academic All-American. In 2008, Lenzmeier guided center Erik Cook to a second-team All-MWC selection. Cook went on to play in the NFL with the Washington Redskins.
A 1999 graduate of Frisco (Texas) High School, Lenzmeier was a four-year starter for UNM on the offensive line from 2000-03, earning first team All-Mountain West honors at offensive tackle as a senior. He played in 47 career games, starting 42, including 35 in a row between his sophomore and senior seasons. He remains the only lineman in Mountain West history to win a conference Offensive Player of the Week honor for his performance during UNM's 47-35 win at No. 23 Utah in 2003.
Lenzmeier signed free agent contracts with the San Diego Chargers and St. Louis Rams in 2004 before returning to Albuquerque in 2005. He graduated from UNM in the summer of 2005.
Lenzmeier and his wife Kelsey have two young sons, Brooks and George.
Jason Lenzmeier Profile:
Born
February 2, 1981
Hometown
Frisco, Texas
Alma Mater
New Mexico, 2005 (B.S., University Studies)
Playing Experience
New Mexico, 2000-2003
Family
Married to Kelsey. Children are Brooks, George
Coaching Experience:
2020
New Mexico (Offense)
2012-15
New Mexico (Offensive Line)
2009-11
New Mexico State (Offensive Line)
2007-08
New Mexico (Offensive Line)
2006
New Mexico (Graduate Assistant)
Postseason Coached (corresponding to the season, not the actual year of game):
2015
Gildan New Mexico Bowl
2007
New Mexico Bowl
2006
New Mexico Bowl