University of New Mexico Lobos athletics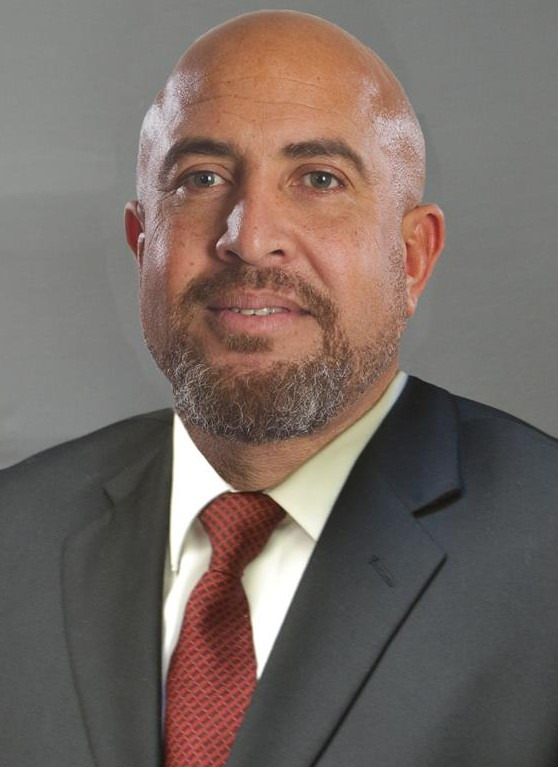 Jamie Christian joined The University of New Mexico as special teams coordinator in January of 2020. He also assists along the offense as needed, and in 2022, he coached UNM's running backs. He came to the university after a three season stint at fellow Mountain West foe Fresno State.
Lobo running backs were solid in 2022, with Nate Jones earning Team MVP honors after leading the team with 544 yards and a 4.6 yards per carry average.  Additionally, true freshman Christian Washington was second with 310 yards.  Washington was one of two Lobo special teamers to earned Second Team All-Mountain West honors.  Washington was named as a kickoff returner after averaging 26.7 yards per return with a 100-yard touchdown.  Punter Aaron Rodriguez averaged 44.2 yards per punt as he led the nation in total punts for the second straight year.
In 2021, Lobo special teams once again excelled. UNM returned a punt for a touchdown for just the second time in the last 22 seasons, and on the play, UNM had seven freshmen on the field.  Overall UNM finished the season ranked No. 17 in punt returns and No. 21 in kickoff returns.
In his first season with the Lobos in 2020, special teams improved across the board. The Lobos went from the worst team in the league in 2019 in extra point percentage to first.  UNM also excelled on its coverage units, allowing the third-fewest punt return yards in the league after residing in the bottom half in 2019.  The Lobos kickoff coverage unit also improved from 11th to fourth.
In 2019 with Fresno State, he oversaw another solid position group as Fresno State finished tied for second in the Mountain West in rushing touchdowns, and under his tutelage, Ronnie Rivers tied for the Mountain West lead in rushing touchdowns with 13.  Rivers also finished fifth in the league in rushing yards per game.  On special teams, Fresno State led the Mountain West in punt return average, and the Bulldogs blocked a pair of kicks as well.
In 2018 the Bulldogs gained more than 2,000 yards on the ground, marking the first back-to-back seasons of 2,000 yards rushing since the 2008-09 seasons. The 'Dogs registered 2,161 yards rushing aided by four different ball carriers producing 250 or more yards apiece. Despite missing three games and starting just seven due to a spring football injury, sophomore Ronnie Rivers led the team with 743 yards and 10 touchdowns, which included a breakout performance in the Las Vegas Bowl that earned him MVP honors. Rivers accounted for the fourth-most all-purpose yards in school history with 286 in the contest, 212 of those being rushing yards.
With his top three running backs entering his first season being two true freshmen and one true sophomore, Christian helped the Bulldogs eclipse the 2,000-yard rushing mark for the first time since 2014. True freshmen Jordan Mims and Ronnie Rivers accounted for 1,082 yards and 11 touchdowns in 10 starts to help pile up a team total of 2,170 yards.
Previous to Fresno State, Christian spent two seasons as the running backs coach at UNLV.  In his time there the Rebels rushing offense dramatically improved from ranking 102nd (129.2 yards/game) in the FBS before he arrived, to 36th (193.7 yards/game) in his first year, and 15th (241.5 yards/game) in 2016.
Christian arrived in Las Vegas after serving as the special teams coordinator and inside receivers and tight ends coach at Houston.
In Christian's final season at UH before the Tom Herman regime took over, the Cougars had a passing offense that produced 230.2 yards per game and was led by Fresno native (Washington Union HS) Deontay Greenberry, who was named a second-team All-American Athletic Conference wide receiver in 2014.
Greenberry led the team with 841 yards receiving, with the next closest teammate trailing him by 302 yards. He left the program with the ninth-most receiving yards in school history (2,612) and eighth on the all-time list for career receptions (201).
In 2013, Christian's special teams at UH earned three honors from the American Athletic Conference as freshman Demarcus Ayers was named the league's Co-Special Teams Player of the Year and was named to the American's first-team while Richie Leone was named second-team.
Christian's other unit, inside receivers, received postseason accolades in 2013 as well. Greenberry was named to the American's first-team as he led the league with an average of 100.2 receiving yards per game and was second with 11 receiving touchdowns. Greenberry was second in the American with five 100-yard games.
Noted as a strong recruiter with ties to California, Houston and Louisiana, he was named to Rivals' top recruiters list in 2013.
Before joining the Cougars in 2012, Christian spent five seasons coaching the special teams, running backs, tight ends and inside receivers at Arizona State of the Pac-12 Conference, including mentoring 2007 Lou Groza Award winner Thomas Weber. Christian also tutored ASU's Gerell Robinson, one of college football's top pass-catchers in 2011, making 77 receptions for 1,397 yards and seven scores.
Prior to his time at Arizona State, Christian spent five seasons with Dennis Erickson (his uncle) at the University of Idaho (2006), the San Francisco 49ers (2003, 2004) and at Oregon State (2000, 2001). Christian has also coached at Northern Arizona (2002) and at Sacramento State (2005).
Christian was a fullback at Fresno State (1991-93) before transferring to Central Washington to finish out his collegiate career as a running back. In Christian's sophomore season in 1992, Jeff Tedford arrived to Fresno State as a first-year assistant coach. Christian switched to running back as a senior at Central Washington and was its leader in rushing yards and touchdowns and helped lead the Wildcats to the 1995 NAIA National Championship.
Jamie Chrstian Profile:
Born
February 10, 1972
Hometown
Milpitas, Calif.
Alma Mater
Central Washington, 1999 (B.S., Law and Justice)
Playing Experience
Fresno State, 1991-93; Central Washington, 1995 (NAIA National Champions)
Family
Married to Deja. Daughter is Cree, granddaughter is Akari
Coaching Experience:
2020
New Mexico (Special Teams Coordinator)
2017-19
Fresno State (Special Teams Coordinator/Running Backs)
2015-16
UNLV (Running Backs)
2012-14
Houston (Special Teams Coordinator/Tight Ends/Slot Receivers)
2007-11
Arizona State (Special Teams Coordinator/Tight Ends/Running Backs)
2006
Idaho (Running Backs)
2005
Sacramento State (Running Backs)
2003-04
San Francisco 49ers (Defensive Quality Control)
2002
Northern Arizona (Cornerbacks)
2000-01
Oregon State (Defensive Graduate Assistant)
Postseason Coached (corresponding to the season, not the actual year of game):
2018
Mitsubishi Motors Las Vegas Bowl
2017
Hawai'i Bowl
2014
Lockheed Martin Armed Forces Bowl
2013
BBVA Compass Bowl
2011
Las Vegas Bowl
2007
Holiday Bowl
2000
Fiesta Bowl