University of New Mexico Lobos athletics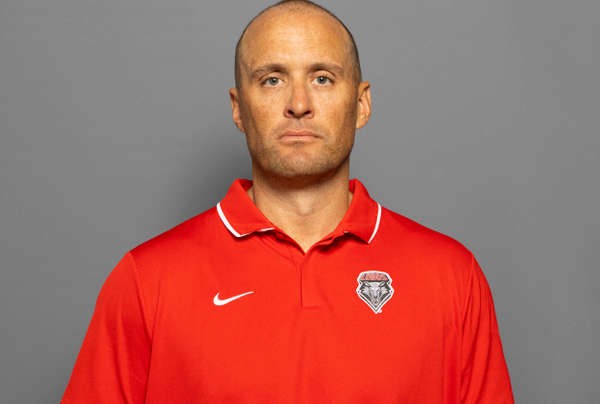 Heath Ridenour joined Lobo Football in January of 2022, and he serves as the running backs coach after starting his Lobo coaching career coaching quarterbacks in 2022. He came to UNM from the New Mexico high school ranks were he served as the head coach of the Cleveland Storm, winning three state titles including the 2019 and 2021. He also spent the back half of the 2022 as the interim offensive coordinator.
Ridenour got the most out of UNM's quarterback room as the Lobos threw for 1,259 yards and completed 53.7 percent of its passes.  Miles Kendrick flourished in his six games back from a career-threatening injury, completing a team-leading 58.7 percent of his passes.
The hiring of Ridenour brought a second highly successful New Mexico high school coach into the fold as Ridenour joins his David Howes on staff.  Howes was the head coach of the rival Rio Rancho Rams.  Between the two, they won five of the last seven Class 6A titles, including two head-to-head matchups, both won by Cleveland (2015 and 2019).
A former collegiate quarterback in-state at Eastern New Mexico, Ridenour's Storm squads were well known for their offensive propensity.  In his 10 seasons at the head coach of Cleveland, Ridenour's teams went 96-18 (an .842 clip), including an eye-popping 73-7 over the last seven years.  Six times his teams have averaged over 40 points per game, and four times the Storm led the state in scoring offense, including the past three years.
His last squad in 2021 went a perfect 13-0 on the way to Cleveland's fourth championship, averaging 46.2 points per game.  His 2015 perfect team also went 13-0 and averaged 49.6 points per game, setting the state record.  Along with his three 6A state titles, Cleveland was district champions five times, and Ridenour is a five-time district coach of the year (2013, 2015, 2017, 2018, 2021).  He was also named the 2015 Coach of the Year for all sports and all levels by the New Mexico Sports Hall of Fame.
Before moving into the head coaching slot, Ridenour was Cleveland's offensive coordinator in 2010 and 2011, going 22-2, winning two district titles and winning the 2011 state title with a 13-0 season.  He also has served as an assistant at Clovis (2005-09), winning five district titles and finishing as the state runner-up twice.  He also spent one year (2004) at Portales High School.
He played collegiately at Eastern New Mexico where he was a three-year starter at quarterback. Along with earning ENMU MVP honors in 2002, he was the Lone Star Conference and Division II National Player of the Week in 2002. A three-time All-Conference pick and a two-time team captain, Ridenour holds the Greyhounds' single-game rushing record with 294 yards. He also played basketball there from 1999-00. In 2022 he was inducted into the ENMU Hall of Honor.
A native of Lovington, New Mexico, he and his wife Erica have three children, Brooklynn 12, Kinley 10 and Cooper 7.