University of New Mexico Lobos athletics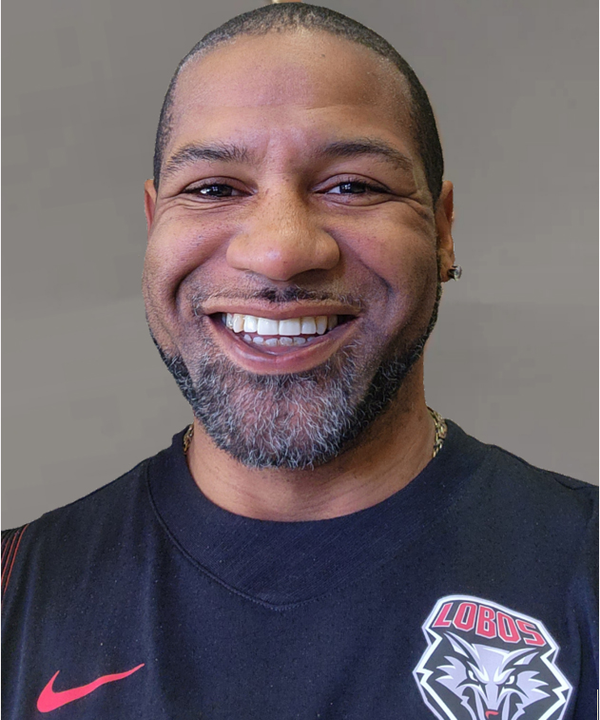 Geno Ramsey, Jr. joined the Lobo Football Family in June, 2022 and he serves as Director of Recruiting.  He came to the Duke City after 12 seasons in San Jacinto, Calif. as the Recruiting Coordinator and Wide Receiver coach for the Mt. San Jacinto College Eagles.
In 2021, Mt. San Jacinto Eagle receivers were outstanding, led by All-California Wide Receiver Rashoud Shelton, who earned All Mountain Conference and All-California post season awards. He finished the season in the top five in California for yards per game. Geno's offensive acumen mentored and enhanced Mt. San Jacinto College offense to be ranked No. 1 in the state of California for all Junior Colleges and with offensive production amassing over 500 yds offensively. Mt. San Jacinto College won the American Division Championship and Conference Championship in 2021.
Ramsey has maintained a high-level pedigree in player development and has an extensive eye for talent. Geno's offensive and defensive knowledge and strong relationships with high school head coaches in the Riverside and San Bernadino Counties helped contribute to Mt. San Jacinto's successes. More than 80 percent of MSJC's football roster can been attributed to Geno's relentless recruiting efforts.
Prior to coaching wide receivers, he served as secondary coach (2010-17) and developed over 20 players in a span of seven years to earn Division I scholarships. He produced a No. 1 Passing Defense ranking.  Ramsey is no stranger to Gonzales, as his relentless work ethic and high-level attention to detail served well working alongside Coach Gonzales at San Diego State football camps.
Prior to Mt. San Jacinto College, Ramsey coached for Ron Ponciano at Citrus College in 2009 as cornerbacks coach. In a single season, Geno helped develop two defensive backs to earn Division I scholarships.
Geno began his coaching career at Paloma Valley High School and helped led the Wildcats to five consecutive league championships. He has a master's degree in Educational Technology and bachelor's degree in Computer Information Systems-Networking at Post University.
Geno played Wide Receiver at Perris High School and was part of the No. 1 offense in Riverside County in 1996.  He earned a full ride scholarship to Idaho State for head coach Larry Lewis, where he was coached by position coach James Franklin, who now is Penn State's head coach. Geno has a spouse, Maddie, and two kids, Ariana and Jace Ramsey.