University of New Mexico Lobos athletics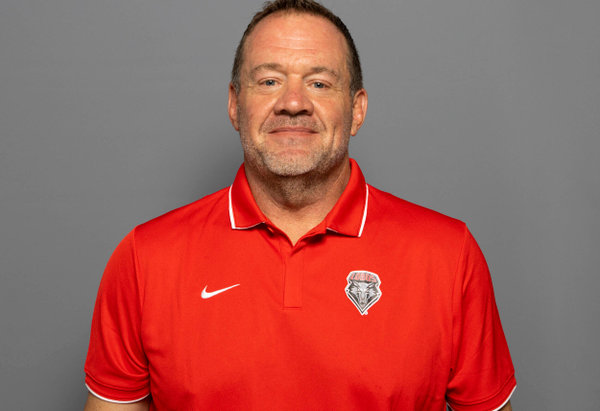 David Howes joined The University of New Mexico staff in January of 2020 after a stellar prep coaching career that saw him teach in the Duke City and surrounding areas for 25 years.  He serves as safeties coach at UNM.
UNM safeties turned in tremendous seasons in 2022, despite injuries decimating the group at times.  Safety Jerrick Reed led the team with 11 pass breakups in earning Mountain West Honorable Mention honors as he added 94 tackles, good for second on the team.  True freshman A.J. Haulcy took over for the injured Tavian Combs, and all he did was earn a spot on every freshman All-America team there is, recording 87 tackles in also earning Second Team All-Mountain West honors.  Haulcy was also a two-time Mountain West Freshman of the Week.
The Lobo safety crew was once again stellar in 2021, Ronald Wilson, Jr. turned into a valuable starter and led all Mountain West freshmen in interceptions and passes broken up and true sophomore Tavian Combs and senior Jerrick Reed II both earned honorable mention All-Mountain West honors.  Reed, Combs and Wilson finished first, second and fourth on the squad in tackles, accounting for five of the teams' nine interceptions on the year.
In 2020 despite having to use six different starters including a true freshman at Lobo back, Lobo safeties turned in a terrific campaign. Safeties accounted to 83% of all Lobo interceptions in 2020, and just the safeties recorded more interceptions than the entire team did in 2019. Jerrick Reed was named First Team All-MW and he finished tied for eighth nationally in interceptions.  Reed was named First Team All-Mountain West in 2020, and preseason All-Mountain West in 2021 and he was named to the 2021 preseason Jim Thorpe Award Watch List.
Howes won a pair of state titles as the head coach of the Rio Rancho Rams, going undefeated in both 2014 and 2016, 13-0 each season.  In 2014, his Rams entered the 6A playoffs as the top seed, and they rolled, taking out Las Cruces 41-23 in the quarterfinals and then Eldorado 64-43 in the semifinals.  Rio Rancho then defeated Mayfield 33-31 for the school's first state football title.
Two years later, Rio Rancho did it again under Howes, going 13-0.  His squad once again hit the 6A bracket as the top seed, and this time Howes' Rams were absolutely dominant.  They won 48-0 over Onate in the quarterfinals and 35-7 over Monzano in the semifinals.  In the championship game, Rio Rancho cruised to a 39-17 over Las Cruces for a second undefeated season in three years.
In 2019, Howes nearly won a third championship, advancing all the way to the championship game out of the No. 4 seed line, taking down No. 1 Volcano Vista in the semifinals before losing by eight in the finals.
Howes in his 11 years with Rio Rancho led the team to a 90-41 record as a head coach.  Prior to being elevated to the head coaching position, he served as an assistant coach from 2003-08 at Rio Rancho.  That following assistant coaching stints at Cibola High School (2000-02) and West Mesa High School (1994-99).
Howes graduated from New Mexico in 1997 with a degree in education, and also from UNM with a masters in education.  He walked on to the NMSU Aggie football team in the Spring of 1993, and stayed with the program through the summer.  Howes and his wife Tami have three children, Cailon (a U.S. Marine), Hailey (who attends UNM's Nursing school) and Josh (a freshman on the football team).
David Howes Profile:
Born
September 13, 1972
Hometown
Albuquerque, N.M.
Alma Mater
New Mexico, 1997 (B.S., Education); New Mexico, 1999 (M.A., Education)
Playing Experience
New Mexico State, 1993
Family
Married to Tami.  Children are Cailon, Hailey and Joshua
Coaching Experience:
2020-present
New Mexico (Safeties)
2009-19
Rio Rancho High School (Head Coach)
2003-08
Rio Rancho High School (Assistant)
2000-02
Cibola High School (Assistant)
1994-99
West Mesa High School (Assistant)
Postseason Coached (corresponding to the season, not the actual year of game):
2019
New Mexico 6A State Runner Up
2016
New Mexico 6A State Champions (Undefeated)
2014
New Mexico 6A State Champions (Undefeated)