University of New Mexico Lobos athletics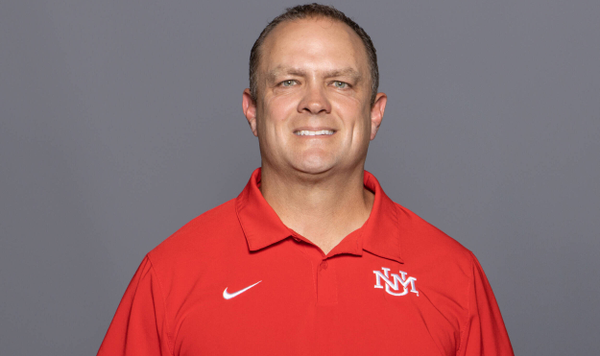 Danny Gonzales, a native of Albuquerque who played football at Valley High School before playing for UNM and then serving as an assistant coach, has come home.
Gonzales, who has taken part in bowl games in 14 of the past 17 seasons, enters his fourth season as the head coach of The University of New Mexico.  Gonzales was hired on December 17, 2019.  The announcement was made by Director of Athletics Eddie Nuñez at halftime of a Lobo men's basketball game, and then he was formally introduced at a press conference the next day in The Pit.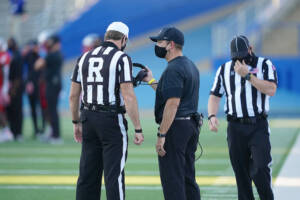 The Lobo head coach is certainly familiar with UNM, as a player, staff member and as a Lobo assistant coach, as well as through his time coaching against UNM.  He joined his mentor and former coach Rocky Long as Lobo football players returning to coach their alma mater.  In a 2006 article in the Albuquerque Journal, Long predicted that Gonzales would one day be the head coach of the Lobos.
In 2022, the Lobos once again lowered its total defense yards per game number, and the program has now cut off 125.5 yards per game from when Gonzales arrived.  Last year UNM had a top-30 passing defense, with the program allowing just 202.8 yards per game through the air, finishing 30th, and that comes after inheriting the worst passing defensive team in the nation from 2019.  The passing yardage total is the lowest for UNM in 15 years, since the Lobos allowed 197.4 yards per game in 2007.
UNM finished in the top 50 in total defense for the season straight year, and its the first time that UNM has finished in the top 50 in back-to-back years since 2007-08.  The Lobo defense also finished in the top 35 in third down defense and in the top 25 in defensive first downs.  The Lobos finished the season with eight All-Mountain West picks, tying for the most in the past 10 seasons, and three Second Team picks, the second most in the last 10 years.  Additionally, UNM had it's first positional Freshman All-American in A.J. Haulcy for the first time since 2014.
In 2021, Gonzales for the second straight season increased UNM's win total, including a win in his inaugural matchup with New Mexico State, winning 34-25.  The Lobo defense made huge strides in 2021 as Gonzales worked to get UNM back to the Lobo defenses of the 2000s. The Lobos ranked 44th overall in total defense, a 57-spot improvement from 2020.
Overall, UNM allowed 363.1 yards per game, and that was the lowest total in 13 seasons, since the 2008 team allowed 335.8 yards per game.  UNM ranked 44th overall, and the 2008 team ranked 45th.  The 2021 teams' ranking was the best since 2007, when UNM ranked 13th in total defense at 319.9 yards per game.
The Lobos rushing defense stood at 143.2 yards per game, better than a 20-yard per game improvement from 2020, and it was the best rushing defense since 2008 when UNM ranked 26th at 122.3 yards per game.  Passing-wise, UNM allowed just 219.8 passing yards per game to rank 54th, an incredible adjustment from 2019 when the passing defense allowed 321.4 yards per game and ranked 130th (last) in the FBS.  It was UNM's best passing defense since 2010 when the unit ranked 53rd at 218.8 yards per game.
The 2021 season also saw UNM deal with adversity that most teams have never seen, losing so many quarterbacks during the year that the Lobos were forced to start a graduate manager at quarterback in the final game of the season.
Gonzales' first season in 2020 was like no other in the history of college football, and while sometimes that type of sentence can be hyperbole … it's not. Gonzales, without a full spring season and coaching a team that spent what little time in the preseason practicing in groups of five or 10, was also faced with no home games in 2020 due to the global COVID-19 pandemic and the state of New Mexico health order that wouldn't allow for games.  Gonzales was able to lead his team through the 2021 season, going 2-5 overall and in the Mountain West.  Those two wins, despite the odds stacked against the Lobos, equaled the number of Mountain West wins over the previous three seasons combined.
The 2020 season saw UNM go through four starting quarterbacks, and a fifth who was injured prior to the start of the season.  Gonzales proved his coaching mettle, utilizing 21 true freshmen during the season including a true freshman starting walk-on quarterback, just the third true freshman starting quarterback to start an FBS game since 2013.  Gonzales also coached Lobo Football's first national award winner as Teton Saltes was named the winner of the Wuerffel Trophy for athletic, academics and community service.
The Lobos quickly established a reputation as a team that never takes plays off and has a hard-hitting, hard-nosed defense.  He was rated an "A" hire for UNM by several preseason publiciations.
Gonzales came to UNM after spending the past two seasons at Arizona State as defensive coordinator, and the previous seven before that as safeties coach and defensive coordinator at San Diego State.  In 2018, he was a nominee for the Broyles Award, given to the most outstanding assistant coach in college football.
Gonzales came to UNM as a walk-on safety and punter after playing for the Valley Vikings.  Gonzales lettered three times with the Lobos and was the 1998 winner of the Chuck Cummings Memorial Award, which is given for morale and spirit, and was the Lobo Club First Team Award winner for unselfish devotion to the team.  At UNM, Gonzales played under Dennis Franchione and the aforementioned Long.  Gonzales was a part of UNM's 1997 WAC division championship team that went 9-4 and played in the 1997 Insight.com Bowl against Arizona.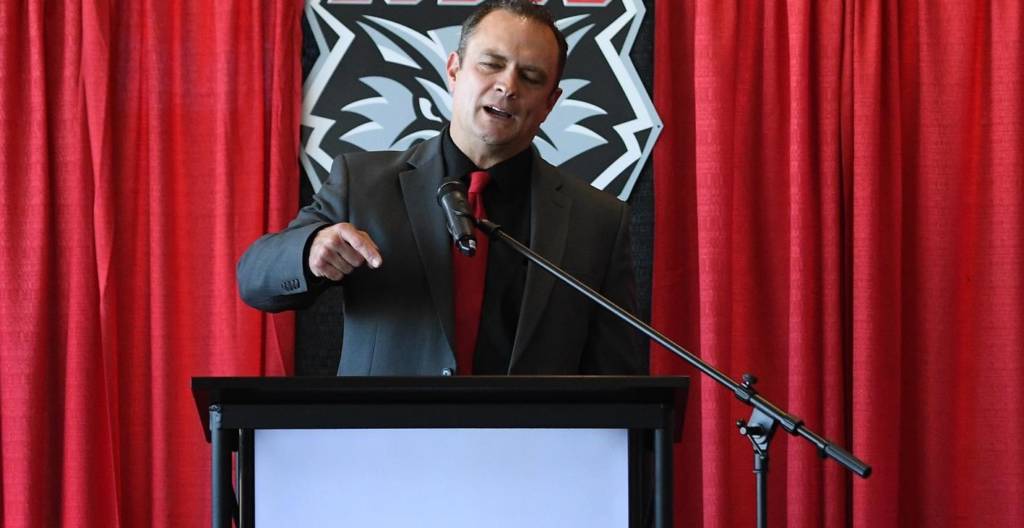 After his playing career, he served as a graduate assistant for Long, helping UNM start a school-record seven consecutive bowl eligible seasons from 2001-07.  In 2003, Gonzales moved over a few offices to become video coordinator, a role he held from 2003-05.  From 2006-08, he coached safeties and special teams, and he was a part of the coaching staff for UNM's 2007 squad that went 9-4 and won the New Mexico Bowl 23-0 over the Colin Kaepernick-led Nevada Wolf Pack.  That win ended a 46-year bowl victory drought for the university.
Under Gonzales' watch in 2007, former walk-on placekicker John Sullivan became UNM's third consensus All-America selection, hitting a school-record 29 field goals.  Sullivan did that despite a torn ACL.  Sullivan was just one of many specialists that excelled under the tutelage of Gonzales, a former punter and defensive back.  In addition, placekicker Kenny Byrd was a first team All-MW pick, punter Jordan Scott was honorable mention, and kicker James Aho was named a Freshman All-America.
Future NFL draft picks Glover Quin (Houston Texans) and Quincy Black (Tampa Bay Buccaneers) also earned all-conference honors at safety under Gonzales.
Overall, Lobo safeties had 55 pass breakups over the 2007-08 seasons, and the 2007 New Mexico squad ranked 13th nationally in total defense, 14th in scoring defense and 20th in passing defense.
In 2018 and 2019, Gonzales served on Herm Edwards' staff at Arizona State, where the Sun Devils have made it to back-to-back bowls and won two straight Territorial Cup games over Arizona.
In his first season in Tempe, Gonzales oversaw a Sun Devil defense that allowed the fewest points (332) since the 2012 season. ASU held nine of its opponents under 30 points, including seven consecutive games to start the season. ASU was one of seven teams to accomplish this, a feat that has only been done five times at the school in the Pac-10/12 era.
Despite having one of the nation's youngest defenses, Gonzales managed to significantly improve that side of the ball. Sun Devil freshmen (true or redshirt) combined for 3,300+ snaps on defense in 2018. Comparatively, freshmen combined for just 918 total defensive snaps played in 2017 and 1,035 in 2016.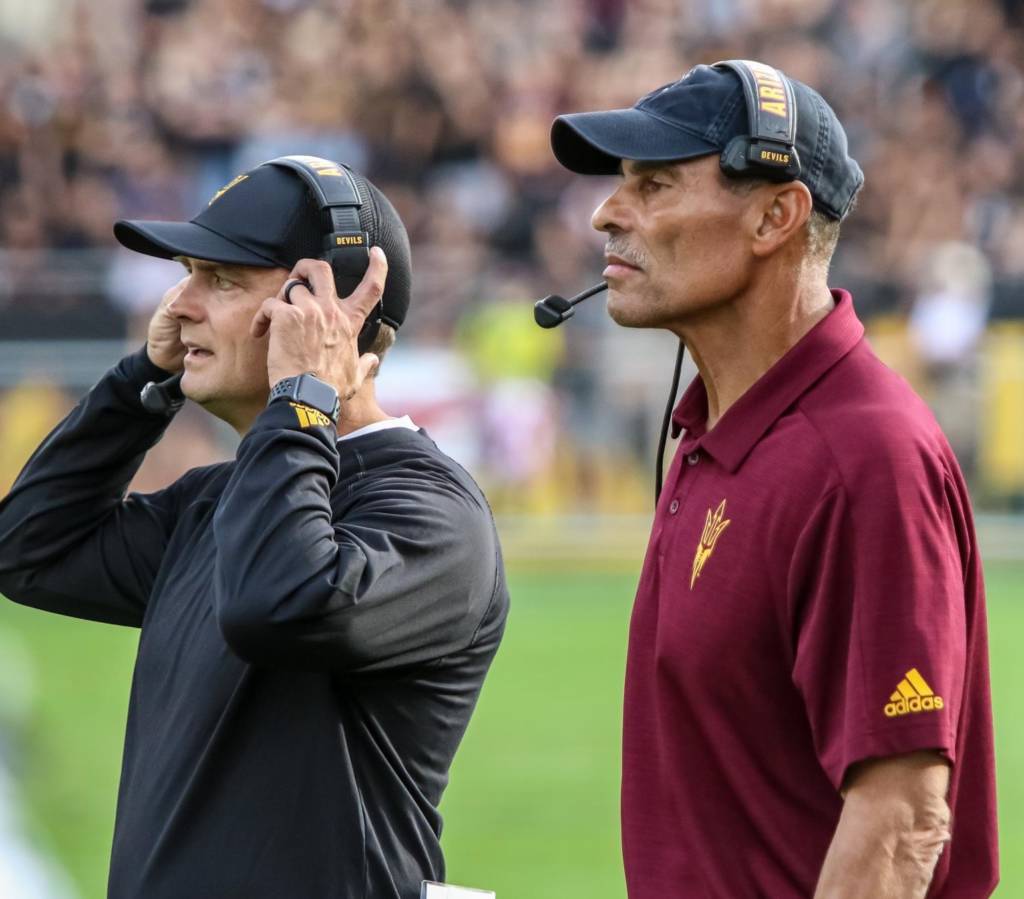 Under Gonzales' tutelage, Merlin Robertson was named the Pac-12 Freshman Defensive Player of the Year after becoming the first Sun Devil freshman to lead the team in tackles since Jason Shivers in 2001. Aashari Crosswell also earned All-Pac-12 Honorable Mention for a campaign in which he led ASU in interceptions (four) and pass breakups (nine) and was seventh in the nation with 127 yards on interception returns.
During the regular season, ASU held opponents to just 3.5 points per fourth quarter, the fifth-lowest total in FBS. For comparison, the defense ranked 112th, 124th, and 121st in the same category over the past three seasons. Additionally, ASU allowed just 4.9 points per first quarter in the regular season, moving its national rank from 82nd in 2017 to 36th nationally in 2018. The Sun Devils allowed 25.1 points per game in the regular season, good for 49th nationally compared with 103rd (32.8 ppg) in 2017.
ASU finished the regular season tied for 20th nationally in fewest passing plays over 40 yards allowed, giving up just five. ASU ranked 90th in the category in 2017, allowing 12 such plays and 127th in 2016, allowing 22 passing plays over 40 yards allowed. Additionally, the Sun Devils finished 60th in the regular season allowing 5.63 yards per play this year, moving up over 50 spots from the team's 111th place finish in the category in 2017 (6.33 yards per play). ASU had finished 109th or worse in the category in three consecutive seasons prior to the current campaign.
In 2019, it was more of the same as the Sun Devils ranked 22nd in rushing defense, and 19th in yards per carry against at just 3.40 yards per carry.  The Sun Devils once again lowered their points allowed per game to 23.1 (41st) from 25.5 (50th) in 2018.  Prior to Gonzales' arrival, Arizona State allowed 32.8 points in 2017 (103rd), 39.8 points in 2016 (123rd), and 33.5 points in 2015 (99th).
Furthermore, in 2019 the Sun Devils picked up 22 takeaways (13 fumbles and nine interceptions), good for a tie for 18th in the FBS.  The Sun Devil defense continued to limit big plays, ranking tied for 14th nationally with just eight plays of 40 yards or more against them.  The Sun Devils allowed just one rush of 30 yards or more (tying for third nationally) and none of 40 yards or more (one of five teams to make that claim).
The two years with Arizona State followed a seven-year stint from 2011-17 under Long at San Diego State, the first six as safeties coach and the final as defensive coordinator.
The Aztecs made seven straight bowls with Gonzales on staff, winning three Mountain West titles and three division titles along the way.  In his first season as defensive coordinator in 2017, the Aztecs went 10-3, the program's third straight double-digit win season, and the team played in the Lockheed Martin Armed Forces Bowl. That year, the Aztecs ranked 21st nationally in scoring defense (20.2 points per game) and 11th nationally in total defense (314.8 yards per game).  The Aztecs that year allowed the fewest plays of 10 yards or more (101) of any team in the FBS.
It was a season that saw the Aztecs pick up a pair of Pac-12 wins, defeating Stanford 20-17 and Arizona State 30-20.  Four Aztecs were named All-Mountain West on defense and his defensive charges picked up three Mountain West Player of the Week awards.
From 2011-16, Gonzales served as the safeties coach, coming to the Aztecs when Long was named head coach for the 2011 season.
From 2011-16, SDSU's 100 interceptions were the third-most in the country, while its 14 interceptions returned for a touchdown were tied for the fifth-most over that span. The Aztecs' 49 interceptions in 2015 and 2016 were the most in a two-year span in FBS play since Boston College had 51 in the 2007 and 2008 campaigns. SDSU led the country in interceptions (26) in 2016.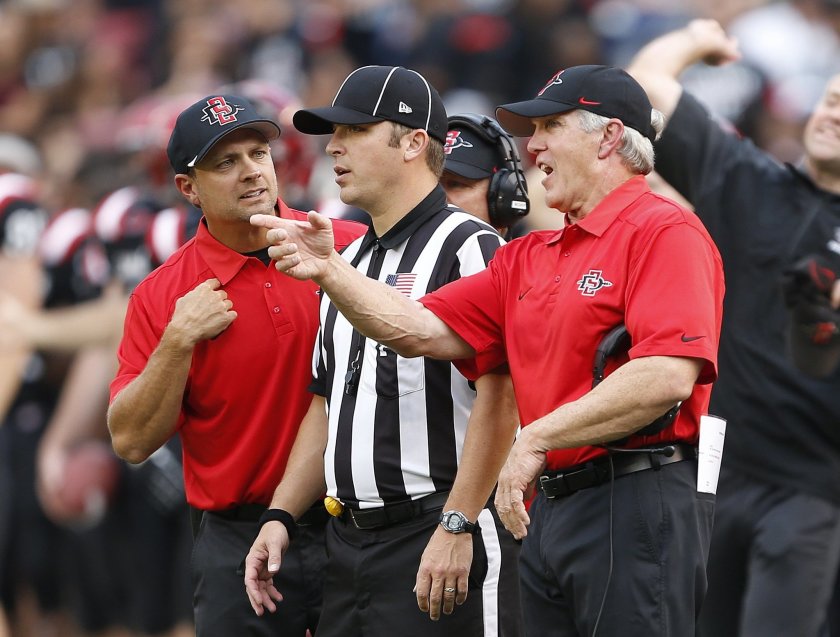 In 2015, the Aztecs finished among the top 10 in the four main defensive categories, including a tie for second with 23 interceptions, fifth in total defense (287.3), seventh in scoring defense (16.4) and rushing defense (108.7) and 10th in passing defense (178.6).
SDSU produced one of the best defensive efforts in school history in 2014, finishing in the top 20 nationally in nearly every defensive category, including scoring defense (13th) and total defense (16th).
Gonzales coached Nat Berhe and Eric Pinkins, both of whom were selected in the 2014 NFL Draft. Berhe was a fifth-round selection of the New York Giants, while Pinkins went in the sixth round to the defending Super Bowl champion Seattle Seahawks.
Under Gonzales' guidance, Berhe became the first Aztec safety in the Mountain West era (since 1999) to garner all-conference accolades three years in a row. Berhe, who landed on the 2013 preseason watch lists for the Jim Thorpe Award and Lott IMPACT Trophy, capped a brilliant collegiate career with first-team All-MW honors after leading the team with a career-high 99 tackles, including 60 solo stops.
As a team in 2012, the Aztec defense topped the MWC in rushing defense with 133.5 yards per game. SDSU also showed dramatic improvement in that statistic at the national level, climbing from the 78th spot in 2011 to the 28th position in 2012.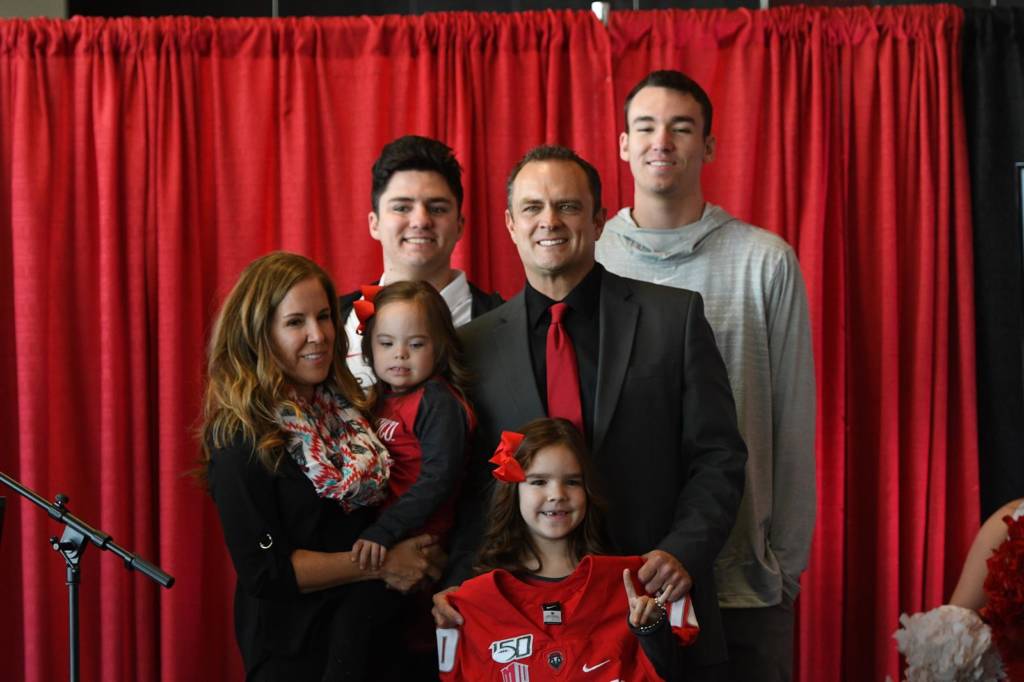 Gonzales was part of a staff that saw the Aztec defense finish 2011 with the No. 1 conference ranking in sacks (2.23/g), tackles for loss (6.54/g), interceptions (15) and turnovers gained (28).
Gonzales has a pair of degrees from The University of New Mexico, earning his bachelor's degree in business administration and general management in 1998 and a master's degree in physical education and recreation in 2002.  Danny and his wife Sandra have four children: Cole, Jake, Chloe and Abby.
Danny Gonzales – Year-by-Year Collegiate Coaching Record
School (Pos.)
Year
Overall
Conference
Bowl
W
L
.PCT
W
L
.PCT
New Mexico (G.A.)
1999
4
7
.364
3
4
.429
New Mexico (G.A.)
2000
5
7
.417
3
4
.429
New Mexico (G.A.)
2001
6
5
.545
4
3
.571
New Mexico (G.A.)
2002
7
7
.500
5
2
.714
Las Vegas Bowl (L)
New Mexico (Video Coord.)
2003
8
5
.615
5
2
.714
Las Vegas Bowl (L)
New Mexico (Video Coord.)
2004
7
5
.583
5
2
.714
Emerald Bowl (L)
New Mexico (Video Coord.)
2005
6
5
.545
4
4
.500
New Mexico (Saf./Special Teams)
2006
6
7
.462
4
4
.500
New Mexico Bowl (L)
New Mexico (Saf./Special Teams)
2007
9
4
.692
5
3
.625
New Mexico Bowl (W)
New Mexico (Saf./Special Teams)
2008
4
8
.333
2
6
.333
San Diego State (Safeties)
2011
8
5
.615
4
3
.571
New Orleans (L)
San Diego State (Safeties)
2012
9
4
.692
7
1
.825*
Poinsettia (L)
San Diego State (Safeties)
2013
8
5
.615
6
2
.750
Famous Idaho Potato (W)
San Diego State (Safeties)
2014
7
6
.538
5
3
.625^
Poinsettia (L)
San Diego State (Safeties)
2015
11
3
.786
8
0
1.000*^
Hawai'i (W)
San Diego State (Safeties)
2016
11
3
.786
6
2
.750*^
Las Vegas (W)
San Diego State (Def. Coord./Saf.)
2017
10
3
.769
6
2
.750
Armed Forces (L)
Arizona State (Defensive Coordinator)
2018
7
6
.538
5
4
.556
Las Vegas (L)
Arizona State (Defensive Coordinator)
2019
7
5
.583
3
6
.333
Sun
New Mexico (Head Coach)
2020
2
5
.286
2
5
.286
New Mexico (Head Coach)
2021
3
9
.250
1
7
.125
New Mexico (Head Coach)
2022
2
10
.167
0
8
.000
Totals (20 seasons)
147
124
.575
93
77
.547
Assistant Coach
140
100
.583
90
57
.612
Head Coach
7
24
.226
3
20
.130
*denotes Mountain West Champions
*denotes West Division Champions