University of New Mexico Lobos athletics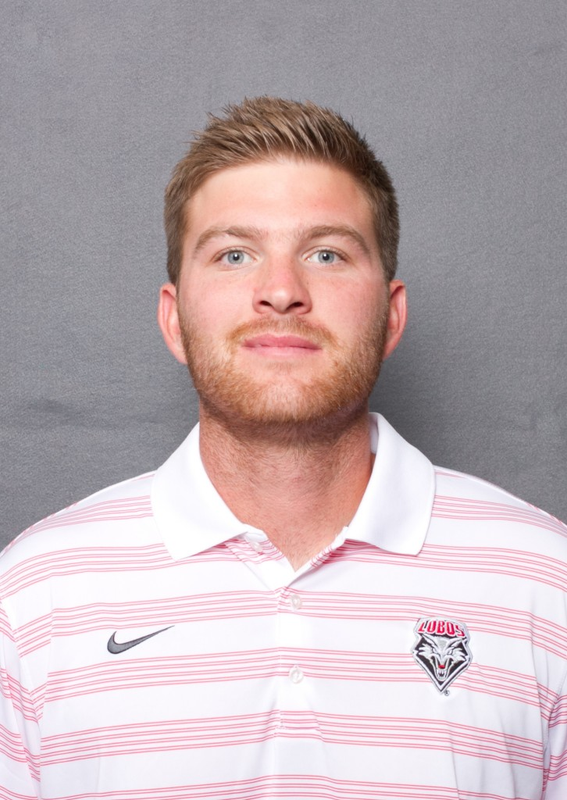 Ben Dunbar was named head coach for The University of New Mexico prior to the 2016-17 season. He spent 2014-16 as an assistant coach at UNM under former head coach Bart Scott and played for the Lobos from 2008-12. He is the 18th coach in program history, and the fifth to both play and coach for the program.
Overall, Dunbar is 46-39 in his first four seasons as the head coach of the Lobos.  In 2018-19, Dunbar led the Lobos to a 14-8 record and a perfect 7-0 record in Mountain West play, as UNM won its first Mountain West title since 2015.
UNM took home plenty of honors during the season as three Lobos earned All-Mountain West accolades, six Mountain West All-Academic selections and six Mountain West Scholar-Athletes.  Additionally, Dunbar helped coach Ricky Hernandez-Tong to the ITA Mountain Region title in the fall season, UNM's first fall individual champion in 15 years.
In 2017-18, Dunbar's Lobos went 15-11 overall and 4-3 in the Mountain West, with a pair of All-Conference honorees.
Dunbar was named head coach after spending three years as an assistant coach with UNM under Bart Scott.  As assistant, Dunbar handled on-the-court coaching, instructional work, team academics and scheduling for the Lobos.  In his first season as an assistant coach in 2014-15, the Lobos made the NCAA Championship for the first time since 2009. Subsequently, Dunbar was honored by the ITA as the Mountain Region Assistant Coach of the Year, joining Scott as Lobo assistants to have earned the honor.
Dunbar has also helped coach the doubles team of Hayden Sabatka and Bart Van Leijsen to the ITA All-American Championships, the USTA/ITA National Indoors and the NCAA Championships in 2016.
Additionally, Dunbar played tennis at UNM, posting a standout career with the Lobos from 2008-12.
Over his four-year career, he registered a 55-49 record in singles play and a 73-34 record in doubles play. In his senior year, he finished 20-15 in singles and 27-9 in doubles play, the sixth-highest single-season total in program history. He eventually earned a national doubles ranking of No. 30 from the ITA.
He was a five-time All-Mountain West honoree overall, earning the accolade three times in singles and twice in doubles.
Academically, Dunbar was named Mountain West All-Academic every year he was eligible and Mountain West Scholar-Athlete honors once (2012). He also claimed ITA Scholar Athlete honors over his junior and senior seasons, during which he tallied a perfect 4.0 GPA.
He also served as volunteer coach with the Lobos from 2012-14 while working toward his master's degree at New Mexico.
Originally from Nottingham, England, Dunbar graduated from Castle College in 2008 before earning his bachelor's degree in psychology from UNM in 2012.