The 2022 season marks the 62nd season of football for the New Mexico Lobos in their home facility. University Stadium saw its first game on Sept. 17, 1960 when the Lobos defeated the University of Mexico 77-6. Prior to 1960, UNM played its home games at Zimmerman Field (1938-1959) and University Field (1892-1937), where Ortega Hall, the Humanities building and Woodward Hall presently stand.
The facility replaced the grass playing surface with new synthetic artificial playing surface in August of 2012. In 2021 the surface was updated again with a new design.
In August of 2013, a new video board was installed in the north end zone. The 80 foot by 32 foot high definition display gave New Mexico the largest video board in the Mountain West.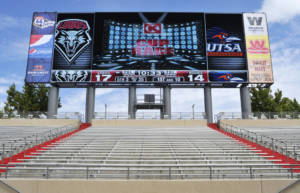 New Mexico's fast-growing student section, dubbed the Howl Raisers, gets more popular every year and has made a big impact on the gameday atmosphere at University Stadium. With all UNM football games free for students, these young, energetic fans come early to tailgate then pack the eastern stands to cheer on their classmates, while making sure the visiting team is always aware of their presence.
Fans start the party early at the University Stadium tailgate lots when thousands of fans from all over The Land of Enchantment and beyond converge for food, drinks, live music, games, and more for a Lobo Football home game.
University Stadium is also home of the New Mexico Bowl, one of college football's annual postseason bowl game. Held in December every year, the game includes one Mountain West program.
Top-10 Home Attendance
Current official capacity of University Stadium is 39,224.
| | | | | |
| --- | --- | --- | --- | --- |
| Rank | Crowd | Opponent | Date | Result/Score |
| 1. | 44,760 | New Mexico State | Sept. 17, 2005 | W, 38-21 |
| 2. | 44,075 | New Mexico State | Sept. 27, 2003 | W, 24-17 |
| 3. | 41,771 | UTEP | Sept. 1, 2001 | W, 26-6 |
| 4. | 41,033 | New Mexico State | Sept. 8, 2007 | W, 44-34 |
| 5. | 40,182 | No. 14 Utah | Oct. 1, 2004 | L, 7-28 |
| 6. | 39,233 | BYU | Oct. 8, 2005 | L, 24-27 |
| 7. | 38,746 | Texas Tech | Sept. 11, 2004 | W, 27-24 |
| 8. | 37,533 | UNLV | Sept. 5, 2005 | W, 24-22 |
| 9. | 37,287 | San Diego State | Oct. 23, 2004 | W, 19-9 |
| 10. | 37,156 | Rice | Oct. 18, 1997 | L, 23-35 |
University Stadium Policies
What types of things are not allowed into University Stadium?
Fans are encouraged to bring ONLY necessary items to football games at University Stadium. For the safety and enjoyment of all fans, we request that you assist us by leaving prohibited items at home or in your vehicle. We regret that we are unable to provide storage for any of these items.
The following items will not be allowed into any UNM Athletic Department Venue:
food of any kind (a closed, unopened bottle of water is permitted. We no longer permit empty nalgene water bottles)
cans
glass bottles
alcohol
baby seats
balloons
beach balls
coolers
explosives
umbrellas
fireworks
folding chairs
illegal drugs
laser pointers
artificial noisemakers such as horns, drums, bells, whistles, etc. per Mountain West rules
pets (except service animals assisting those with disabilities)
weapons of any kind
any other item that in the judgment of game management staff poses a safety hazard or detracts from the ability of others to enjoy the event. Prohibited items must be returned to the owner's vehicle or discarded. Any unlawful items are subject to confiscation, and the person in possession of such items is subject to ejection from the stadium and /or arrest.
Can I bring a banner or sign for my favorite player?
Banners and signs are allowed inside University Stadium provided they are of reasonable size (as determined by event staff) and contain no advertising, offensive material or language. Signs cannot obstruct the view of other patrons during the game or they will be confiscated.
Can I bring a handbag or pocketbook into University Stadium?
UNM has established a clear bag policy as of August, 2021, and fans can click www.GoLobos.com/clear-bag-policy for more information.
Can I take pictures at the game?
Still frame cameras are permitted inside the stadium, however, video cameras are not.
Can I bring in my own chairback seat into University Stadium?
Yes, fans wishing to bring a chairback seat can do so, but they must have the seat checked at the entrance. Chairback seats larger than 11 x 18 are not permitted into University Stadium.
Fans wishing to rent a chair back seat can do so on the concourse at a cost of $5 per game. All proceeds go to the UNM baseball program and UNM spirit program.
Is there an elevator at University Stadium?
Yes, there are two elevators on the west side of University Stadium near gate 3.
Can I go on the field prior to the game or after?
Only team personnel, media and credentialed event management staff are authorized to be on the field before or during the game. Anyone going onto the field without proper authorization is subject to expulsion from the stadium and could face prosecution. This also applies to anyone throwing objects onto the field or in the stands.
What if I need first aid or the aid of the police for any reason?
Emergency assistance is available at the Command Post located on the concourse level at the north end of the stadium or by dialing 925-5506. Contact any usher or ticket taker wearing an Event Staff shirt, and they will be able to assist and get EMTs to respond. There is also a Police Command Post, which is located on the concourse level at the north end of the stadium near gate 5. First aid, lost and found and lost children are located here. The phone number is 925-5506.
What if I lose track of my children?
Parents and/or guardians with a lost child should contact the nearest law enforcement officer or event staff member. Lost children will be taken to the Command Post at the north end of the stadium near Gate 5.
Is there a Lost and Found?
Lost and Found is at the Command Post located on the concourse level at the north end of the stadium near gate 5 during games and can be contacted by dialing 925-5506. During the week call the UNM Police at 277-2241.
Can I bring my own food or drink into University Stadium?
Fans are not permitted to bring in any outside food or drinks, although a closed, unopened bottled water or an empty nalgene water bottle is permitted. Fans entering the stadium will be asked to finish, dispose of, or return items to their vehicle.
Exceptions will be made for the needs of babies/small children/elderly and fans with medical conditions.
What is the re-entry policy at University Stadium?
Re-entry is not permitted at University Stadium. If you need to re-enter, please go to the Customer Service Tent located near the Command Post near Gate 5. The Customer Service representative will make the decision if you're able to re-enter. Emergencies will be the only purpose.
Can I campaign for political office at University Stadium?
It is the policy of the UNM Athletics Department that, in accordance with UAP 2060, political campaigning at UNM athletics events is prohibited inside UNM athletics facilities; on adjacent parking lots; at entrances to or exits from athletics facilities; and other such controlled spaces.
Can I bring a stroller into University Stadium?
Strollers are permitted but must be collapsible and fit under your seat.
Is University Stadium wheelchair accessible?
There are nearly 200 wheelchair spaces in University Stadium. They are located on the upper west concourse level, the east mid-concourse level and at the north end. Wheelchair spaces on the west side of the stadium can be reached by the elevator on the west side of the press box. Spaces on the north side are on ground level. Tickets are available by contacting the ticket office at 925-5626.
Can I smoke at University Stadium?
There is no smoking allowed in University Stadium. The entire UNM campus is smoke free.
Can I legally have an alcoholic beverage at University Stadium?
Individuals of legal drinking age – 21 or older – who have a ticket to the game that day may consume alcoholic beverages in the parking lots in accordance with University policy. Consumption of alcohol by minors is illegal. In addition, it is illegal to provide alcohol to minors. The following additional rules apply to alcoholic beverages at University Stadium.
No glass bottles are permitted.
No common source alcohol is permitted, including party balls or kegs.
No alcohol, outside food or drink may be brought into the stadium.
Fan safety is the University's top priority, and in conjunction with Levy Restaurants, UNM Police and the UNM Campus Office for Substance Abuse, UNM Athletics has developed several procedures to ensure responsible consumption, including:
Those of legal age will need to stop by an ID check location. ID check locations will be located near gates 1, 4, 8 and 9. At this time, a legal and accepted form of I.D. must be shown to receive wrist band. Gates open 90 minutes before the game. Only guests with wristbands will have the opportunity to purchase alcoholic beverages.
Beer and wine will be available at concessions stands. At the time of purchase, guest will show both the wrist band and a legal and accepted form of I.D. to ensure all guests are of legal age to complete purchase.
Each time a Lobo fan purchases an alcoholic beverage, we will mark the wrist band.
Beer and wine sales will stop immediately at the end of the third quarter at every Lobo football game although UNM reserves the right to change the policy on cutoff times depending on kick times, and will communicate that to guests.
Levy Restaurants is in good standing with the New Mexico Regulation and Licensing Department, and is committed to responsible alcohol service locally and nationally at over 100 sports and entertainment venues. The team will be utilizing state approved training providers such as WayToServe to ensure all staff adhere to responsible alcohol service policies and procedures.
In addition to increased signage around University Stadium, UNM Athletics will encourages responsible drinking and driving via:
Join UNM Athletics and ENDWI in the fight to end drinking and driving. Be a designated driver and sign up at the ENDWI booth upon arrival at University Stadium. Fans who check in at the ENDWI booth upon arrival at the football game will receive a Pepsi beverage at no charge for designated drivers. Download the ENDWI app on your mobile device.
Bernalillo County Tavern Taxi Program. The Tavern Taxi Program provides a safe ride home to individuals from local bars/restaurants in the Bernalillo County area from 10p.m. to 2 a.m. on Friday and Saturday nights at no charge.
In addition, fans can always utilize ride-sharing services such as Uber. UNM has established a pick up and drop off zone in Lot A of Isotopes Park, which is located on the First Base Side, off of Avenida César Chávez.
UNM Designated Lobos is a program for students that provides rewards (movie tickets, gift cards, etc.) to students who are willing to be the "DD" when they socialize with friends. UNM students can sign up at the Campus Office of Substance Abuse Prevention- COSAP at 277-2795.
The University of New Mexico Athletics Department reminds all fans to not drink and drive. Please choose a designated driver before you consume any alcoholic beverage.
What if I need assistance inside of University Stadium?
Event staff is located around the concourse and fans can request assistance or ask questions. If necessary, event staff can quickly dispatch safety/security, medical or guest services staff to the appropriate location.