University of New Mexico Lobos athletics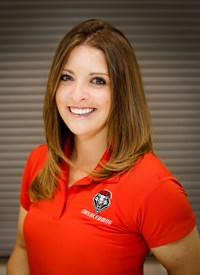 Madison Baumann officially joined The University of New Mexico athletic department in 2011 as Executive Director for the UNM Alumni Lettermen's Association.  In 2016, she added the title of UNM Spirit Coordinator, which she held under 2022, when she moved up to serve as the sport coordinator for Spirit.
As executive director, Madison works with both the Lobo Club and the UNM Alumni Association on a variety of events throughout the school year.  She also handles many aspects of UNM's alumni tailgates including those on the road at major venues during the football season as well as basketball.  Additionally, Baumann runs the UNM Hall of Honor, and coordinates all of the logistics for that very special weekend, from the Hall of Honor banquet to voting and inductions.
Baumann, who received both her bachelor's and master's degrees from New Mexico, also cheered on the All Girl Cheer Team for the UNM Spirit Program for five years from 2004 to 2009.  She earned a bachelor's in mass communications/public relations from UNM in 2008, and a master's in athletic administration in 2010.
Madison and her husband Matt have one daughter, Blakely.