University of New Mexico Lobos athletics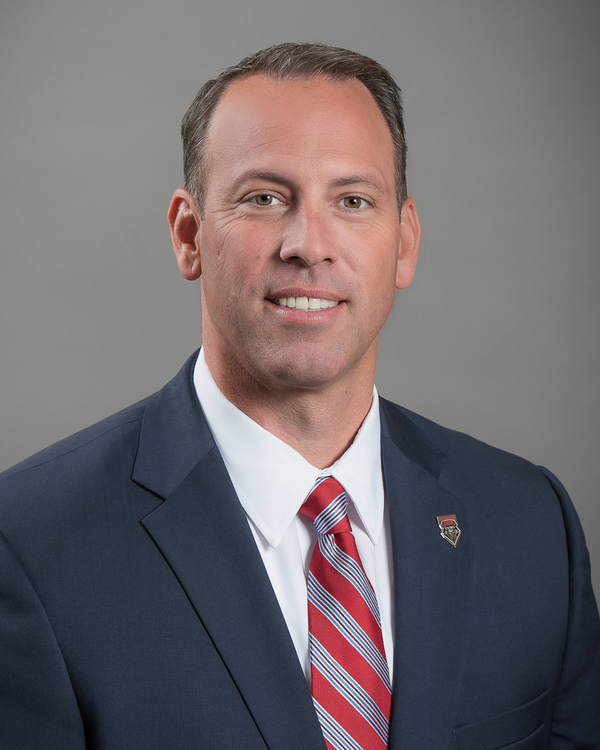 Eddie Nuñez was named to the top post in athletics on August 31, 2017.  Nuñez is UNM's 13th Athletic Director, dating back to 1911. His title was officially changed to Vice President/Director of Athletics in the fall of 2021.
"My number one priority at UNM is always going to be the student-athlete and making sure their experience offers the support and resources they need to achieve great things on and off the field of play. We are going to bring passion, transparency and energy to everything we do here."
In his first five years in the AD's chair, Nuñez has presided over plenty of success stories, starting with a National Championship in Cross Country in 2017. Over his five years, UNM has totaled 42 NCAA Tournament appearances and 19 Mountain West titles. Among the 407 All-Conference performers have been 36 conference Athletes of the Year and 14 conference Coach of the Year awards. Academically, UNM's 1,251 Mountain West All-Academic selections and 889 Mountain West Scholar-Athletes are the highest total among all Mountain West schools over that time frame.
In 2022-23, the Lobos had a pair of programs finish in the top-10 nationally, as the women's cross country team just missed a third national title, finishing second, and women's golf finished ninth at the NCAA Championships, just missing out on a shot at the eight-team match-play playoffs.  Under Nuñez, the athletic department opened its newest facility, the New Mexico Mutual Champions Training Center.  The new facility, located in the south end zone of University Stadium, more than doubled UNM's athletic performance space and it contains not just weight and strength equipment but a full cardio area as well.  The facility benefits all student-athletes and all teams.  The Lobos also had six CSC Academic All-Americans named during the year.
In 2021-22, the Lobos were able to successfully navigate through COVID-19 issues which limited certain aspects of UNM's athletic operation.  Despite various roadblocks, UNM won three conference titles including back-to-back women's soccer titles. Nuñez also hired new coaches for Lobo Men's Basketball and baseball, invigorating the fan bases of both programs.  UNM's student-athletes again posted a top-5 semester GPA, and the Lobos against had two student-athletes named CoSIDA Academic All-Americans.
In 2020-21, despite the hardships associated with COVID-19, the Lobos led the Mountain West with six championships, winning in women's basketball, women's soccer, women's cross country, women's golf, men's golf and men's tennis. Those six championships tied for the most for any Group of 5 institution in 2020-21. Nuñez expertly led a department that had three major programs in football, men's basketball and women's basketball need to shift its base of operations out of state. Despite that, UNM once again had several program records for GPA, including the best two-year GPA in the history of UNM Athletics. Nuñez was also named to the LEAD1 Board of Directors.
For his work throughout the 2020-21 season, Nuñez became just the third person in the history of the Mountain West to be honored with the Commissioner's Award, becoming the first recipient in 14 years.
The 2019-20 academic year was one of great success as UNM's student-athletes set a host of records for grade point averages.  Additionally, three programs were honored by the NCAA for APR public recognition, women's golf was the top academic program in the nation for a season straight year, and UNM led the Mountain West is scholar-athletes for an eighth straight year.   With a 3.74 GPA, the department set the GPA record for a second-straight semester.
The 2018-19 academic year saw four teams (women's soccer, women's cross country, men's golf and men's tennis) win Mountain West titles, and UNM picked up a national runner-up finish in women's cross country and its highest finish, fifth, in women's indoor track & field.  The department also had a pair of individual national champions and five CoSIDA/Google Cloud Academic All-America selections.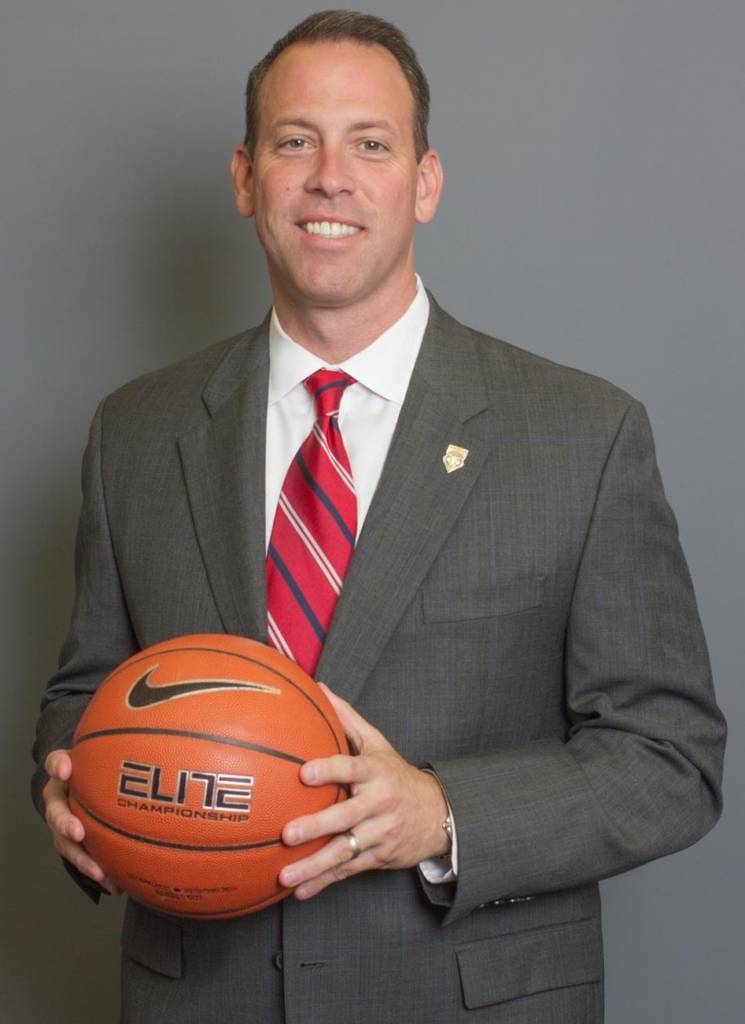 The 2017-18, his first at New Mexico, saw the department win its third NCAA title in the long rich history of UNM athletics as the women's cross country team won its second title in three seasons.  The department also saw 14 top-five GPAs spread out amongst its programs, and UNM's first-ever individual national champion in women's cross country.
Throughout it all, academic success has defined his tenure.  Since becoming AD, 10 of UNM's 14 programs have set program GPA records, and 13 of 14 have turned in at least two top-5 semester GPAs.  Additionally, GPA records for male, female and all student-athletes have been set twice.  In the 2017-18 academic year, the Lobos had 65 degrees conferred to student-athletes, in 2018-19, 93 earned degrees and in 2019-20, 63 walked across the stage, including during a highly successful virtual graduation ceremony that had hundreds of live viewers.  UNM also ran its streak of leading the Mountain West in Scholar-Athletes to eight straight years.
He has also made his mark on the department in many areas.  Nuñez has hired new coaches in women's volleyball, women's tennis, swimming and diving and he brought back former Lobo and Albuquerque native Danny Gonzales back home to UNM to lead the football program.  His most recent hire was bringing in former Big Ten Coach of the Year Richard Pitino to lead the men's basketball program.
Under Nuñez, UNM has also entered exciting new partnerships with PlayFly Sports (formerly OutFront Sports), rebranding UNM's external marketing arm as New Mexico Sports Properties.  UNM has also has new partnerships with Paciolan (earning their "Newcomer of the Year" Award), Athlete Network, Licensing – Affinity, Merchandise, and a three-year comprehensive partnership with UNM Hospital and Health Sciences to provide medical assistance and mental health services for Lobo student-athletes.
Nuñez also extended the department's longstanding partnership with Nike to continue as the official outfitter of the university's athletic programs.
He has also led the restructuring of the Lobo Club to streamline, align and enhance the fundraising efforts towards UNM athletics.  This new restructuring has been instrumental in improving donations, increasing Lobo Club membership, improving customer service and reestablishing trust with donors and supporters. These efforts have helped increase funding for the mental health and wellness of our student-athletes and established three new endowments for the long-term success of the athletic department and the support of our student-athletes, including specific endowments for men's basketball and football. During Nunez's tenure, the Lobo Club Champions Council has continued to grow in members and in financial support.
Nuñez has played an important role nationally as a leader in the field of college athletics.  In January of 2021, he was appointed to the LEAD1 Executive Committee and Board of Directors, and organization that represents the athletics directors, programs and student-athletes of the 130 member universities of the Football Bowl Subdivision.  That followed his August of 2020 appointment to the 30-person Lead1 Working Group for Diversity, Equity, and Inclusion in College Sports.  That working group explores initiatives to strengthen senior leadership pipelines, expand professional development opportunities, influence legislation that supports underrepresented populations and recommend strategies of accountability.
He also currently serves on the Executive Board for the New Mexico Bowl and he has over his time at UNM served on a variety of committees with the Mountain West, including serving on the Mountain West Executive Board.
For 14 years, starting in 2003, Nuñez served in a variety of high-level administrative capacities at LSU, one of the nation's top athletic departments.  He also has served as the department's liaison with LSU Sports Properties, the Tiger Athletic Foundation and University Licensing and Brand Management.
While he held seven positions and titles at LSU, the department continually flourished.  Under his guidance, LSU experienced of $400 million in facility renovations and construction, and Nuñez led the renegotiations of a 10-year multi-media rights agreement with Outfront Media Sports.
Additionally, he oversaw the planning and management of the LSU Athletics Strategic Plan, Marketing and Promotions, Athletic Communications, Social and Digital Media, Creative Services, Video/Network Broadcast Services and all capital projects.
While he has made his mark collegiately at LSU, Nuñez began his career as a collegiate administrator at Vanderbilt University, where he was the Director of Game and Event Management.  Additionally, he assisted in construction and planning of numerous facility upgrades.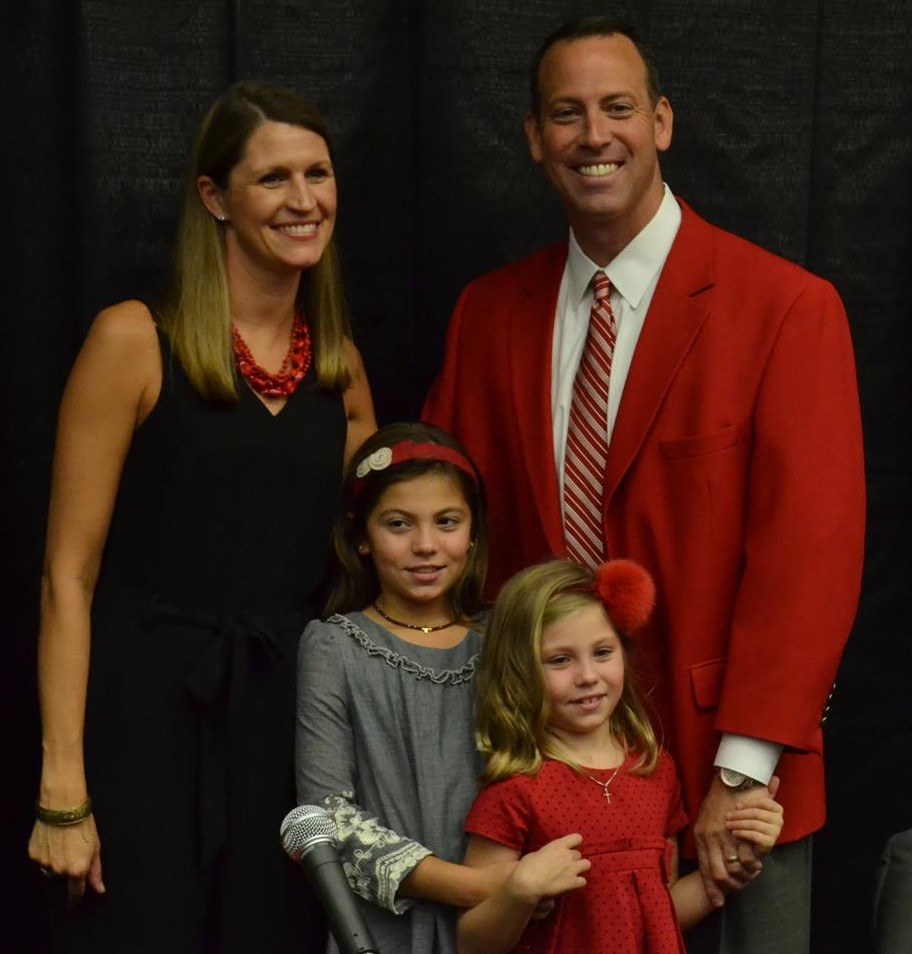 A former college athlete, Nuñez played four years of basketball, starting at Miami-Dade Community College before transferring to the University of Florida, playing for Billy Donovan.  He then spent two seasons as a graduate assistant under Donovan at Florida before being named an administrative assistant at Marquette in the men's basketball program.
A native of Miami, Florida, Nuñez received his Associate Degree in arts and architecture from Miami-Dade Community College, his Bachelor's Degree in Sports Management and Master's Degree in Sports Administration from the University of Florida. He is married to the former Jane Hess and the couple are proud parents of two daughters, Elizabeth and Anna.
"Eddie Nuñez has extensive experience in many areas of athletics administration and his passion for supporting and building relationships with student-athletes will serve the University of New Mexico well.  The SEC is fortunate to have a number of young administrators with bright futures as leaders in college athletics and I am confident Eddie will excel as New Mexico's Director of Athletics."  — Greg Sankey, SEC Commissioner.
"We were looking for a leader who is dedicated to academic excellence, strong ethics, careful financial management and community engagement. The committee and I agreed that Eddie is the right person for this key position at UNM. Welcome to our Lobo family, Eddie."  — Former UNM President Chaouki Abdallah
*bio updated 8/14/23