University of New Mexico Lobos athletics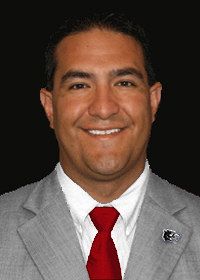 Ed Manzanares is in his eighth year with The University of New Mexico athletics department.  After spending his first two-plus years with the Lobo Club in a pair of capacities, he now is on the main athletics staff as Senior Associate Athletic Director for Sports Administration. Manzanares was most recently the Athletic Director at New Mexico Highlands from 2006-2013.
In this role, Manzanares will have sport oversight over men's and women's tennis, women's soccer, volleyball and men's golf.  He will also continue to handle the Lobo Courtesy Car program.  At UNM, Manzanares has overseen several coaching searches, including women's tennis and swimming and diving.
Manzanares previously spearheaded Premium Seating and the Lobo Courtesy Car program for the Lobo Club. As the Director of Athletics at Highlands, he managed all aspects of their 14 athletics programs and 458 student-athletes. During his tenure there, he created the athletic department's first corporate sponsorship campaign, oversaw $2 million in facility improvements, and secured the largest one-time gift in NMHU Athletics history.
He received his bachelor's degree from UNM in Communication and Broadcast Journalism in 1995 and his Master's in Sports Business Administration from Highlands in 2010. He is a member of the National Association of Collegiate Directors of Athletics (NACDA) and the Minority Opportunities Athletic Association (MOAA). Prior to becoming the Athletics Director, Manzanares was the Head Men's Basketball Coach at Highlands. When he earned the job in 2000, he was the youngest head coach in the NCAA for Division II.