University of New Mexico Lobos athletics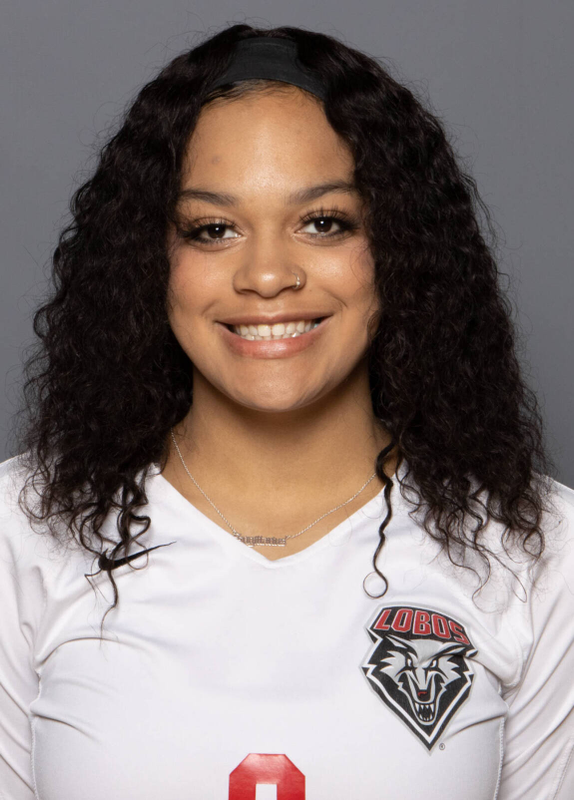 SOPHOMORE | 2020-21: Named a team co-captain … started all 14 matches and played in all 53 sets … led the Lobos with 183 kills (3.45 k/s), a .192 hitting percentage, 17 service aces and 214 points (4.05 pts/s) … second on the team in digs at 124 (2.34 d/s) and in blocks (24 total, five solo) … finished with five double-doubles … posted a career-high 25 kills in the last match of the season against Utah State … finished with 10-plus kills in 10 matches and 20-plus in two matches … recorded a career-high two assists at Air Force on Feb. 27 and four service aces and two solo blocks at San Jose State on March 25 … also tallied a career-high 17 digs at Nevada to start the season on Feb. 5 … finished fifth in the Mountain West in kills per set and points per set and 10th in service aces per set (0.32) … her 25 kills against the Aggies were the third highest recorded by an individual in the MW this season and her 22 were tied for the fifth most … named to the All-Mountain West team.
FRESHMAN | 2019: Appeared in all 30 matches, starting in all but one, and 110 sets … tied for the team high in hitting percentage with .211 … third on the team in kills with 293, averaging 2.66 kills per set … third on the team in points with 335.0 (3.05 pts/s) … third on the team in total blocks with 79.0 (five solo, 74 assisted) … had a season-high 23 kills against Oregon State, the first Lobo to record more than 20 kills in a match since September 2018, and most kills recorded by a Lobo in a match in 2019 … led the Lobos in kills in seven matches and tied for the team high in four … recorded double-digit kills in 14 matches including six of the last eight matches … recorded the third- and fourth-best hitting percentage in a match with a .478 (14-3-23) rate versus Nevada (Nov. 16) and a .438 (18-4-32) rate versus Utah State (Oct. 12) … accounted for four of the top-10 individual attack percentages on the season … named to the All-Tournament Team at the North Texas Challenge … named a MW Scholar-Athlete.
HIGH SCHOOL
Lettered four years in volleyball and basketball… first team all-state in both volleyball and basketball … high school team won 2016 and 2018 regional championship … placed second in the state in 2016.
PERSONAL
Born Nov. 22 in Birmingham, Ala. … parents are Juliann Sandy, Yudonn Biassou and Jamie Biassou … has four siblings, Ashlunn, Logann, Medallina and Marcellino … intends to major in business.