University of New Mexico Lobos athletics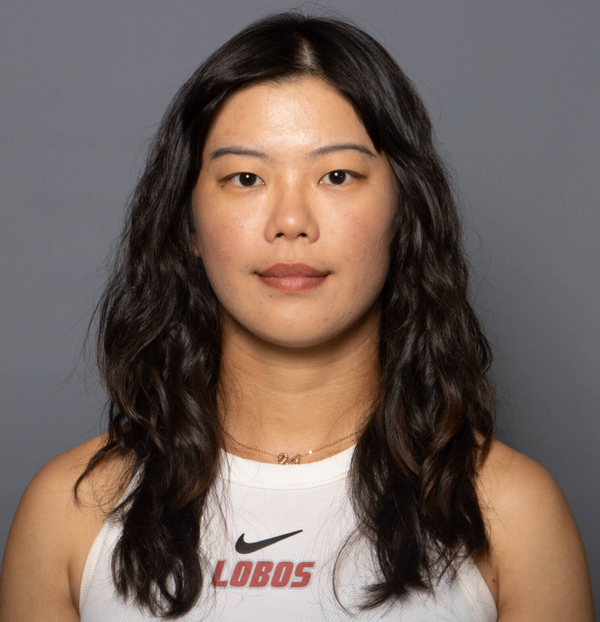 2020-21 (Senior Season)
*Went 2-1 to open the season, the only loss in a third-set 1-0 super-set, losing 10-8.
*Won her only three-setter, winning 4-6, 6-3, 6-3 over Grand Canyon's Taylor Andersen to clinch a comeback 4-3 win.
*Picked up her only conference win with a straight-set win over Nevada's Selina Turulja.
*Had four doubles partners throughout the season.
*Clinched the doubles point with a 7-6 (7-4) win over UTEP, a match UNM would win 4-3.
*Won her only double match partnered with Hsuan Huang, winning 6-1.
*Was 5-6 in doubles with four halted matches, and she was tied or leading in all four.
2019-20 (Junior Season)
*Went 4-0 at the Bedford Cup in Colorado Springs, winning her flight.
*Teamed with Alisia Manolescu to win her flight of doubles at the Bedford Cup, going 3-0.
*Had an eight-match winning streak from October 24 through March 5, going 8-0 with two unfinished matches.
*Had a key win in a 4-3 victory over CSUN, winning 1-6, 6-3, 6-2 at No. 5 singles.
*Took a three-set win over BYU's ANastasia Abramyan, 6-4, 2-6, 6-3.
2018-19 (Sophomore Season)
*Ended the season with a four match winning streak.
*Won seven of her final nine matches, all at No. 3 singles.
*Had a five-match winning streak in doubles from January 20 through January 30, teaming with Yue Lin Chen.
2017-18 (Freshman Season)
*Won 16 matches, finishing second on the team for wins.
*Ended the season with a four-win streak against conference rivals.
*Won first match of collegiate career, going to 3 sets against New Mexico State on September 28.
*Won all three of her matches at the Lobo invitational, winning them all in two sets.
*With doubles partner, Danielle Quevado, received Mountain West all-conference doubles honors.
*Had a 17-14 overall doubles record, with a three-way tie for the highest doubles match wins on the team.
Prior to UNM
*Lettered for the Sanmin High School for three years, winning three straight conference titles.
*Earned city MVP honors in 2016.
Personal
*Parents are Kuo-Lang Huang and Chi-Yu Chu.
*Has one younger brother, Ho-Chen.
*Birthday is October 28, 1998.
*Majoring in architecture.
*Favorite athlete is Roger Federer.
CAREER STATISTICS FOR HSIANG-WEN "ALBIE" HUANG
| | | | | | | | | | | |
| --- | --- | --- | --- | --- | --- | --- | --- | --- | --- | --- |
| Singles | Total | 1 | 2 | 3 | 4 | 5 | 6 | Dual | Tour | Conf |
| 2017-18 | 16-12 | — | — | 1-0 | 1-1 | 4-4 | 4-1 | 10-6 | 6-6 | 3-0 |
| 2018-19 | 13-13 | — | 2-4 | 7-7 | — | — | — | 9-11 | 4-2 | 3-2 |
| 2019-20 | 12-5 | — | — | — | 1-1 | 1-0 | 4-0 | 6-1 | 6-4 | — |
| 2020-21 | 6-10 | — | — | — | — | 4-7 | 2-3 | 6-10 | 0-0 | 3-5 |
| Fall 2021 | 5-3 | — | — | — | — | — | — | 0-0 | 5-3 | — |
| Career | 52-43 | — | 2-4 | 8-7 | 2-2 | 9-11 | 10-4 | 31-28 | 21-15 | 9-7 |
| | | | | | | | |
| --- | --- | --- | --- | --- | --- | --- | --- |
| Doubles | Total | 1 | 2 | 3 | Dual | Tour | Conf |
| 2017-18 | 17-14 | 5-6 | 4-1 | 0-1 | 9-8 | 8-6 | 2-2 |
| 2018-19 | 13-13 | 1-4 | 0-1 | 7-7 | 9-10 | 4-3 | 1-2 |
| 2019-20 | 10-7 | — | — | 4-4 | 4-4 | 6-3 | — |
| 2020-21 | 5-6 | 0-1 | 0-2 | 5-3 | 5-6 | 0-0 | 3-3 |
| Fall 2021 | 2-3 | — | — | — | — | 2-3 | — |
| Career | 47-43 | 6-11 | 4-4 | 16-15 | 27-28 | 20-18 | 6-5 |