University of New Mexico Lobos athletics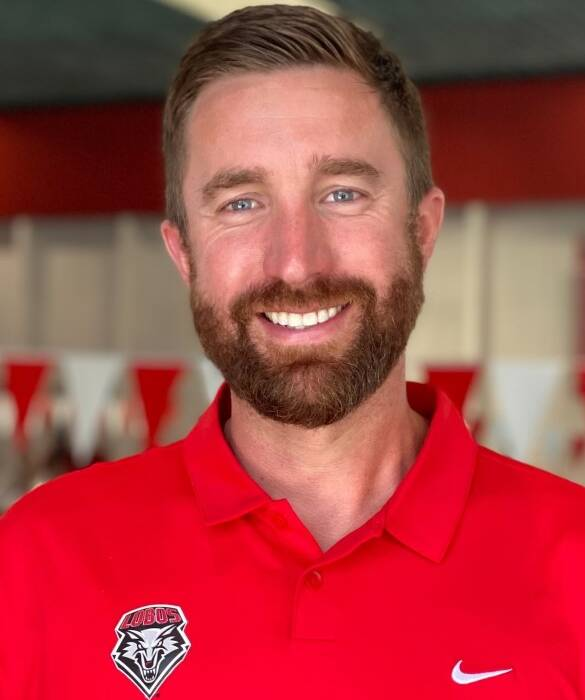 Ryan Evans joined The University of New Mexico swimming program as the assistant swimming coach in September of 2021.  The former Big Ten collegiate swimmer had spent the 2018-21 as the head swimming coach at the Reno Aquatic Club.
Evans, who is a Level 4 certified coach with the American Swim Coaches Association, had spent 10 years entrenched in the Reno, Nevada swim community prior to coming to Albuquerque.  He was the head coach at Bishop Manogue High School from 2017-2019, where he led both the boys and girls teams to its best finishes in the regular season, regionals and the Nevada State Championships.  His swimmers set five school records and Donna dePolo picked of a state title as well.
From there he moved to the Reno Aquatic Club, where he spent three years before coming to UNM.  He spent three months as the Head Age Group Coach before moving on to Head Coach.  As the head coach he oversaw the entire program with over 180 swimmers, more than doubling the program's enrollment, which was 79 when he became coach.
When he started with Reno Aquatic Club, the team only had two swimmers with Sectionals time standards. During his three years as head coach, Reno Aquatic Club had an Olympic Trials Wave 2 qualifier, two Summer Junior National qualifiers, three Winter Junior Nationals qualifiers, nine Futures qualifiers, twenty-one Sectional qualifiers, and thirty-nine Senior Zone qualifiers.
Evans was a two-year letterwinner in swimming at Iowa, where he graduated in 2009 with a bachelor's in Interdepartmental Studies.  He was Iowa's team captain in 2008-09, and he received the 2009 Big Ten Sportsmanship Award and the 2009 Iowa Swimming Leadership Award. He also earned a master's in Leadership and Management from Western Governor's University in 2011.