University of New Mexico Lobos athletics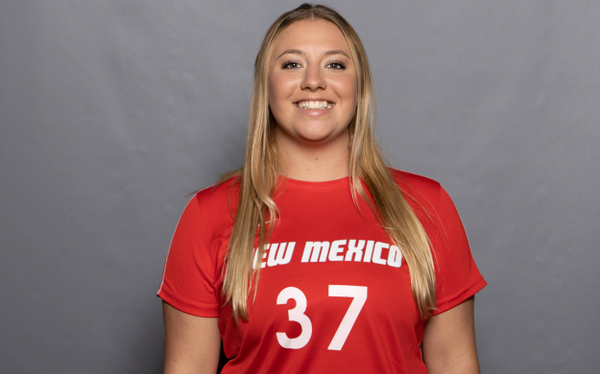 JUNIOR (2020): Played in eight matches, totaling 101 minutes … registered one shot on the season, against Air Force … played a season-high 27 minutes against Air Force.
SOPHOMORE (2019 at Wash. State): Played in all 24 games on the year while picking up one start … saw action in 724 minutes … scored one goal and added one assist … came up clutch in the Cougs' 2-1 win over Pepperdine at Hawaii on Sept. 22 scoring the game-winner in the 78th minute … assisted the final goal of the Cougs' 4-1 win over Utah on Oct. 31 to kick off the final home weekend of the regular season.
FRESHMAN (2018 at Wash. State): Appeared in all 20 games for the Cougars, starting the final five … kicked off her career with a bang scoring her first collegiate goal in the 92nd minute against Grand Canyon … finished the season with three goals and one assist adding goals against No. 2 USC and Arizona State in Pac-12 play … tallied her first collegiate assist in a 4-1 win over Cal Poly.
HIGH SCHOOL/CLUB: Attended Rancho Buena Vista High School … freshman year varsity and Avocado West League Champions … CIF San Diego Section Champions … 17 goals for the season … sophomore year varsity and All-League Award … 27 goals for the season … team captain in 2016 … member of Oceanside Breakers … 2016 National Cup Champions … member of West Coast FC … 2016 Southwest Regional Champions … member of Cal South ODP … 2014-2017 Region IV Champions … 2016, 2017 ODP National Champions … 2014-2016 Region IV ODP Top Goal Scorer … 2014-2017 Region IV ODP Top 18 … 2016, 2017 ODP National Championship All-Tournament Team … three-sport athlete who also played field hockey and ran track … led field hockey team to the Avocado West League title as a sophomore and was named all-league … ran the 4×100 in each of her final three years.
PERSONAL: Born Molly Myers … daughter of Lisa and Hank … has four siblings, TJ, Jake, Colton and Amanda … majoring in communications.