University of New Mexico Lobos athletics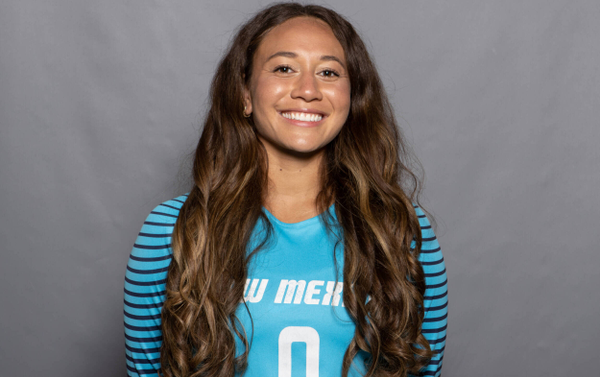 REDSHIRT-JUNIOR (2020): Saw action in three of the Lobos' matches … started in two … allowed zero goals in 191:07 minutes on the pitch … posted four saves for a perfect save percentage … tallied two wins and no losses during the season, both wins being shutouts … earned 2020-21 Scholar-Athlete Award.
REDSHIRT-SOPHOMORE (2019): Saw action in 18 of the Lobos' 20 matches, starting all 18 … posted six shutouts … compiled 1,653 minutes … registered a 1.25 goals against average allowing just 23 goals on the season … tied for eighth all-time in program history with 10 wins in a single season … amassed a 10-7-1 record on the season … finished fifth in the Mountain West with a 1.25 goals against average … finished third in the conference in saves (89) and eighth in save percentage (.795) … finished fourth in the league in saves per game (4.94) and fourth in shutouts per game (.33) … her six shutouts ranked tied for fourth among Mountain West keepers … named to the 2019 Academic All-Mountain West Team … earned 2019-20 Mountain West Scholar-Athlete Award.
REDSHIRT-FRESHMAN (2018): Played in nine games and started in two … had 11 saves on the season … contributed to three of the four shutouts of the season … made her college debut versus Pacific on August 24, playing the full 90:00 minutes … registered a career-high saves (two) in four games … played a total of 371:35 minutes … tallied a 4-0-0 record in net.
FRESHMAN (2017): Redshirted the 2017 season.
HIGH SCHOOL/CLUB: Vanisi is comes to UNM from Walden Grove High School in Sahuarita, Arizona, for coach Carey Baurer as both a goalkeeper and midfielder … as a junior she was selected first-team all-section and All-Southern while making second-team all-division after scoring 11 goals and adding an assist while also collecting 13 saves … as a sophomore she was named first-team all-section while helping Walden Grove to the Division III State Championship with 15 goals, eight assists and 20 saves. … as a freshman she had seven goals and 11 assists … she has been named to the honor roll all four years in school and in 2015 was named honorable mention on the Arizona Division III All-Academic Team … she played club in 2015 and 2016 for FC Tucson WPL.