University of New Mexico Lobos athletics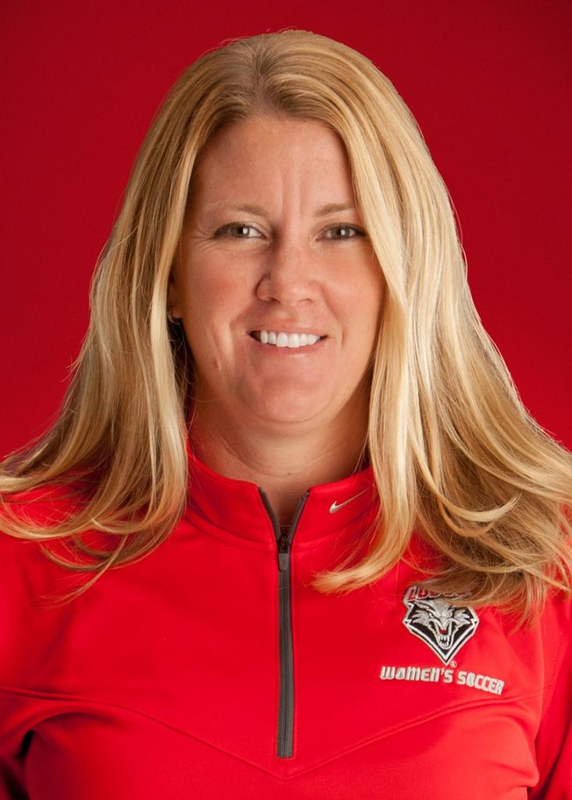 Heather Dyche Career Record

Year

Record

Win Pct.

MW Record | Finish

Win Pct.

2015
10-8-2
.550
7-3-1 | 3rd
.682
2016
9-7-3
.553
5-5-1 | T-7th
.500
2017
12-8-2
.591
7-4-0 | 4th
.636
2018
13-6-2
.667
7-2-2 | T-1st
.727
2019
11-8-1
.575
6-4-1 | 4th
.591
2020
10-2-1
.808
10-1 | 1st
.909
2021
14-5-2
.714
7-2-2 | 1st
.778
Total
79-44-13
.613
49-21-7
.629
Heather Dyche joined the Lobo family in 2015 as the head women's soccer coach at The University of New Mexico.
The Albuquerque native owns a 79-44-13 overall record and a 49-21-7 mark in Mountain West play. Under her guidance, UNM has won two regular season titles and twice has advanced to the Mountain West Tournament Championship game.  Overall she has coached 22 All-Mountain West selections (11 First Team, 11 Second Team), 10 All-MW Tournament Players, three All-Region players, six CoSIDA Academic All-District selections, one CoSIDA Academic All-America, 12 Mountain West Players of the Week, 123 Mountain West All-Academic selections and 109 Mountain West Scholar-Athletes.
The 2020 season saw records fall as UNM advanced to the second round of the NCAA College Cup and winning its first outright Mountain West title since 2011.  The program went 10-2-1 under Dyche as she was named the Mountain West's Coach of the Year.  The Lobos blasted their way into the record books by averaging 2.38 goals per game (scoring 31 in just 13 games).  The team turned in a 0.90 goals against average, the lowest in seven years, and UNM was nearly unstoppable in the regular season, allowing just three goals in 10 games leading up to the title game.  The Lobos of 2020 advanced to the NCAA Tournament after a thrilling 3-2 overtime win over San Diego State in front of a capacity crowd in Albuquerque.  UNM then got past Navy in the opening round, winning 4-2 in penalties after tying 1-1 in regulation.
Gwen Maly was one of five players to earn First Team All-Mountain West honors, and she became the first women's soccer player in the history of the Mountain West to be named Mountain West Female Scholar-Athlete of the Year, the highest individual honor bestowed to a student-athlete in the league.
The 2019 season saw the Lobos go 11-8-1 overall and finish 6-4-1 in the Mountain West, good for fourth place.  The Lobos for the second straight season placed five players on the All-Mountain West squad and it gave UNM 36 wins over the previous three seasons, the second-best three-year win total in school history.  One of those wins was a 1-0 season opening win over No. 22 Texas Tech at the UNM Soccer Complex, UNM's first win over a ranked opponent since 2010.
Dyche's 2018 Lobo team set a program record for goals scored with 45 and posted second-best program marks in assists (33) and points (123). In terms of individual player accolades, three standouts received All-Pacific Region honors from the United Soccer Coaches, which was a program record. From the Mountain West, the 2018 team had five honorees, three of which were first team selections.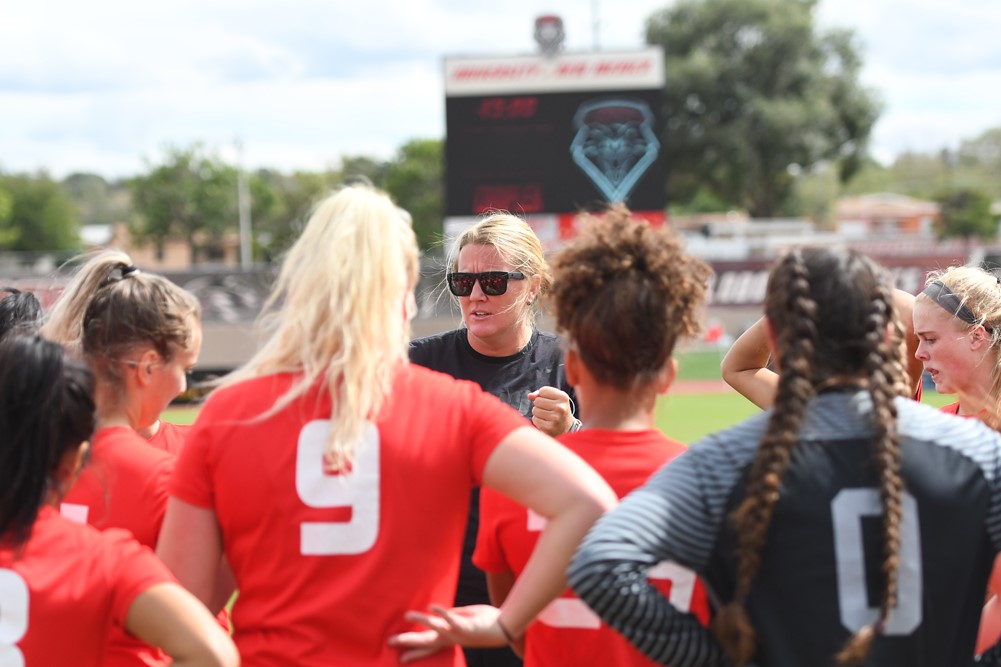 In her first season, Dyche became the third coach in Lobo women's soccer history to begin her career with double-digit victories by going 10-8-2 in 2015. That record included a 7-3-1 record in Mountain West play and a run to MW Tournament semifinals.
Along with leading the Lobos, Dyche traveled to Brazil to assist the U.S. Women's National Team during the 2016 Summer Olympic Games – assisting with scouting and analyzing opponents. She also served as an assistant coach for the U-18 U.S. Women's National Team's trip to Australia in the summer of 2017.
Dyche is also a coach, instructor and scout with the United States Soccer Federation (USSF). Dyche is an assistant coach for the US Youth National Team U14 and U15 Girls. There, Dyche is granted the opportunity to identify and work with the most talented U15 soccer players in the country and the core of the US team that competed in the 2018 FIFA U-17 Women's World Cup. She also serves on the USSF instructional staff, instructing USSF B- and USSF C-licensed national coaching schools across the country.
Dyche's footprint at the elite level spans past the national stage, as she has also assisted for national teams from Antigua, St. Kitts and Nevis and Grenada.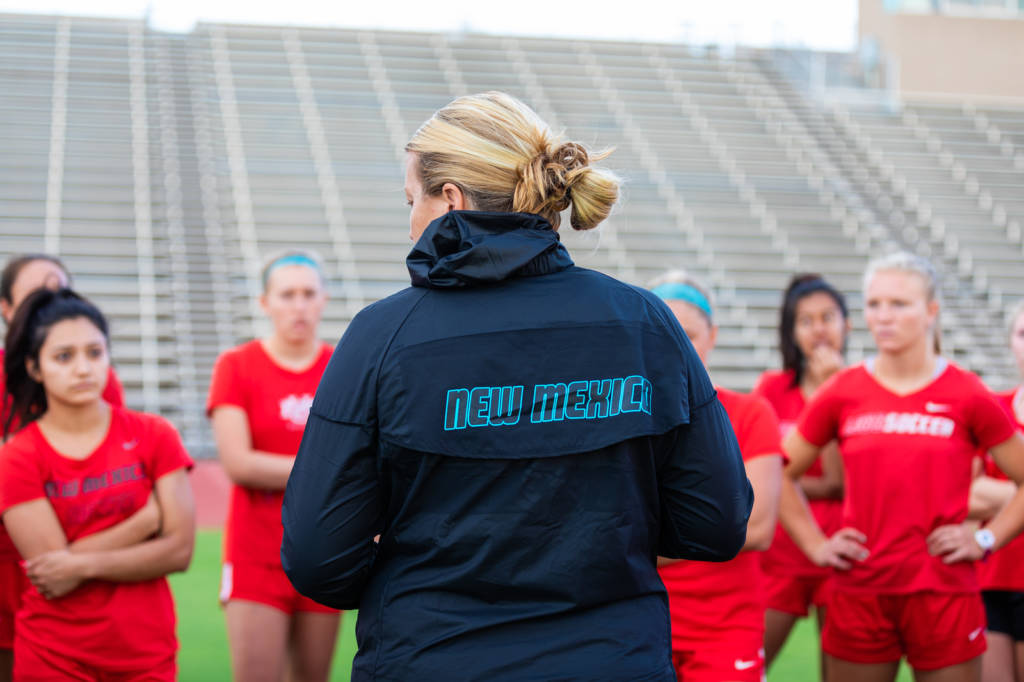 Dyche serves on the instructional staff for The Confederation of North, Central American and Caribbean Association Football (CONCACAF). As the only female of the CONCACAF educational board, Dyche teaches C, D and grassroots courses in order while developing and writing content for all women's grassroots programs.
Dyche is a US Youth Region IV ODP head coach. There, she coaches the team at Olympic Development Interregional events and identifies top players in the region to participate in the Olympic Development Program Regional Team.
Finally, she is also the co-founder and head coach of LEAD Academy (Leadership and Empowerment through Athletic Development Soccer) – an all-girls soccer leadership training school located here in Albuquerque.
Dyche's New Mexico soccer roots are as extensive as her résumé is.
Prior to joining the University of New Mexico, Dyche was a presenter at the National Soccer Coaches Association of America/U.S. Youth National Conference in 2013 and at the U.S. Soccer National Symposium in 2011.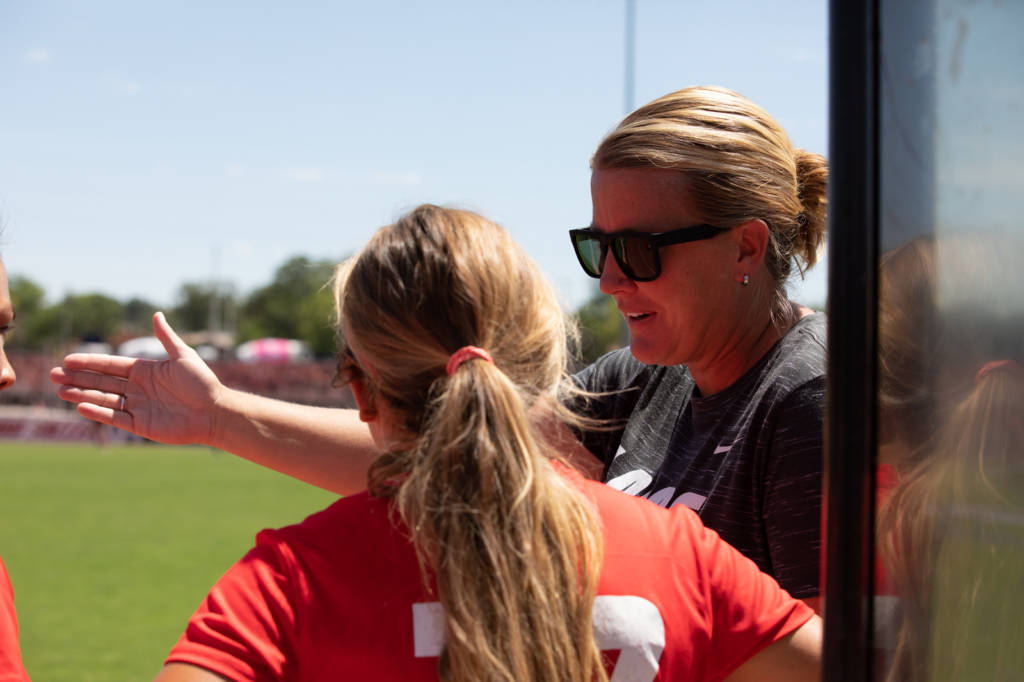 She has coached more than 60 players who have gone on to collegiate soccer programs. She has coached multiple state and regional champion club teams in New Mexico. Dyche was also the NMYSA Coach of the Year in 2008 with the Rio 95G Magic. Additionally, she served as the associate head coach and team captain of the now-defunct Albuquerque Asylum of the Women's Premier Soccer League from 2006-07.
Dyche is a 1997 graduate of Eldorado High School and was a four-year all-state defender, a two-time district Player of the Year and the 1996 Defensive Player of the Year. She also played basketball for the Eagles and was a first-team all-state performer 2 years.
Dyche accepted a soccer scholarship to the University of Nebraska out of high school and was a participant on the No. 4-ranked women's soccer program in the nation.
Dyche then transferred to Florida State and played there from 1998-2001, serving as the team captain her senior year. The Seminoles participated in the NCAA Tournament in 2000 and 2001 and were ranked as high as No. 9 in the country during her time there. She was on the Atlantic Coast Conference (ACC) All-Tournament Team in 2001 and was an on the ACC Academic Honor Roll all four of her years there.
Dyche got her bachelor's degree in Family and Consumer Sciences, with an emphasis in Child Development, accumulating a 3.8 grade-point average. She then earned a master's degree in Athletic Administration, achieving a 3.84 grade-point average.
She went on to play with ROA Norway – a semi-professional soccer team in 2004-05 – helping the squad win the Norwegian League Championship in '04.
Dyche holds an impressive list of licensing credentials. She earned a USSF National A License in 2010, a National Soccer Coaches Association of America Premier Diploma in 2013, a CONCACAF D License in 2013 and a U.S. Youth Soccer Association National Youth License in 2010.