University of New Mexico Lobos athletics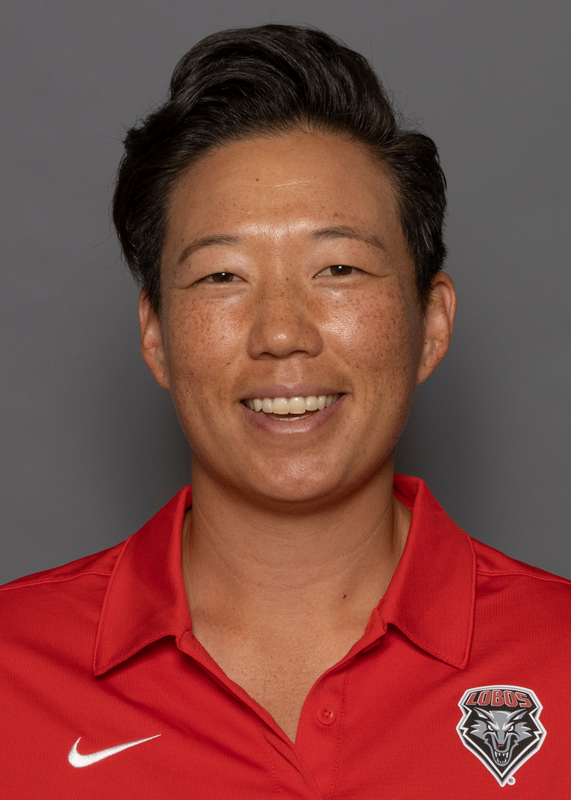 Britney Choy is in her 10th season at The University of New Mexico in 2022-23 and serves as the Associate Head Coach of the Lobos. She returned to UNM in a coaching capacity after serving as one of UNM's decorated alums, competing as a member of the Lobo women's golf team and even finishing as runner up in the 2009 Mountain West Championships.
After the 2019-20 season was cut drastically short due to the COVID-19 pandemic, Choy helped guide the 2020-21 Lobos to the 2021 Mountain West Championship title while also helping freshman Myah McDonald to MW Freshman of the Year Honors in an outstanding campaign. Sophomore Lauren Lehigh finished the MW Championship tied for first overall. In 2021-22, Choy helped Lehigh and Jenny Lertsadwattana earn selections to the NCAA Regional, hosted by UNM.
Academically, Choy helped the 2021-22 Lobos to their fourth straight season earning the Women's Golf Coaches Association (WGCA) All-Scholar Team Award marking the highest GPA in the nation at 3.96. Six Lobos were named to the WGCA All-American Scholar list for the second consecutive season.
In the 2018-19 season, Choy helped guide the Lobos to achieve the highest GPA in the nation among all schools as the squad's combined 3.903 GPA earned it the 2018-19 Women's Golf Coaches Association (WGCA) All-Scholar Team Award. Additionally, Choy helped guide the team to a Spring 2019 GPA of 3.94 to mark a new UNM program record for the highest GPA in a single semester.
On the course, Choy helped the 2018-19 team to a top finish of fifth-place at the 40th annual Branch Law Firm/Dick McGuire Invitational at the UNM Championship Course. As a team, the Lobos shot four over, 868 and were led by senior Darian Zachek who finished tied for second individually.
In her time at UNM, Choy has seen the team clinch 31 top-10 tournament finishes and has been with the squad as it has received five-straight NCAA recognitions with Academic Progress Rates (APR) in the top 10% of the NCAA.
Choy came to UNM after competing on the Symetra Tour (The Road to the LPGA) for two and a half years in order to return to her playing roots at UNM.
"Britney has every quality one needs to be a great coach," said head coach Jill Trujillo. "She is a great motivator, she enjoys people and loves the game of golf. Her background playing as a professional will only add to what she can bring to the team.
"On the recruiting side, she will open some doors that we really need to widen in the California area. It takes a lot off my mind having someone like Britney on my staff, who brings with her so many skills and attributes. I'm really excited to have her back with our program."
As a Lobo, Choy was a vibrant and personable leader, who also produced on the course.
"I'm very excited to be back where I began my college career.  I've always had a knack for coaching ever since I played at UNM," Choy said. "Being able to help others on and off the golf course with my knowledge and playing experiences on different levels makes me feel like I can be a good advocate to my team and help create the path they want to pursue in life after college, whether it be on the pro circuit or in the business world."
Choy came to New Mexico from Hawaii where she was the Hawaii State High School Champion in 2004. She was a three-time Oahu Interscholastic Association Player of the Year (2004-06).  Choy was the Mountain West's runner-up at the 2009 MW Championships and was a two-time MW Academic selection. She had to battle back from back surgery in July of 2007, but came back to play a full schedule in the spring of 2008, finishing tied for fourth at the MW Championships.
The 2008 Mountain West First Team selection helped UNM to three consecutive Mountain West titles (2008-10). Choy also played in two NCAA Championships (2009, 2010) and was the Lobos' top finisher at the 2009 NCAA Championships tying for 32nd.
Choy received her bachelor's degree in public relations with a minor in psychology from New Mexico in 2010 and currently resides in Albuquerque.