University of New Mexico Lobos athletics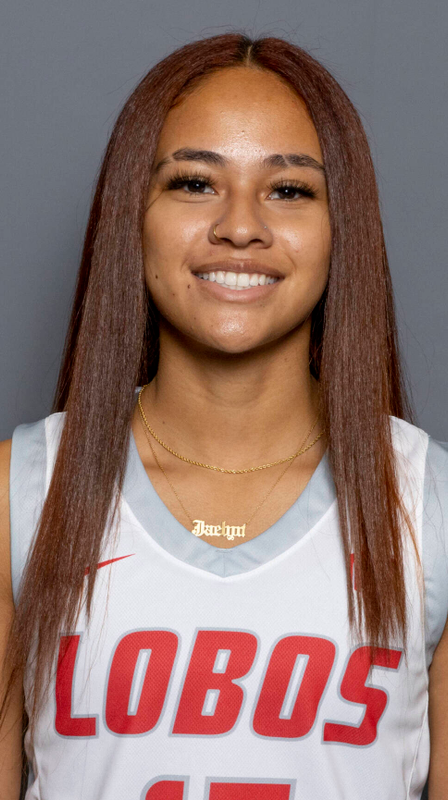 FRESHMAN (2022-23): Played in 22 games with one start…averaged 10.1 minutes per game, 3.1 points per game, 1.3 assists per game, 0.4 steals per game… scored in double figures in four games, including 13 points in her first college game at Southern Utah… went 4-4 from three-point range against South Carolina State and finished with a season-high 16 points… three games with multiple three-pointers… season-high eight assists, five rebounds and two steals against Western New Mexico.
HIGH SCHOOL:  Graduated from Volcano Vista High School … won back-to-back District 1-5A championships and won the 2019 and 2020 1-5A District tournament… won first team all-district, first team all-metro, second team all-state, was named the District Tournament Player of the Game, District 1-5A Player of the Year and was named the Volcano Vista Winter Sports Female Athlete of the Year in 2019… won the 5A title in 2022… also lettered in track… won the 5A in the long jump with a leap of 18'4″ and as part of the 1600-meter relay her senior year.
CLUB: Played for the New Mexico Clippers and New Mexico Elite… won the 2019 Platinum Division Atlanta NCAA Showcase national championship, was the 2019 Atlanta Peach Splash NCAA Showcase runner-up and the 2019 NABI Girls Gold Division national champions. In 2018, her team was the 2018 AAS national champion and the 2018 USA Basketball Open Championship runner-up. While with the New Mexico Elite, she was also selected MVP and Player of the NABI championship game.
PERSONAL: Born Dec. 4 in Heerlen, Netherlands… parents are Juliet and Barry Bates… has two siblings: Janee and James… intends to major in biochemistry.
Coach Bradbury on Bates: "Jaelyn is continuing to grow into a role of leading and facilitating a team. Her craftiness with the ball and ability to create for herself and her teammates will give Jaelyn a chance to make an impact early in her career at UNM."
Bates on Why She Chose New Mexico: "to represent JB White and continue to do put New Mexico on the map just like he did."