University of New Mexico Lobos athletics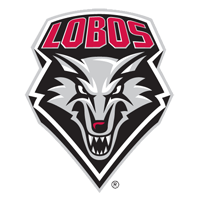 Graduated from Mississippi State and has two years of eligibility remaining.
JUNIOR (2022-23 at Mississippi State): Played in 21 games, making three starts … played a season-high 19 minutes vs Alabama … scored 24 points (1.1 ppg), grabbed 20 rebounds (1.0 rpg), blocked six shots (0.3 bpg), had five assists (0.2 apg) while shooting 37% from the floor …season-best seven rebounds came against ULM (11/29) and had a season-best eight points vs Georgetown (11/25) in Puerto Rico … blocked two shots vs South Carolina (1/9) and Alabama to tie her season-high.
SOPHOMORE (2021-22 at Mississippi State): Played in all 29 games making 11 starts, including the final nine games of the season … averaged 2.4 points, 3.2 rebounds and 0.8 blocks per game while shooting a team-high .537 from the field … first career double-double was against Arkansas in the regular-season finale on March 3 with 10 points and 18 rebounds; both were personal-highs to-date … her 18 boards against Arkansas were the most by a Bulldog during the season and the most in a single game since November of 2019 … entered the starting lineup for the final nine games of the season and averaged a team-best 6.7 rebounds per game and 5.0 points per game.
FRESHMAN (2020-21 at Mississippi State): Saw action in five games … collegiate debut was against Jackson State (11/29/20), and finished with two points and three rebounds in eight minutes … scored two points and had an assist in the win against Troy (12/14/20).
HIGH SCHOOL/ CLUB: Member of the German National U16 and U18 Teams as well as the 3×3 U18 National Team … participated in the German National U18 League at 14 years old … made the All-Star team at the 2015 FIBA Camp … played for the Bender Baskets in the 2nd German Senior League in 2016 … team finished second at the 2017 national high school championship … placed third at the German U18 National Championship with Team Mittelhessen in 2018 … attended Theo Koch Schule in Grünberg, which cooperates with the Basketball Internat Grünberg, a basketball academy for girls.
PERSONAL:  Birthday is Nov. 16 … parents are Oliver and Cornelia… has one brother, Lorenz, and one sister, Paula … graduated with a degree in psychology.