University of New Mexico Lobos athletics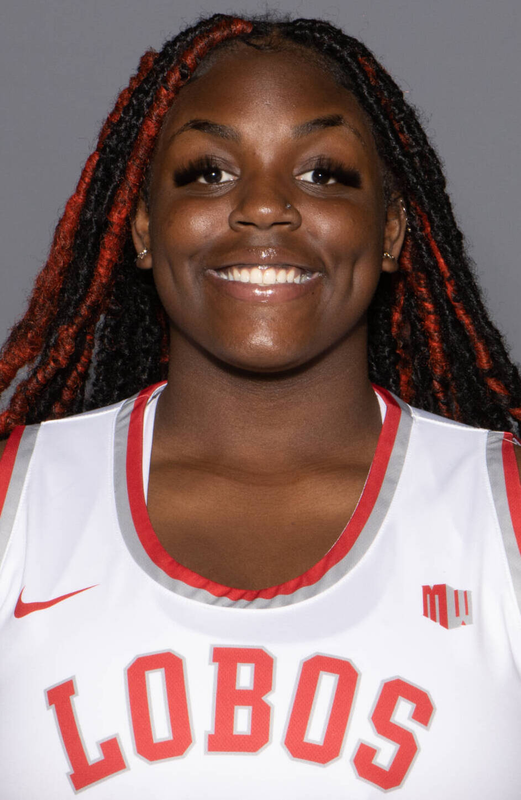 SOPHOMORE (2021-22): Played in 12 games… averaged 5.9 minutes per game… recorded her first collegiate double-double against Northern New Mexico with 11 points and 11 rebounds, while also recording two steals… went a perfect 4-for-4 from the floor against San José State and 2-for-2 at San José State… twice made four field goals in a game (Northern New Mexico and San José State)… scored in five games… had six rebounds against Grambling and nine points against San José State… four games with a block… shot .542 percent from the floor… averaged 2.5 rebounds per game, 0.3 blocks per game, 0.3 assists per game.
FRESHMAN (2020-21): Appeared in eight games … scored a season-high five points at Arkansas-Pine Bluff for her first collegiate points and finished with a block and two rebounds … twice finished with two rebounds (also at Utah State).
HIGH SCHOOL: Competed for John Paul II High School in Long Beach, Calif. … also played for Parish Episcopal School in Texas where she helped her team to the state championship in the 2017-18 season … 2x First Team All-District … 2x First Team All-State honoree … named Defensive Player of the Year … earned First Team All-Tournament honors twice … averaged 18.3 points, 10.1 rebounds and 1.4 blocks per game … also competed for DWF Elite, Sophia Young and Blue Star Dallas … named to the National Honor Society … an Academic Honor recipient.
PERSONAL: Born April 29 In Inglewood, Calif. to parents Paige and Timothy … has three siblings, Mekhi, Vincent and Aria … hobbies include playing basketball, listening to music, going to concerts and watching movies … favorite athletes are Blake Griffin and Kalani Brown … favorite food is seafood … favorite movie is The Grinch Who Stole Christmas.