University of New Mexico Lobos athletics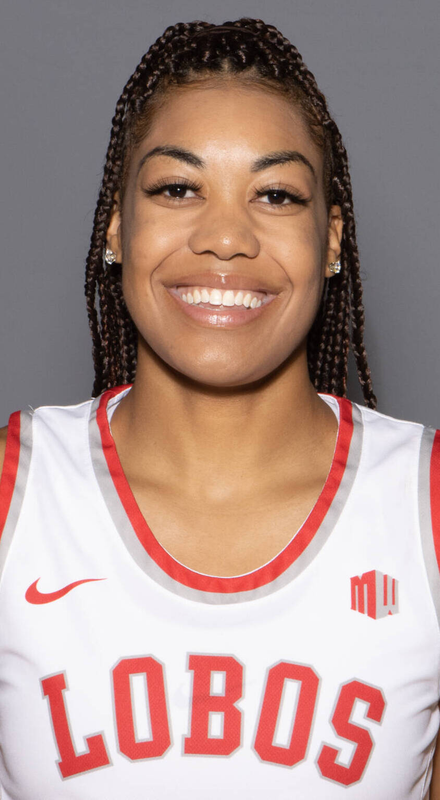 SENIOR (2020-21): Named to the Mountain West All-Conference Team … started in all 20 games, averaging 12.1 points per game, 6.2 rebounds per game, 1.9 assists per game, 1.0 steals per game and 1.0 blocks per game … scored 10-plus points in 13 games with a career-high 29 points in the win over UNLV on Jan. 17 … made a career-high 12 baskets at UNLV … led the team in rebounds (123) and rebounds per game … twice led the Lobos in scoring and and six times in rebounding … recorded two double-doubles with 14 points and 10 rebounds at Air Force and 10 points and 11 rebounds against Colorado State (tied a career high) … went 22-for-67 from behind the arc, making a career-high four at UNLV on Jan. 17 … registered five assists against Fresno State in the MW semifinal to tie a career high … led the team in rebounds per game and total rebounds, was second in made field goals (98) and blocked shots (19) and was third in total points (242).
JUNIOR (2019-20): Competed in all 32 games for the Lobos, starting 31 … averaged 8.8 points, 5.3 rebounds, 1.7 assists, 1.3 blocks and 1.2 steals per game … finished the season ranked second in the Mountain West in blocked shots per game (1.34) … shot .418 from the floor and .315 from behind the arc … also shot 71.8 percent from the free throw line (28-39) … scored in double figures 14 times on the season … registered a career-high 23 points on Jan. 1 against San Jose State … posted three double-doubles on the season … collected 10 or more rebounds five times … named 2020 Mountain West Academic All-Conference.
SOPHOMORE (2018-19): Continued to be an integral role player for the Lobos coming off the bench as she played in all 31 games for the Lobos as a sophomore … averaging 17.9 minutes per game, Anderson was a 46% shooter overall from the floor (65-of-141) and a 74% shooter from the free throw line (34-of-46) … also averaged 5.6 points per game and 3.8 rebounds per game … scored in double figures in five of her final 12 games … matched her career-high in points scored with 13 against Utah State (2/20/19) … had 13 games with five or more rebounds … set a new single-game high of eight rebounds against Auburn (11/11/18) … matched that later in the season against Oklahoma (11/28/18)
FRESHMAN (2017-18): Appeared in 32 games and made one start as a freshman for the Lobos … averaged 4.1 points per game and 3.0 rebounds … shot .571 (52-of-91) overall from the floor and converted 60% of free throw attempts (24-of-40) … led the team and ranked third in the Mountain West in blocked shots with 34 … scored a season-high 13 points on a perfect 5-of-5 shooting from the floor and 3-of-4 from the free throw line against Boise State … registered five or more rebounds in eight games and hauled in a season-high seven rebounds on three occasions (12/10 vs. Navy, 12/28 at Air Force, 2/14 at Utah State) … was selected to compete in the 2018 USA Basketball 3×3 Open National Championships along with teammates Jaisa Nunn, Aisia Robertson and Madi Washington.
HIGH SCHOOL/CLUB: Played basketball at Byron P. Steele II High School in Cibolo, Texas where she was a four-year starter … was ranked #187 by ESPNW and averaged 15 points, 6.0 rebounds and 4.0 steals per game in her senior season … notched a career-high 31 points in Steele's playoff game versus Lee … was also named back-to-back Defensive Player of the Year … earned All-State, All-District, All-Area and All-Region honors throughout her career … was also a two-year varsity track participant … earned Academic All-State honors … also played for S.A. Finest.
PERSONAL: Born on July 23 to Jennifer and Robert … has two siblings RJ and Ross … favorite athlete is Skylar Diggins … favorite food is pasta … favorite movie is Love & Basketball … graduated May 2021 with her undergraduate degree in community health education and is currently pursuing her master's degree at UNM.