University of New Mexico Lobos athletics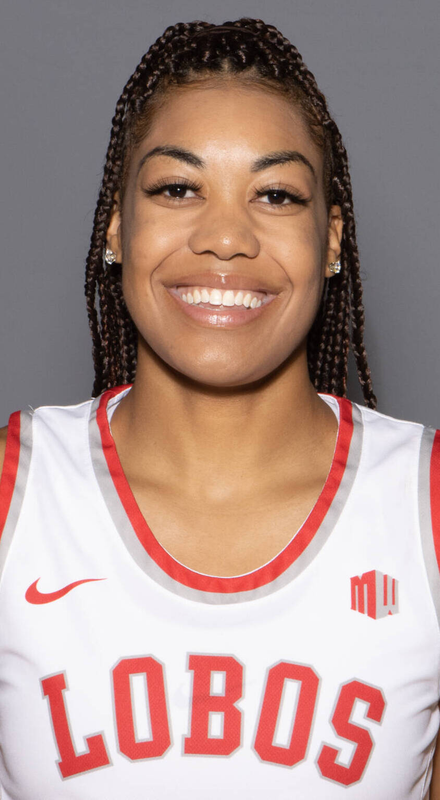 151 games played, all-time program leader… 1231 career points, 12th all-time… 105 career wins, most in program history… 175 career blocks, 2nd all-time… 732 career rebounds, eighth all-time… .338 career three-point percentage, eighth all-time… 2x MW All-Conference… MW Player of the Week.
SUPER SENIOR (2021-22): Named MW All-Conference… named to 2021-22 Preseason All-Conference Team… played in all 36 games, starting in 35… became the all-time leader in games played at UNM with 151 games… won a program-best 105 games… scored in double figures in 17 games, 20-plus points in four games, 30 or more points in two games… four double-doubles this season… set career highs in points, three-pointers, rebounds, steals and free-throws made this season… set a career high in points (33) and three-pointers (eight) in the win at Colorado State… 33 points against CSU on Feb. 2 was most points scored by a MW player this season… eight three-pointers at CSU tied for third-most made threes in a game by a player in program history, and 20 attempted three-pointers set the program record… eight three-pointers at CSU tied the program record for most made three-pointers by a player in a conference game… perfect from the free-throw line in six games… scored her 1000th-career point at Wyoming on Jan. 13 becoming the 24th Lobo to score 1000 points and the 17th Lobo to score 1000 points, 500 rebounds in a career… led the Lobos in scoring in six games, tied for the team high in one game… 16th in the MW in rebounds per game (6.3), eighth in steals per game (1.5)… led the MW in blocked shots (52) and blocks per game (1.44)… averaged 13.2 ppg, 6.3 rpg, 1.8 apg, 1.7 spg, 1.4 bpg, 26.4 minutes per game in MW games… 14th in the MW in scoring, 17th in rebounds per game, third in blocks/ blocks per game, fifth in steals per game in conference games… two games with five blocks, 14 games with multiple blocks, 26 games with at least one block… third on the team in made field goals (151) and tied for third in assists (61), second in rebounds (225) and steals (55)… named MW Player of the Week on Feb. 7…named to the Academic All-MW Team.
SENIOR (2020-21): Named to the Mountain West All-Conference Team … started in all 20 games, averaging 12.1 points per game, 6.2 rebounds per game, 1.9 assists per game, 1.0 steals per game and 1.0 blocks per game … scored 10-plus points in 13 games with a career-high 29 points in the win over UNLV on Jan. 17 … made a career-high 12 baskets at UNLV … led the team in rebounds (123) and rebounds per game … twice led the Lobos in scoring and and six times in rebounding … recorded two double-doubles with 14 points and 10 rebounds at Air Force and 10 points and 11 rebounds against Colorado State (tied a career high) … went 22-for-67 from behind the arc, making a career-high four at UNLV on Jan. 17 … registered five assists against Fresno State in the MW semifinal to tie a career high … led the team in rebounds per game and total rebounds, was second in made field goals (98) and blocked shots (19) and was third in total points (242).
JUNIOR (2019-20): Competed in all 32 games for the Lobos, starting 31 … averaged 8.8 points, 5.3 rebounds, 1.7 assists, 1.3 blocks and 1.2 steals per game … finished the season ranked second in the Mountain West in blocked shots per game (1.34) … shot .418 from the floor and .315 from behind the arc … also shot 71.8 percent from the free throw line (28-39) … scored in double figures 14 times on the season … registered a career-high 23 points on Jan. 1 against San Jose State … posted three double-doubles on the season … collected 10 or more rebounds five times … named 2020 Mountain West Academic All-Conference.
SOPHOMORE (2018-19): Continued to be an integral role player for the Lobos coming off the bench as she played in all 31 games for the Lobos as a sophomore … averaging 17.9 minutes per game, Anderson was a 46% shooter overall from the floor (65-of-141) and a 74% shooter from the free throw line (34-of-46) … also averaged 5.6 points per game and 3.8 rebounds per game … scored in double figures in five of her final 12 games … matched her career-high in points scored with 13 against Utah State (2/20/19) … had 13 games with five or more rebounds … set a new single-game high of eight rebounds against Auburn (11/11/18) … matched that later in the season against Oklahoma (11/28/18)
FRESHMAN (2017-18): Appeared in 32 games and made one start as a freshman for the Lobos … averaged 4.1 points per game and 3.0 rebounds … shot .571 (52-of-91) overall from the floor and converted 60% of free throw attempts (24-of-40) … led the team and ranked third in the Mountain West in blocked shots with 34 … scored a season-high 13 points on a perfect 5-of-5 shooting from the floor and 3-of-4 from the free throw line against Boise State … registered five or more rebounds in eight games and hauled in a season-high seven rebounds on three occasions (12/10 vs. Navy, 12/28 at Air Force, 2/14 at Utah State) … was selected to compete in the 2018 USA Basketball 3×3 Open National Championships along with teammates Jaisa Nunn, Aisia Robertson and Madi Washington.
HIGH SCHOOL/CLUB: Played basketball at Byron P. Steele II High School in Cibolo, Texas where she was a four-year starter … was ranked #187 by ESPNW and averaged 15 points, 6.0 rebounds and 4.0 steals per game in her senior season … notched a career-high 31 points in Steele's playoff game versus Lee … was also named back-to-back Defensive Player of the Year … earned All-State, All-District, All-Area and All-Region honors throughout her career … was also a two-year varsity track participant … earned Academic All-State honors … also played for S.A. Finest.
PERSONAL: Born on July 23 to Jennifer and Robert … has two siblings RJ and Ross … favorite athlete is Skylar Diggins … favorite food is pasta … favorite movie is Love & Basketball … graduated May 2021 with her undergraduate degree in community health education and is currently pursuing her master's degree at UNM.