University of New Mexico Lobos athletics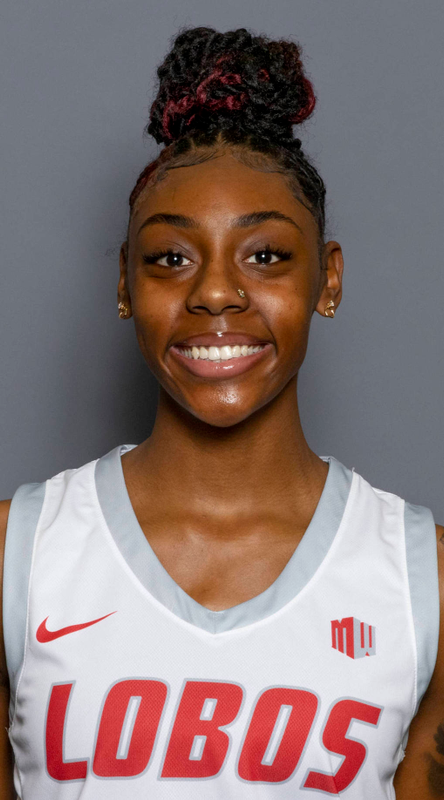 FRESHMAN (2021-22): Played in 33 games with one start (at Houston)… averaged 9.5 minutes per game… scored in 14 games… season-high eight points in the season opener against Lamar, going 3-for-3 from the floor with a made three-pointer, while also having six rebounds and three steals… finished with a season-high 10 rebounds in the win against San José State… credited with three steals in four games, at least one steal in 14 games, six games with multiple steals… recorded an assist in 14 games, multiple assists in five games… finished with 24 steals, 63 rebounds and 21 assists on the season.
HIGH SCHOOL: Graduated from Woodside Priory School, but previously attended Silver Creek High School from 2016-17 … helped lead her teams to three CCS Championships (2017, 2018, 2019) … averaged 14.0 points, 7.0 rebounds, 4.0 assists and 3.0 steals throughout her high school career … first team all-league in 2019, honorable mention in 2018 and second team all-league in 2017 … attended the Adidas All-American Camp … named the Dream Big Player of the Game in the Martin Luther King Classic.
CLUB: Competed for Peninsula Basketball Club where she averaged 15.0 points, 7.0 rebounds, 4.0 assists and 3.0 steals.
PERSONAL: Born December 29 in Santa Clara, Calif. … parents are Demetrius and Meagen Augmon … has six siblings: Tina, Adrianna, Emerald, Leilani, Kris and Joshua … cousin, Stacey Augmon, played in the NBA from 1991 to 2006 with Atlanta (1991-96), Detroit (1995-96), Portland (1996-2001), Charlotte (2001-02), New Orleans (2002-04), Orlando (2004-06).
Coach Bradbury on Augmon: "Aniyah is a very good defender who has a chance to become an elite defender. Also, she has the ability to score in a variety of ways. Aniyah will add athleticism in the backcourt. This is a great addition to our team."
Augmon on Why She Chose New Mexico: "I chose UNM because I got a real family feel while I was in constant communication with the coaching staff during my recruitment. The Lobos have an up-tempo style which is the perfect fit for me. UNM checked every box on my checklist!"