University of New Mexico Lobos athletics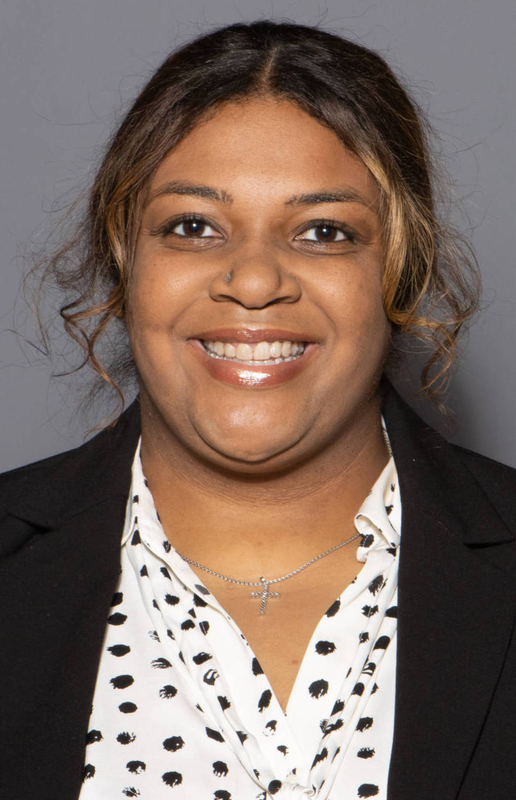 Kabrina Merriweather enters her third season with the Lobos, and her second as an assistant coach, after serving as the director of operations during the 2020-21 season.
Overseeing the posts, Merriweather guided Shaiquel McGruder to MW all-conference and all-defensive and Paula Reus to MW all-freshman in the 2021-22 season. McGruder led the MW in field-goal percentage at .608, finished fourth in the MW in steals per game at 1.83 per game, as well as second in blocked shots and blocked shots per game (49/ 1.36).
In her previous role, Merriweather played a vital part in the ever-changing season, handling the logistics, including travel for the team.
"I am so grateful and honored to be serving UNM Women's Basketball for another season, now as an assistant coach," Merriweather stated. "Coach Bradbury has given me the opportunity of a lifetime and I can't wait to get started with this staff and these young ladies working toward more successes."
As a former forward in college, Merriweather will work primarily with the post players.
Merriweather played college basketball at Florida A&M University and at Georgia Southwestern State University from 2011-2015 and earned a bachelor's degree in psychology with a minor in education in 2015.
Prior to joining the Lobos, Merriweather was a teacher and basketball coach at Tindley High School in Indianapolis, Ind. for four years. There she was responsible for developing practice itineraries and training sessions, recording and analyzing statistics, managing video databases, handling breakdown of film, tracking community service hours and more.
She brings eight years of professional experience around basketball to the Lobos in various capacities including serving as a coach for The Family Inc., an AAU powerhouse in Indianapolis, Ind.
Despite a collegiate career stunted by injury, Merriweather was a highly-decorated basketball student-athlete while in high school. She finished her high school career with 1,500 points and 1,000 rebounds. While in college, she remained a member of the basketball team throughout her injuries and spent three years as a member of the Student Athlete Advisory Committee (SAAC).
"I came to New Mexico to work for one of the best in the business," Merriweather said. "I've known Coach Bradbury for a long time and I am completely humbled and thankful that he took a chance on me to work at a phenomenal institution alongside this amazing staff."
Daughter of Kevin and Roxanne, Merriweather also has two sisters, Katrina and Kristina Merriweather. Katrina is currently the head women's basketball coach at Memphis after previously coaching at Wright State University, moving into the top position with the Raiders when current Lobo head coach Mike Bradbury left to join the Lobos after serving as an assistant under Bradbury.