University of New Mexico Lobos athletics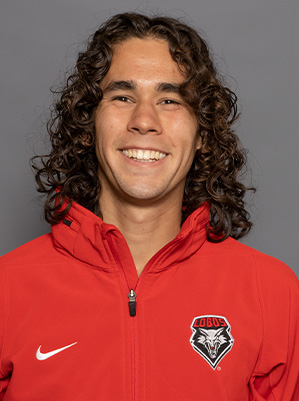 2020-21
2020 XC: Finished second at the Silver State Collegiate Cross Country Challenge with a time of 24:23.0… ran a 24:45.7 at the MW Championships to finish 29th.
2019-20
2019 XC: Ran 32:13.8 at the NCAA Mountain Regional to finish 60th … ran 24:01.7 at the MW Championships to finish 28th overall …  finished the Joe Piane -Notre Dame Invitational in 25:00.71 … completed the Nuttycombe Wisconsin Invitational in 25:37.4 … finished fifth at the Lobo Invitational with a time of 15:43.70.
2018-19
2019 Indoors: Competed in three meets during the season… ran a season-best 3000-meter time of 8:37.99 at the Don Kirby Elite on Feb. 8 and a season-best mile time of 4:26.51 on Feb. 9 at the same meet.
HIGH SCHOOL
NMAA 6A runner-up in 2017 for cross country and in 2018 for track and field… finished with a 4.0 GPA… enrolled in dual-credit classes for last two years of high school.
PERSONAL
Born in Albuquerque… parents are Ken and Lori… has four siblings: Caleb, Gideon, Moriah, Tabitha … both parents and one brother attended UNM… 2012 USATF XC National Champions, 2013 USATF XC National Runner-Up, USATF All-American in 2011, 2012, 2013 and 2016 in racewalk… undecided on major.