University of New Mexico Lobos athletics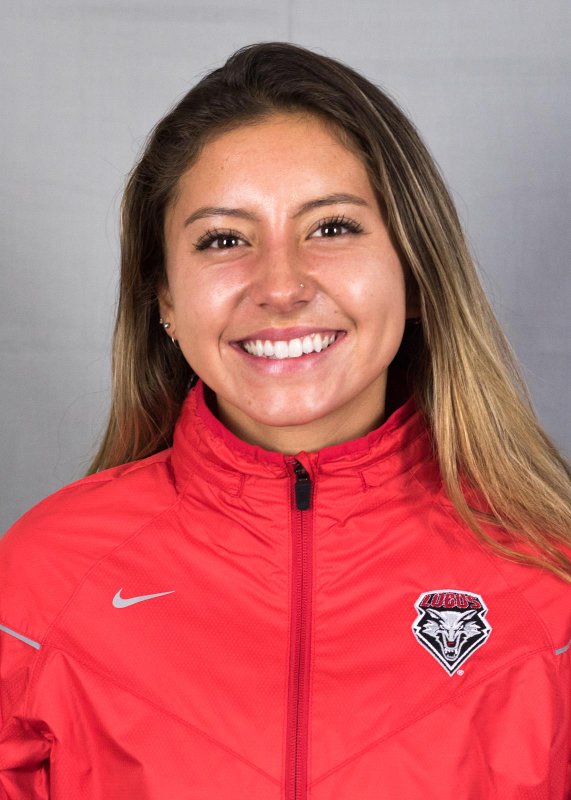 2020-21
Did not compete
2019-20
2019 XC: Finished 208th at the NCAA Championship with a time of 22:08.8 … placed 40th overall at the NCAA Mountain Regional with a time of 21:07.7 … finished 25th at the MW Championships in 21:08.2 … ran the Nuttycombe Invitational in 21:41.1 … was the top finisher for the Lobos at the Lobo Invitational, placing fourth with a time of 18:26.62.

2018-19
2018 XC: Finished 12th (ninth in team scoring)  at the Lobo Invitational with a time of19:05.7 … top-finisher for the Lobos at the Lori Fitzgerald Open with a seventh-place finish and time of 18:06.97… finished 21st in the open race at the Nuttycombe Wisconsin Invitational, completing the 6K race in 21:52.1 … placed 36th, 19th in team scoring, in the women's Gray race, at the Wisconsin Pre-Nationals with a time of 22:19.5.
2019 Indoors: Did not compete.
2019 Outdoors: Competed in five meets … finished fifth in the 1500-meter run at the Don Kirby with a time of 4:52.30 … ran 17:34.44 in the 5000-meter at the Bryan Clay Invitational … placed fifth in the 1500-meter run at the Brutus Hamilton Invitational with 4:43.80 … ran the 5000-meter at the MW Championships in 17:41.25
2017-18
2017 XC: Did not compete
2018 Indoors & 2018 Outdoors: Did not compete.
PREVIOUS EXPERIENCE
Competed at Cibola High School … won the 1,600-meter state title at the 2017 New Mexico 6A State Championships … won the 1600 at the 2017 Buddy Roberston Invite … took third in the 3200 and fifth in the 1600 at the 2016 New Mexico 6A State Championships.
PERSONAL
Born July 21 to Andrew and Susana … has two siblings, Aaron and Reuben … maintained a 4.0 GPA at Cibola HS … participated in S-troupe and senate at Cibola, as was also a thespian … lists rollerblading as a hobby … favorite food is Thai and favorite movie is Eternal Sunshine of the Spotless Mind.